What the Body Does Not Remember
Direction, choreography & scenography Wim Vandekeybus, original music by Thierry de Mey & Peter Vermeersch
Ultima Vez
Sadler's Wells
–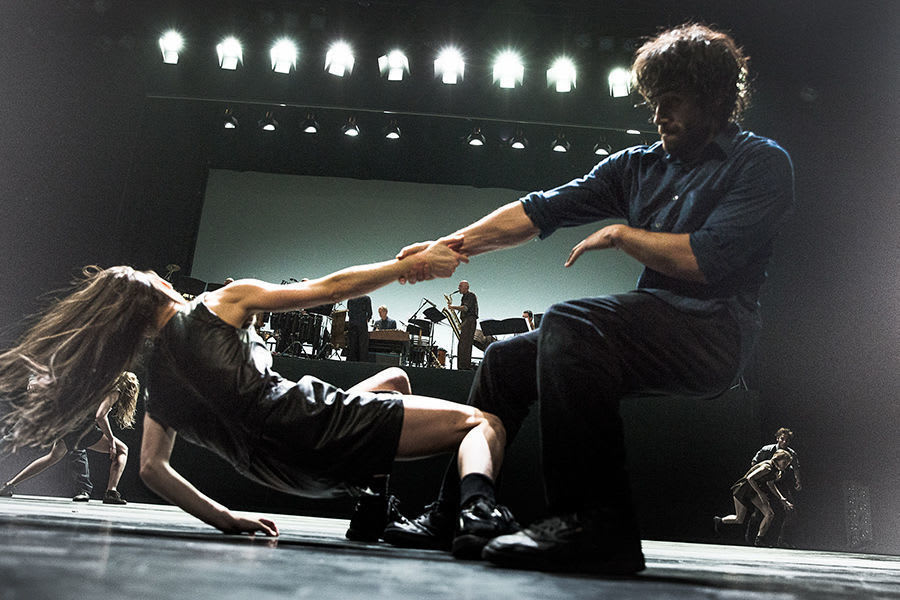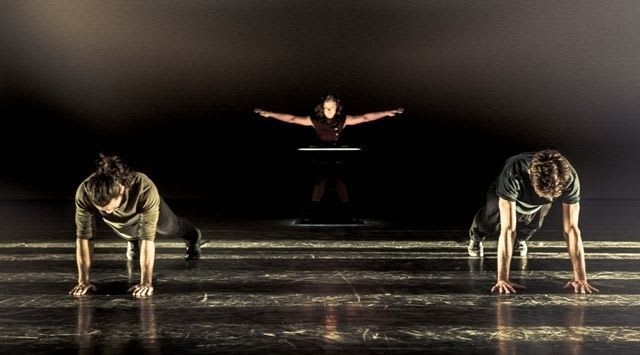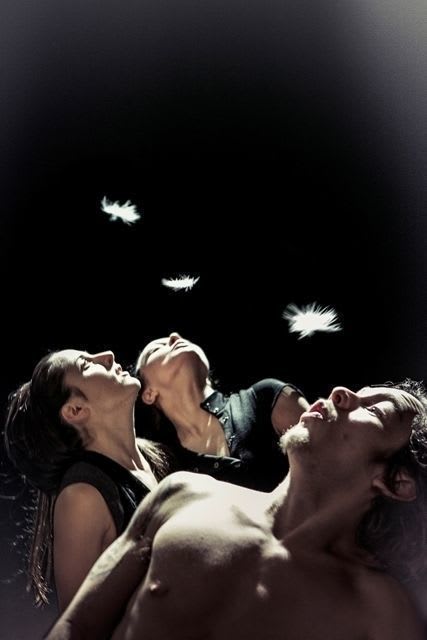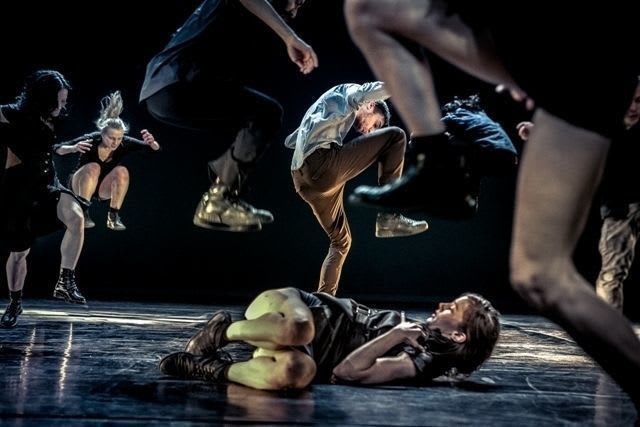 Philosophy, photography and physics—well, that's how I see Wim Vandekeybus's What the Body Does Not Remember—and incredible music that turns the evening into an unexpected dance concert.
Vital, percussive, experimental, constructivist music, all angles and sharp edges, from the Ictus ensemble (Anne Teresa de Keersmaeker's musicians of choice), seated in two alternating tiers, distracting silhouettes behind the dancers, is mind-blowing.
One could say that Vandekeybus is the rough-diamond black and white image-maker; Ictus the professional hand colourists.
What the Body Does Not Remember is a dance to the music of time: a musician sits at a desk; two dancers find a comfortable place to lie down on the floor, notes on its light-striated musical stave. He plays the table, hands beating, drumming, flipping, clapping. He plays them. Is God a musician?
Fast flips, rolls, shuffles and press-ups. Do as Simon Says—you know that children's game? The stage is a children's playground, for what are we but aged children?
Children playing stepping stones with breezeblocks, playing catch, and tag. Experimenting. Testing. Running. Trying to hit the mark. Timing is all. Who will catch if I throw it up in the air behind me? Who can I rely on? Building blocks. And energy.
Tired of these, jackets come into play: swopping, stealing, picking pockets—the skillset subtler now. Bright-coloured towels fly in the air, are caught, snatched, wrapped round heads and used to clean the floor (Pina Bausch anyone?).
Timing has of necessity shifted. But what about weight? Feathers are blown in the air: who will keep them up there the longest? Of course, one could accidentally swallow it, undermining Galileo's experiment: the brick and the feather…
Episodic scenes follow one another, playful, silly and suspect. Three couples challenge each other: men frisk the women again and again—is this domination, control, ritual, the games people play? Vying for precedence.
What do you do with a chair? Sit in it, but what about perspective? Poses and portraits are arranged over and over, mirroring each other upright and lying down. Copycats? Comical photo shoots? School photos?
Silent comedy: how to take a jumper off when you have a girl sleeping on your lap… The lull before all hell breaks loose, jumping, stomping, stamping, roll over or you'll get smashed. Timing—again—is crucial.
Feet in boots straddle wriggling forms, have the games turned into fights? As they often do, escalating who knows why. Stamp and roll, primitive urges, stamp out those ants—or demons—on the floor. And game over.
At its première in Belgium in 1987, Vandekeybus's first venture into choreography was not a hit, but New York loved it, which turned its fortunes around.
At Sadler's Wells, the walkers-out—their patience no doubt tested by overlong, repetitive scenes—miss the best part of the evening, a transfixing percussive musical encore, which brings the house down.
In 1987 composers Thierry de Mey and Peter Vermeersch received New York's prestigious Bessie Award for their 'brutal confrontation of dance and music', and twenty-eight years later one can see why.
Three men sit at three small tables—remember the beginning, but no dancers this time. Hands rest as if on piano keyboards, but hey who needs keyboards.
Six hands taps, scratch, scrape, finger, do crossover hands, turn pages of music, continue to beat a jazzy tune—timing and rhythm are stunning. Knuckles, palms, backs of hands, play a washboard or is it sandpaper? How do they do that? They always travel with a sound engineer.
Whatever it is, it is ingenious, tantalizing, an amazing coda. The ninety-five minutes of dance is almost obliterated by these dancing hands.
What the Body Does Not Remember is touring the UK. Put your good-natured tolerance to the test. Avant-garde music lovers you will not be disappointed. The complexity of life is, perhaps, reflected in Ictus's musical score.
Reviewer: Vera Liber