What's Become of You? (Questcequetudeviens?)
Conceived, designed and directed by Aurélien Bory / choreography by Stéphanie Fuster
Compagnie 111
LIMF at Barbican Theatre
–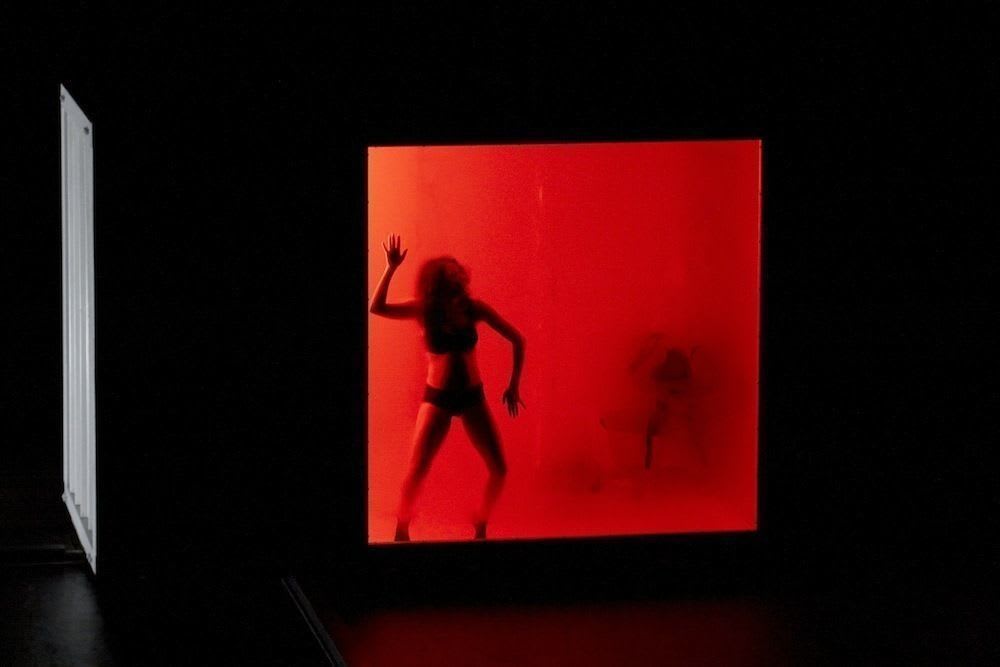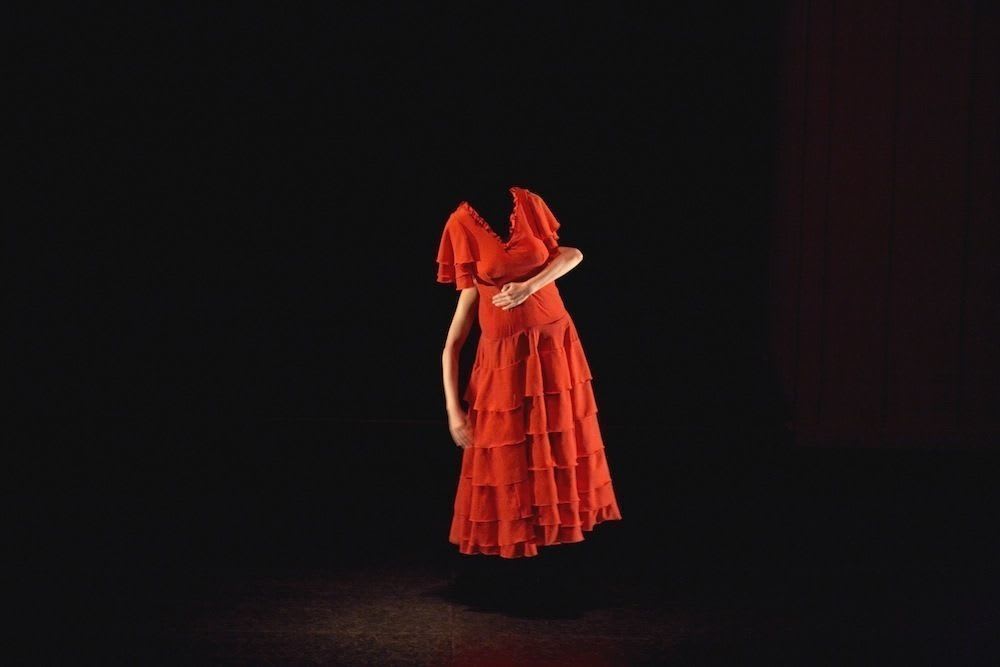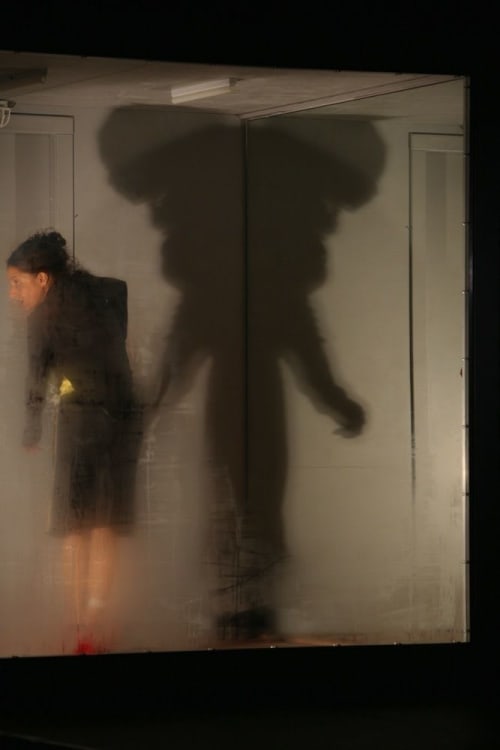 Stéphanie Fuster went to Seville for six months to learn flamenco and stayed eight years. That dedication is at the heart of Aurélien Bory's intense What's Become of You? sixty-minute production. And Fuster's solo performance is formidable.
She gives weight to Malcolm Gladwell's ten thousand hour rule, which claims that the key to success is the time put in practicing.
A stark dark stage, a performance square etched in light, a 'Damien Hirst' container with vitrine off-centre, and a covered crate glowing to one side. A Spanish guitar is gently strummed. Feet pound a flamenco rhythm.
A woman in a red flamenco dress appears—a cliché that is quickly subverted. With great respect. She postures, poses, and sheds the dress—her outer body—duets with this headless mannequin, with herself, her head popping up in the most unlikely places. Gypsy fairground bits of trickery and fun.
The dress becomes a mantilla on her head—to a proud lament. She gets lost in its folds. Then it is cast away and in sheer leotard over vest and pants her body gives you flamenco stripped of centuries old patina.
Gives you its components over and over again. Dissected, analyzed, scrutinized, refined to perfection. Fuster draws you into her sphere of concentration, immersion and obsessive commitment. I am transfixed.
Fuster enters the container, a studio, and works before a mirror. Again. And again. The nuts and bolts of flamenco are unpicked in dazzling repetition. Till the window mists up, and steam rises. Heat of sweaty body and the heat of the song—the singer and guitarist are in there with her.
Antony Gormley's Blind Light (Hayward Gallery 2007) installation comes to mind, for Questcequetudeviens? is an installation, visual and intellectual as well as a moving delight.
Body imprints on the glass walls, and Rorschach patterns on the wall. Arno Veyrat's lighting glows red. A specimen under a microscope, Fuster's feet beat faster, her turns become smoother, but there is another challenge to come.
The guitarist slides out of the container on his swivel chair; the singer joins him. Two men in competition, pushing and shoving, vying for superiority, but, wonderful though they are, they are the backing boys to Fuster's central magnetic performance.
Water fills the square, seeps in slowly as Fuster enters the space in a trim black dress. And gives it all she's got, the water displaced with fierce effort by her stamping feet. Arms describing the air, feet dynamic made visual by flying spray, and moody rippling shadows on the wall.
Beautiful, sensual, flamenco given chapter and verse by a performer it is no surprise to read has danced and choreographed with many international companies, not least with and for the Israel Galván Company.
Life and death, duality and passion, flamenco demands it all. And Fuster gives it her body and soul. She wipes her face on the red dress hanging in the studio. A small gesture that speaks volumes, as does this life story.
In an industrial wasteland—or is it a transitory encampment—she finds her definition. Exhausted, completely spent, used up, she lies down in the murky water and expires.
Aurélien Bory gives us the dark and the light, the serious and the light-hearted, the pain and the pleasure, in stage pictures that reveal the OCD necessary to a life dedicated to dance. Some journey.
Though traditional elements of flamenco are there with the voice and guitar (Alberto Garcia and José Sanchez who plays his own haunting compositions), Bory's response to Stéphanie Fuster's commission takes flamenco into a new context, a context that gripped me, and the audience, who cheer it to the rafters.
Director/choreographer Aurélien Bory has had five of his productions previously feature at the Mime Festival (founded 1977). This one blew my mind and opened my eyes.
Reviewer: Vera Liber