When the Eye Has Gone
Dougie Blaxland
Livewire Theatre and Roughhouse Theatre
Lord's Cricket Ground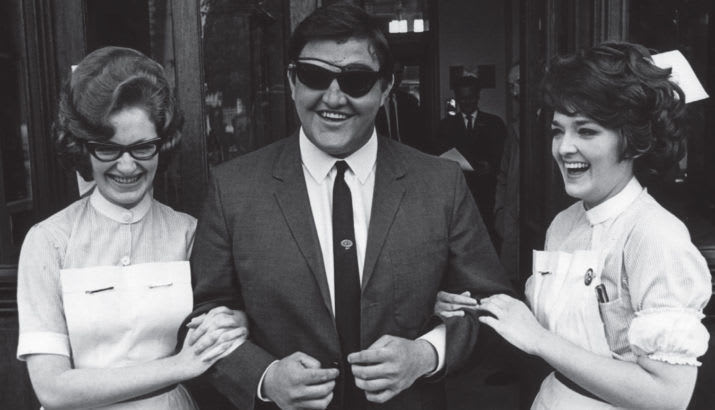 Former England cricketer Colin Milburn's story is so good that even a writer of fiction would struggle to improve it for dramatic effect.
Dougie Blaxland, which is the nom de plume of former Kent and Derbyshire all-rounder Jim Graham-Brown, has taken the facts, added in a series of often funny jokes and written a 65-minute solo show that will have immediate appeal to cricketing fans everywhere. Indeed, the 300 seats in the Nursery Pavilion at Lord's were completely sold out well ahead of the event.
This is part of a month-long tour supported by the Professional Cricketers' Association, not to mention the Arts Council, which visits all 18 cricketing counties. There is also a charitable goal since the show is being used to highlight and raise funds for the PCA's Mind Matters series, which assists professional cricketers who struggle to come to terms with life after their often brief flirtations with fame and fortune.
For those that are not cricket fans or were not around in the 1960s, Ollie Milburn, as he was universally known, was a popular hero.
These days when fitness ranks higher than talent and inspiration in almost every sport, cricketers no longer come in rotund packages. That is a shame, since the sight of somebody like the 20-stone Milburn in action almost always provided rich entertainment.
Running several timelines simultaneously, Dan Gaisford as the ex-cricketer from the north-east reflects on a sporting life from the perspective of a pub where Milburn enjoys a pint glass filled with the triple gin and Coke named by the public and in his honour.
His father Jack was a local player with a reputation as a big hitter, which the youngster soon inherited, showing exceptional talent from a very young age.
However, even when the opportunity arose to turn professional with Northamptonshire, mum would have been much happier to see her lad becoming a schoolteacher.
For someone obsessed with cricket and little else, that was never an option and, soon enough, the popular Milburn became a county star and was heading for international glory.
His forceful style of batting would have been perfect for Twenty20 cricket but could offend purists, as would his love of a few drinks.
However, at his best, Milburn could face down the fastest bowler in the world, West Indian Wes Hall, or play an innings in Perth described by Sir Donald Bradman as the best that he had seen by an Englishman in Australia.
However, as the star reached what was likely to be his pomp, tragedy beckoned in the form of a car crash that was almost certainly alcohol-induced.
Colin Milburn lost an eye and, with it, his happiness and self-possession. A man who had always been the life and soul of the party could no longer find his raison d'être once he discovered that his batting skills had deserted him.
The rest of the story is pure tragedy, as the once-great man drank himself into a very early grave.
Dougie Blaxland, with the assistance from Dan Gaisford and director Shane Morgan, has created an enjoyable biographical piece about the perfect larger-than-life character.
He is not afraid of showing reality, warts and all, in a production that is dramatic enough to please even those who are not obsessed with cricket and will almost certainly sell out every venue on this tour and might well do the same again, should the producers decide to give it a second innings.
Reviewer: Philip Fisher