When The Long Trick's Over
Morgan Lloyd Malcolm
High Tide/New Wolsey Theatre
New Wolsey, Ipswich
–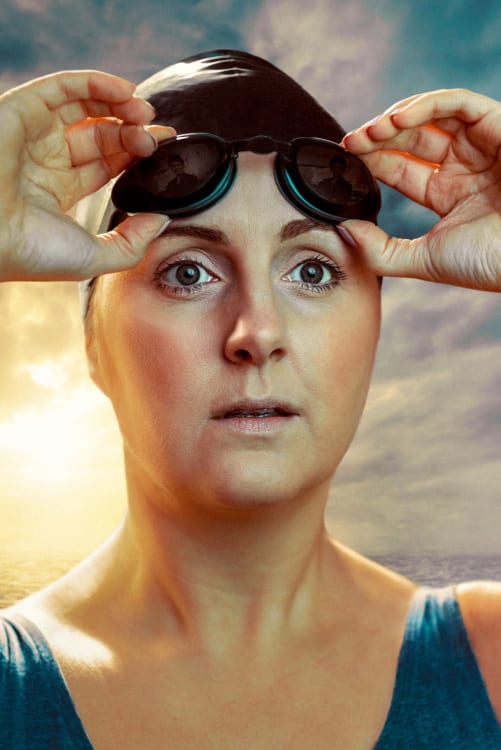 How do we cope as human beings with loss and death? It's such a major part of our experience—and the question is even more relevant to us now having been through such a turbulent couple of years.
Morgan Lloyd Malcolm's new play tries to answer these questions by focusing on a young woman attempting to swim the English Channel for the first time as a personal challenge. The play examines the mental and physical strength needed for such a feat but also the reasons we might challenge ourselves to push boundaries beyond our natural endurance.
This is High Tide's first tour—up to now they have been a festival-based company—but having relocated to The New Wolsey campus, this commission is a joint enterprise between them and the theatre.
Morgan Lloyd Malcolm is an experienced writer, having won an Olivier Award for her play Emilia which transferred to the West End, and the quality of the writing and performance do shine through in this two-hander where we join the Swimmer (never named) as she attempts her epic journey across the Channel while being harassed by not only the weather and the tides but by thoughts of her dead sister for whom this swim is really for, and the spirit of her dead mother—embodied in the form of actress Shenagh Goven—who nags and undermines her constantly with her views of her daughter's inadequacy and shortcomings while making sandwiches, watering plants and singing along to '90s songs (badly!).
Stacey Ghent as the Swimmer is called on to perform suspended in a clear Perspex tube on which are projected surging waves, and in a harness which occasionally allows her to rise above the plinth she stands on and attempt acrobatics. In spite of these handicaps, she projects the character well to us the audience and draws us into her story.
She's a girl of the Northern '90s who, because of her size and body shape, never felt equal to her more glamorous sister growing up. So attempting to swim the Channel is as much a project to prove to herself she is as good as her sibling as to honour her sister's wishes.
The script is full of humour, much in part to the physical embodiment of Mum who verbally spars with the Swimmer and who in turn gives as good as she gets. Theirs is a relationship that was unequal in life but is now put under the spotlight with a chance to redeem on both sides.
As the swim progresses and the challenge gets tougher with tankers and jellyfish causing all sorts of problems, the Swimmer finds new strength in both fighting the negativity of her mother's comments and reciting top ten lists of likes and dislikes as she ploughs on towards the French coast.
There is a very brief reference to the first woman to succeed in the feat—Gertrude Ederle—but this is really a footnote to the main body of the play, which is a shame as I for one would have liked to have known more about her. There are also references to John Masefield's poem "I must go down to the sea again"—from which the title of the piece comes—but this poem could have been used to more effect.
Efficiently directed by Chinonyerem Odimba, by the end you feel you have gone on the Swimmer's journey with her—and that is the mark of a good production.
Reviewer: Suzanne Hawkes