When You Cure Me
Jack Thorne
Bush Theatre
(2005)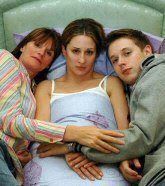 It sounds like a dramatic disaster but the idea of a play centred on somebody lying paralysed in bed is not new. As those who flocked to see Kim Cattrall in Whose Life Is It Anyway? earlier in the year found out, being bed-bound is no impediment to providing entertainment.
When You Cure Me is a new play by yet another of Mike Bradwell's talented young protégés Jack Thorne. It focuses on Morven Christie's Rachel, a 17 year-old recovering from a horrific rape.
Rachel must have been a bright, happy schoolgirl preparing for her A-levels before she was attacked and raped by an unknown assailant who is still at large. During the course of the play, she suffers from psychosomatic paralysis of her legs even though her mental state slowly graduates from deeply distressed to almost reconciled, as the two hours pass.
Rachel's life is paralleled by that of her boyfriend Peter, played by Samuel Barnettwhop is best known for his performance in The History Boys. He is a mass of contradictions, a wimpish football star, a boyfriend who was probably not that close but becomes so as a result of the incident and a popular boy who is willing to sacrifice his free time to be with Rachel.
He visibly matures as he takes on tasks that might otherwise have fallen to her deceased father. This is particularly necessary since her mother Angela (Gwyneth Strong) has that uncanny parental knack of winding up her daughter the wrong way, however hard she tries to do otherwise.
The comedy is largely injected by Rachel's two colleagues from school - one hesitates to call them friends - James and Alice, both played by stage debutants.
Daniel Bayle's James is a Jack the Lad who loves himself far more than he does Alice and eventually tells Rachel what he thinks of her to her face because he believes that it is dishonourable merely to slag off behind her back.
Lisa McDonald is particularly funny as vacuous Alice, a tall, gawky teenager who probably regards Hello magazine as a wee bit too intellectual.
The core of the play lies in Rachel's attempts to come to terms with her attack and subsequent problems. With the help of the sometimes overly-possessive Peter, and having eventually accepted that her mother, still struggling with widowhood, only wants what is best for her daughter, she eventually begins to make progress towards the possibility of a return to normality.
With the assistance of his director Mike Bradwell who is always so good with this kind of drama, Jack Thorne has done a wonderful job in portraying the traumas of a suffering teenager.
Occasionally, the pace of the play slows rather too close to a standstill but by the end, thanks to excellent performances from Samuel Barnett and, in particular, Morven Christie, When You Cure Me proves itself to be a real find from a playwright who has a very bright future.
Reviewer: Philip Fisher