Whisky Galore! The Making of a Fillum
Adapted by Giles Croft from the novel by Compton Mackenzie and the screenplay by Compton Mackenzie and Angus MacPhail
Nottingham Playhouse and touring
(2007)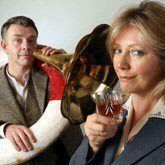 It's not automatic that a successful novel can be adapted into a successful play. Similarly, a funny film script won't necessarily turn into a funny stage adaptation.
When you take a classic Ealing comedy and put it into a live setting, you'd think the author would have a pretty good chance of raising plenty of laughs. But Whisky Galore! The Making of a Fillum is a big disappointment. That's no fault of the actors - it's totally down to the script which I found leaden, uninspiring and largely unfunny.
Nottingham Playhouse's artistic director Giles Croft came up with the idea of this new play which goes behind the scenes of the film.
It's true that the screenplay was ripped up and thrown away only a couple of days before the Ealing comedy was shot. Croft's production features author Compton Mackenzie, director Sandy Mackendrick, the producer, actress Joan Greenwood, Mackenzie's secretary and his great-nephew assembling in Mackenzie's study to read through the new script.
Most of the cast are highly experienced and very enthusiastic. But not even actors of the calibre of Richard Shelton (Dr Adam Forsythe in Emmerdale), Karen Drury (Susanna Farnham in Brookside) and Robert Austin can save this show.
It sinks more quickly than the SS Politician, the ship which ran aground off the tiny island of Barra at the start of the tale.
Helen Fownes-Davies has done a fine job with the set which becomes the hold of the sinking ship, a village hall, a cave and other settings from the film as well as Mackenzie's study.
There's also a clever use of props, with a chair doubling up as a car, a packing case as a boat and a sink plunger as a telephone.
But the script lets the production down. The second half is marginally better than the first but on the evening I attended the audience laughed only a handful of times.
Perhaps it would have been better simply to have adapted the Ealing comedy for the stage. There would almost certainly have been more humour in it.
Thankfully the play is quite short - only an hour and three-quarters including the interval.
Nottingham Playhouse has a reputation for putting new productions on the stage and some of its recent works, especially plays directed by Giles Croft, have been powerful offerings. The world premiere of All Quiet on the Western Front in particular springs to mind. But I'm sure Whisky Galore! The Making of a Fillum won't be remembered as fondly.
Maybe I would have enjoyed it more if I'd had a few drams before going into the theatre. But I doubt it.
"Whisky Galore! The Making of a Fillum" runs at Nottingham Playhouse until February 17th and then tours to the Theatre Royal, Glasgow; Hackney Empire; Devonshire Park Theatre, Eastbourne; Theatre Royal, Windsor; and Liverpool Playhouse.
Reviewer: Steve Orme