White Christmas
Music and lyrics by Irving Berlin, book by David Ives and Paul Blake, based on the Paramount Pictures film by Norman Krasna, Norman Panama and Melvin Frank
Curve in association with Jamie Wilson
Curve Theatre, Leicester
–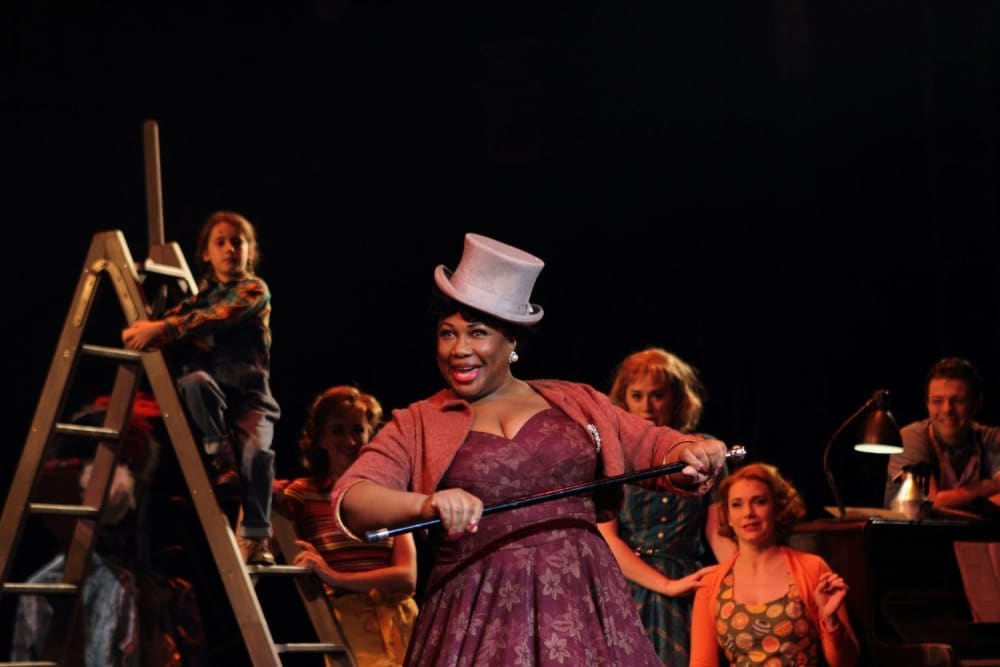 The 1954 film White Christmas adorns the TV schedule as regularly as, um, Christmas with Bing Crosby's crooning of the titular song ringing out across the nation's retailers from November onwards.
Premièring in 2000, this stage version of the much-loved film should be a sure-fire Christmas show winner for Curve you'd think, and ticket sales certainly reflect this with many performances sold out, or close to, over the run.
A few gripping minutes as the show opens cover America's entry into the Second World War in 1941. Then to 1944, where army buddies Bob Wallace (Danny Mac) and Phil Davis (Dan Burton) perform a downbeat revue for fellow soldiers and their adored General Henry Waverly (Garry Robson).
Hot-foot it to Christmas, 1954. Bob and Phil are now a successful double act and as they prepare to travel to Florida, they encounter performers (and sisters) Judy and Betty Haynes who are travelling to Vermont. Despite Phil's appalling chat-up lines, he and Judy hit it off immediately and plans are changed as Phil follows his womanising ways. Bob and Betty? More of a slow burn but we all know where this is going…
It just so happens Judy (Monique Young) and Betty's (Emma Williams) performing gig is at a venue run by now-retired General Waverly. Things ain't going so well, despite the best efforts of his super-efficient concierge Martha Watson (a richly-voiced Wendy Mae Brown), and the spirit of giving at Christmas comes to the fore as Phil and Bob gather cast and crew for a special show to save the day. A few tiffs and misunderstandings along the way add a dusting of drama (including the nagging threat of global warming as Vermont experiences an unusual heatwave preventing the dreamed-for white Christmas).
The four main stars gel well; little to work with character-wise, this is more than made up for with consummate vocal and dance performances. Danny Mac turns on his seemingly effortless charm as initially grumpy Bob, displaying a full set of Hollywood matinée idol attributes, as does co-star Dan Burton. Young and Williams charm as the two sisters, and everyone seems to be having a swell time.
Most of the humour, gentle as it is, falls to Wendy Mae Brown who brings much-needed sass and spike to the sugary sentiment, and Siôn Tudor Owen, doubling as Ezekiel Foster and Snoring Man, raises the comedic bar from, it has to be said, a pretty unchallenging level.
Production values are high, and many of director Nikolai Foster's collaborators on Scrooge the Musical (last year's festive show) return to wash away the grime of Victorian London for lashings of Hollywood glamour. Great work again from Michael Taylor (set design), and Mark Henderson and Tom Marshall (lighting and sound design respectively). Stephen Mear's choreography embraces the influences of the period, with thrilling tap routines to "I Love My Piano", and the Fosse-esque "Blue Skies". In his first Curve production, Diego Pitarch's glitzy costumes are gorgeously evocative of the era.
Aside from the majesty of Irving Berlin's songwriting and a fondness for the traditional Christmases we remember (or at least, think we do), this is a plot-lite, music-rich show which some might find safe and cheesy and as fake as the snow which marks the climax of the show. I say bah humbug to that though. Enjoy it for what it is: classic songs, crisp and intricate choreography wrapped up with style and warmth.
Reviewer: Sally Jack