White Pearl
Anchuli Felicia King
Royal Court Theatre Downstairs
–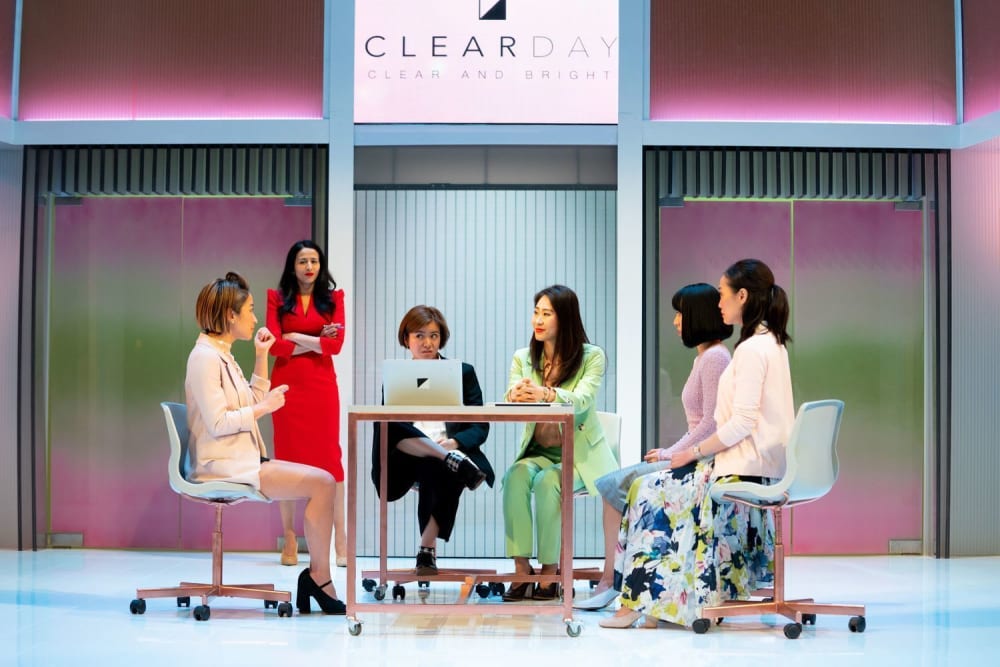 This première has New York roots with writer Anchuli Felicia King, a Thai-Australian multidisciplinary artist, and Thai-American director Nana Dakin both based in the city.
The piece represents an unusual departure for the current team at the Royal Court. Although it is issue-led, White Pearl is a light sitcom that looks to national stereotyping for many of its laughs.
The drama plays out in the stylish, ultra-modern Singapore office of Clearday, a company promoted under the banner "clear and bright". This booming start-up exclusively run by young women has built success on products to whiten the skin across Asian markets.
Before the curtain even rises, viewers watch numbers slowly ticking up. It doesn't take long to discover that these represent YouTube views, starting the 85-minute performance at a modest 20,000 and eventually comfortably exceeding 5 million.
From conversations between the managing director and founder Farzana Dua Elahe's Priya and her unimposing right-hand woman Sonny played by Katie Leung, it becomes apparent that this count represents viewings of a potential Chinese advertising campaign that has gone badly wrong, even though it was never broadcast.
Although it is apparently still acceptable in China, the idea that a product can be promoted using racial slurs sends social media zealots into angry overdrive.
Given that the company's sole product is a cream designed to whiten users' skin, the problem seems to have been almost inevitable, although the brutality of the marketing may shock.
The upshot of the furore soon begins to cause internal divisions in a company that is already riven with them, since it appears that every one of the women representing diverse Asian nationalities hates most, if not all, of the others.
In brief, the Chinese employee who approved the ad campaign will literally get arrested and possibly executed if she returns home, so is a gibbering wreck. Her only friend, the Korean, is the constant victim of unsubtle jibes and may have been concocting a formula that is illegal. Alternatively, she may just be good at blackmail, a skill shared with many of her colleagues.
While all of this is going on, Kae Alexander playing feisty, Thai-American rich girl Built swans around until she eventually discovers the perpetrator of the online attack, a mad Frenchman. Rather than sharing the problem, her attempts to solve it by negotiating with her one-dimensional ex-lover are degrading but ineffectual.
By the end of the evening, the powers that be at this previously successful company have been reduced to a nationalist slanging match, seemingly more intent on getting laughs from the audience than solving an issue that is likely to end in closure, mass unemployment and the prospect of perpetual persona non grata status for everyone involved.
Farzana Dua Elahe can be magisterial in her power broking, while Kae Alexander better than most when it comes to keeping her tongue (amongst other things) in her cheek throughout a play that raises interesting issues without exploring them in any great depth and instead relies too much on shallow comedy.
Reviewer: Philip Fisher