Who's Afraid of Virginia Woolf
Edward Albee
Sonia Friedman Productions and Tulchin Bartner Productions
Harold Pinter Theatre
–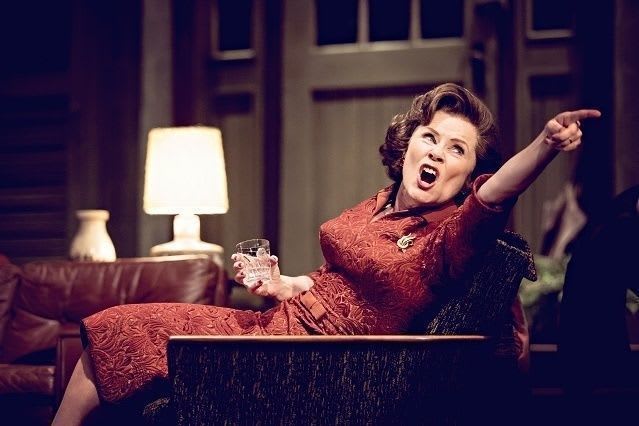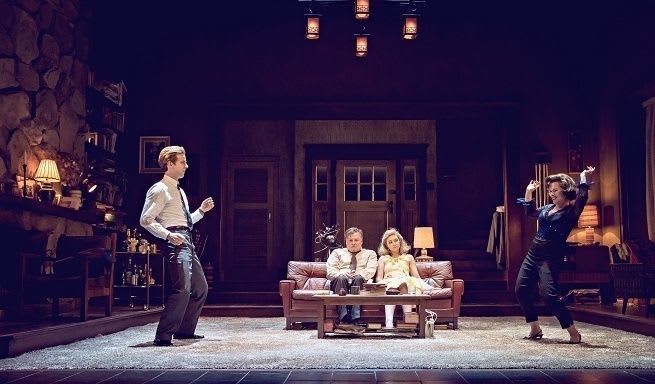 Given its multi-talented, all-star cast, it was hard to see how James Macdonald's revival of this Albee classic could go wrong.
However, even given the level of expectation, this three-hour production is memorable—chilling and amusing in equal measures.
Who's Afraid of Virginia Woolf has a deserved reputation for the argumentative fireworks that take up so much of the running time but there is also hidden tenderness and poignancy not too far beneath the boiling surface.
At surface level, it looks like a 50-year-old domestic drama taking place in New Carthage, a prestigious American college town. In this incarnation, the home created by designer Tom Pye for History professor George and his wife, Martha, names conveniently and significantly borrowed from the Washingtons, is as symmetrical as the lives that go on within its four walls are topsy-turvy.
Starting at 2AM after a party given by the college president, coincidentally the father of the hostess, it develops into a long dark night of the soul in which alcohol loosens inhibitions and eventually leads to the cruel dissection of The Great American Dream. That is not necessarily how it starts out.
Imelda Staunton excels as the harridan whose aim in life appears to be the psychological destruction of her mild-mannered husband. As we gradually discover, Conleth Hill's character has a few secret weapons of his own as their battle escalates to a scale equivalent to the Cold War.
It would be easy to disregard the bright, young house guests who arrive to curry favour but they both make a contribution to the explosive events and serve an authorial purpose.
Luke Treadaway's Nick and his mousey wife Honey played by Imogen Poots can be regarded as representatives of the hope that George and Martha had invested in life when they married a generation previously. Nick is an Aryan geneticist of great beauty and intellect but still no match for the home team while Honey represents impotent but valuable new money.
The pair are also useful pawns and weapons in the war, which is presented as a series of often violent and sometimes terrifying, liquor-fuelled games played by the hosts for their own perverse amusement.
The producers have gone to considerable trouble to compile a dream team to ensure both commercial and artistic success.
James Macdonald has long been a specialist in portraying human conflict on stage. Imelda Staunton, who never gets it wrong whether performing in musicals or straight plays, was always going to be perfect and duly delivers, while Conleth Hill is clever casting as the masochistic George, a man willing to be browbeaten while enjoying a strange kind of love and waiting for his moment to pounce eventually.
This is to be expected but in some ways the revelations are the younger cast members. While everybody who saw Luke Treadaway creating the role of Christopher in The Curious Incident of the Dog in the Night-Time could see that he had abundant talent, this is a very different role as he plays a sneering jock who happens to have a brain. Opposite him, Imogen Poots is making a belated stage debut after long screen experience but generally in much lighter roles. While Honey is very much a supporting cast member, the actress inhabits the role like a seasoned pro.
There seems little doubt that the critics are going to love this production and, while Edward Albee has always been a challenging playwright, there is no reason to believe that audiences will not flock to the Harold Pinter Theatre and thoroughly enjoy the experience of seeing Imelda Staunton at her very best alongside a well-balanced trio of colleagues, each on the top of his or her game.
The performance on 18 May will be broadcast around the UK and beyond as part of the NT Live programme.
Reviewer: Philip Fisher