Who's Holiday
Matthew Lombardo
TuckShop and Jack Maple
Southwark Playhouse Borough
–

Listing details and ticket info...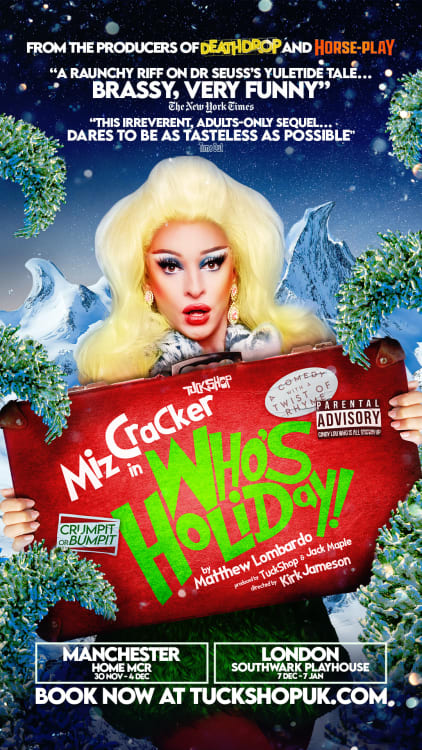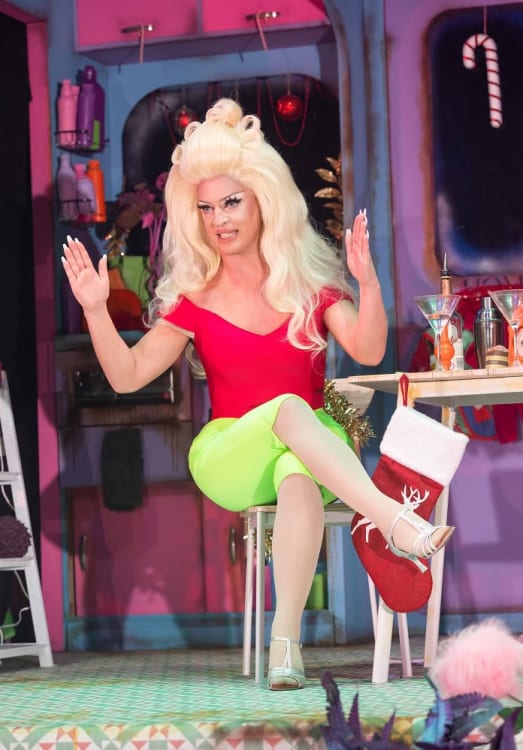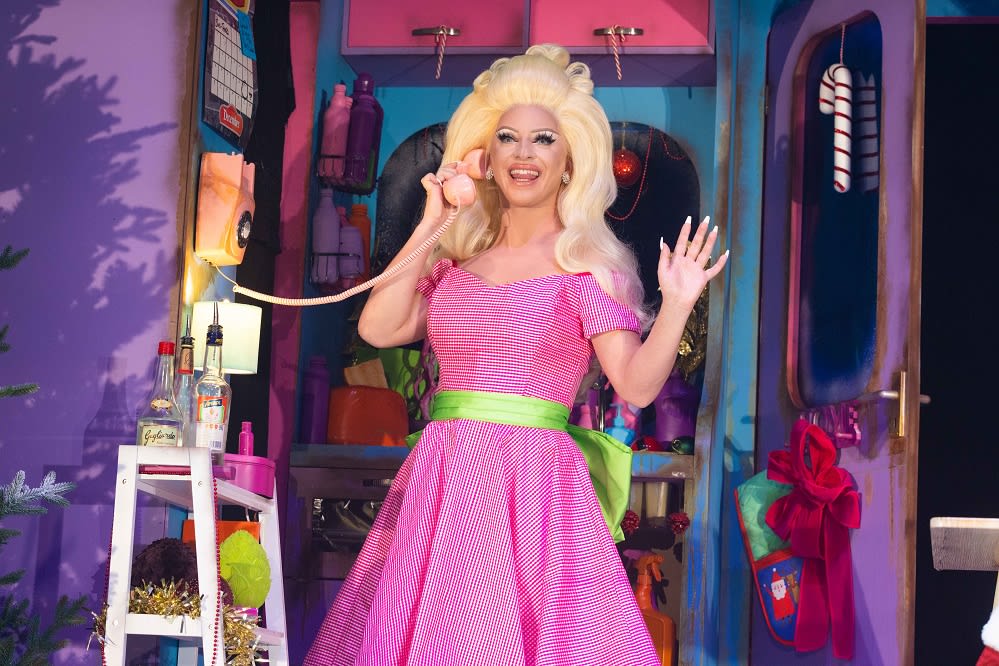 Drag Race star Miz Cracker has forsaken her native New York City drag scene to make her UK acting début in the European première of Who's Holiday.
I do like adults-only seasonal comedy and was hugely relieved that this 2017 solo show isn't peppered with references to Drag Race which I've never watched—and no, I don't live under a stone, I simply detest reality television.
Lack of peppered-ness does not mean lack of spice and this is not Dr Seuss as most would know it, and thank goodness for that because I've never really warmed to the all-American money-making rhyme-machine that is the Dr Seuss brand.
Writer Matthew Lombardo has reworked the 1957 How the Grinch Stole Christmas!, in which the mean old green hermit, known as the Grinch, dresses up as Santa to go down the chimneys in the village of Whoville in order to steal people's presents and ruin the festive season. Of course he learns the true meaning of Christmas and everyone becomes friends and lives unrealistically happy ever after.
Thankfully, Who's Holiday is a much more valid and gritty tale—the recommended age is closer to fourteen than four—and although it is in non-stop verse, it is interspersed with asides, expletives and double-entendres, and even a bit of (less successful) rap, and at 55 minutes or so it knows when to get off.
Lombardo's narrative starts with its tongue rather in its cheek, laying the groundwork with the story of the Dr Seuss book, but quickly disposes of that apple pie wholesomeness to move through the heroine's adulthood.
The story gets a lot darker and more engaging as a result and Miz Cracker seems in her element playing a grown-up Cindy Lou Who, swapping out her squeaky-clean childhood red gingham dress with oversized bow for something that hints at trailer trash.
The transformation, retaining the Barbie-doll-meets-Dolly-Parton hair, fits beautifully with Justin Williams's detailed set. Outside his bisected trailer, there are twinkling lights and glistening snow, but the stains dripping from the trailer's downpipe and the bin bags around the mailbox all signpost a downfall from Cindy Lou's better-heeled, righteous beginnings.
Inevitably, her riches to rags story has overtly moralising moments, but Who's Holiday is written in the style of Seuss, so what do you expect? Cindy Lou speaks of diversity and tolerance as someone on the receiving end of prejudice but does not burden the narrative with piety. This heroine is tougher than that.
Slugging vodka from the bottle, Cindy Lou shares her sad story, the pathos of it at odds with the occasionally banal rhyming, but she always manages to keep the pace swift enough to make little odds of it.
Generally speaking, the devil is in the detail, but with this show, the devil is in the delivery and Miz Cracker nails it. Once the text moves on from the waggish intro, she walks the tightrope that is dropping outrageous asides into narrative passages infused with sadness and adversity without missing a step.
Who's Holiday is a not unlike Christmas itself: happy and sad, moving and hopeful, and mostly very good fun.
Reviewer: Sandra Giorgetti