Wicked
Music and Lyrics by Stephen Schwartz, Book by Winnie Holzman based on the novel by Gregory Maguire
Apollo Victoria
(2006)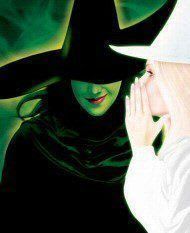 London is currently awash with big-budget musicals and during the autumn and winter at least another half dozen are opening.
Wicked, which was a sensation in New York, is likely to have a similar effect in London, even if Stephen Schwartz' songs are not all that catchy and lack the vital ingredient of hummability, although his lyrics are consistently funny.
American director Joe Mantello's production has major assets in its two leading ladies and wonderfully over-the-top razzmatazz.
Idina Menzel was the darling of Broadway and won a Tony for her part as Elphaba, The Wicked Witch of the West. She has a delightful light voice, kooky charm and a tremendous sense of humour, which together ensure that from her original appearance after ten unexciting minutes, the audience is instantly charmed and falls in love with her.
Wicked follows the story of a young girl who never quite overcame the prejudice resulting from her bad complexion. It's not good news if you are the only kid at school with a green face!
Elphaba may only have made it to anti-hero in The Wizard of Oz but she gets a sympathetic star part in this backstory, which explains why the world knows her as an evil witch rather than the good-natured pet lover that she really was. Having said that, these days to be labelled as the original animal liberationist is hardly a guarantee of a good press.
Elphaba's foil is the excessively sweet and universally loved Glinda the Good. She is inevitably dressed in virginal white and could be described as vanity embodied. This Barbie has blonde-hair, consistently turns boys' heads and works hard to be every girl's best friend.
Anglo-Australian Helen Dallimore, whose career so far has been pursued Down Under, has a much richer voice than her partner and great timing with comic one-liners. The pair play well together and have a couple of duets that bring the house down.
Elphaba's sweet nature helps a lot and she eventually not only persuades Glinda to become a friend but also takes the part of her rival for the love of Adam Garcia's impossibly handsome and proudly lazy Fiyero.
The main battle that ensues pits the magical powers of the poor little green girl against those of the Wizard after whom the movie was named, who is also the man finally revealed to be her natural progenitor.
As she goes off to see the Wizard, we discover how The Cowardly Lion, The Tin Man and The Scarecrow came to be as they were in the movie but find Dorothy a little more elusive.
We get so close to seeing her before she disappears up the yellow brick road and it is she in silhouette who, at the death, morphs the misunderstood heroine into nothing more than her hat. By then, Elphaba has been transformed from a Robin Hood saviour of animals to become the cackling Wicked Witch of the West, all thanks to bad PR.
In addition to the international stars, a couple of top-quality British character actors have opportunities to shine. Miriam Margolies plays Madame Morrible, an odious schoolteacher who speaks in malapropisms and eventually gets a job with The Wonderful Wizard of Oz (he gets the full name in the programme). The Wiz is played by Nigel Planer as a reincarnation of Stan Laurel.
The production qualities are pitched towards perfection and very nearly achieve it. The scenic design and costumes from Eugene Lee and Susan Hilferty are exceptional and well complemented by Kenneth Posner's lighting and Wayne Cilento's choreography, which uses an upmarket version of the Come Dancing style. This means a feast for the eyes in which one unforgettable image is soon followed by the next.
The whole cast sing and dance their hearts out in what is a very satisfying evening of theatre that might just miss out on the ultimate accolades for the lack of a couple of production numbers that would ensure massive sales of the soundtrack CD.
Go and see it while Idina Menzel and Helen Dallimore are together. Like Nathan Lane in The Producers and Elena Roger in Evita, it is hard to see how their successors could be as good or in this case work so well as a partnership.
Reviewer: Philip Fisher