This Wide Night
Chloë Moss
Clean Break Theatre Company
Soho Theatre
(2009)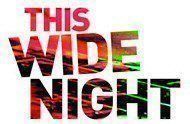 You have to applaud the Clean Break Company. The principle of using theatrical expression to help women prisoners to reintegrate themselves into society is somewhere beyond worthy.
This Wide Night was achieved thanks to a spell that playwright Chloë Moss spent at HMP Cookham Wood as Writer in Residence. It first appeared at Soho last year, with a different cast, and such was the response that it is making a comeback as an unlikely competitor with pantos and A Christmas Carol for the pre-Christmas crowds.
It has to be said that the play is short on seasonal cheer, although it does manage a marginally upbeat ending.
Marie, played by Zawe Ashton, is an ex-con in her twenties barely getting by in a tiny, shabby bedsit thanks to a pub job and frugal lifestyle with beer, vodka and possibly drugs closer to hand than basic foodstuffs.
She receives a visit from Maureen Beattie's Lorraine, almost fifty and a stranger to society having spent the last twelve years in prison after murdering a man with a bottle.
The Scot is desperately needy, with only this single friend outside and nothing to look forward to other than the slim possibility that her son Ben, now 31, might agree to meet her.
Through a pretty grim 90 minutes, Soho's fashionable middle class audience gets a chance to look through the keyhole at the desperation that characterises the lives of those in whom society has lost faith.
If you have been released from prison, the chances of getting legal work are almost non-existent and that leads to a spiral that will probably involve theft, drugs and prostitution, if not all three. From there, it seems a racing certainty that a return to jail is all that there is to look forward to.
In dramatic terms, This Wide Night does not quite work. We do see each of the characters journeying slightly closer to acceptance of their lot, especially Maureen Beattie who develops Lorraine's character and confidence magnificently. However, like Beckett's tramps in Waiting for Godot, they are condemned to do little and hope for nothing more than some minor miracle that will never occur.
The result is that one helplessly watches two women discover that life in the free world has little more to enjoy than the meagre comforts offered by Her Majesty at institutions such as Cookham Wood.
On the plus side, thanks to detailed research and two really gritty performances under the direction of Clean Break's Artistic head Lucy Morrison, one can easily believe that former inmates would behave exactly as Marie and Lorraine do in this poignant slice of life drama.
Reviewer: Philip Fisher