Wiesenland - Tanztheater Wuppertal Pina Bausch - World Cities 2012
Pina Bausch
Tanztheater Wuppertal Pina Bausch
Sadler's Wells
–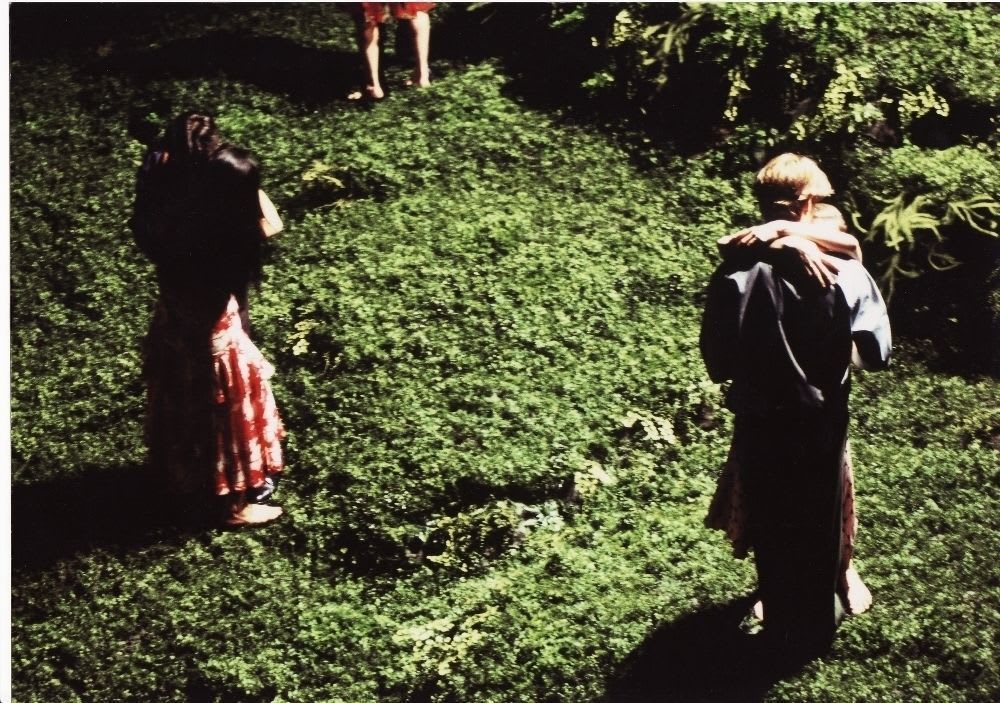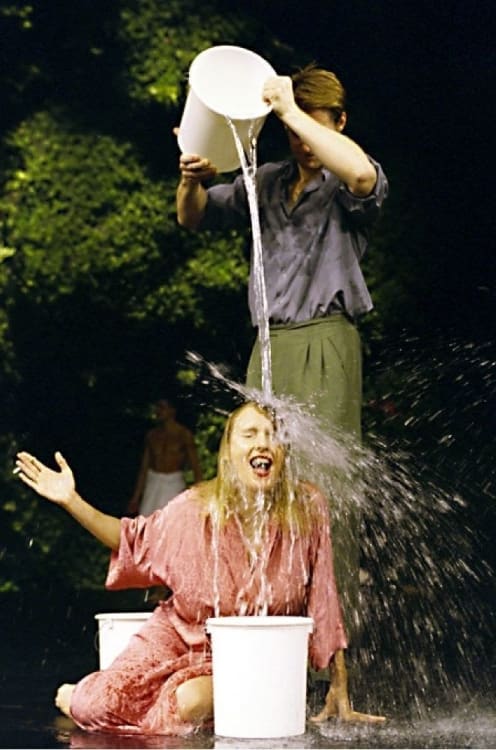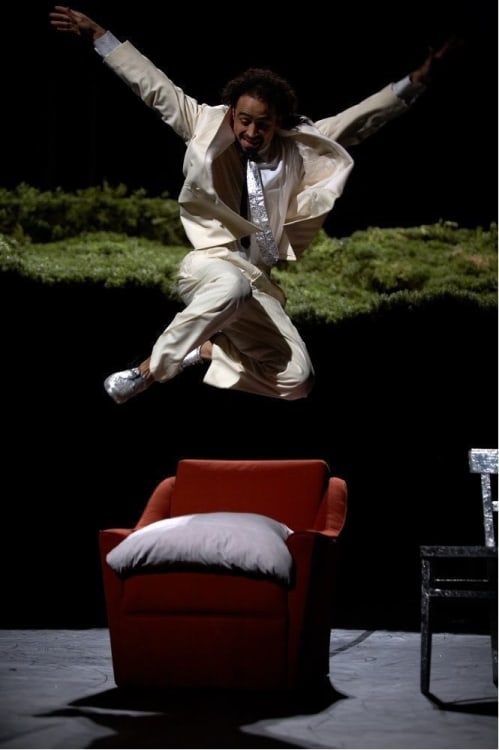 Wiesenland brings the Pina Bausch Tanztheater Wuppertal decathlon season at the Barbican and Sadler's Wells to a close if not to an end—more of an open-ended romantic reverie than a conclusion.
I was disappointed to see that only nineteen of the company's dancers were in the cast, that so many now familiar personages, so willingly put through Pina's mill, were absent from that collective end of term bow.
We shall miss them, for they will have left an indelible mark on Pina's many international fans and critics alike. A global phenomenon, and bandwagon, Pina Bausch is in danger of becoming a cult, as the blanket standing ovations have demonstrated.
Wiesenland, meaning meadowlands, the land of meadows, was apparently inspired by a seventeen-day visit in 2000 to Hungary, its capital, and surrounding countryside, by its folklore, stories that sustain a way of life in times of hunger and need, and, I suspect, by films of the endless Transylvanian borderlands terrain.
Helena Pikon ("I would so like to be an angel") tells stories about why in one village people jump all the time, and how in another they are too scared to touch each other because of the plague, so they throw… Loaves of bread and buns are cast upon the stalls.
Regina Advento converses in gestures with the front row, and asks intimate questions. Later the whole company speaks at the audience in a cacophony of mime. No language barriers there.
And, one mustn't forget Peter Pabst, the unsung hero of Pina's success, who fulfills her vision so well, his stage designs one of the highlights of the season. Here he conceptualizes Wiesenland in a vertical wall of green hummocks running with water, pooling at the bottom. Water, fecundity, nature renewing itself, the essence of life…
Buckets and buckets of water are poured by men over smoking women; fountains spurt out of mouths in childish water play; men and women bathe in small zinc tubs, a watering can a handy shower.
Women in elegant floor-sweeping gowns mop the floor dry with white towels, and groom themselves for attentive men, who behave chivalrously. In Austro-Hungarian epoch style? Or is this gypsy clan courteous pimping? Both, it seems.
"Lovely", Eddie Martinez drools over a stage full of gorgeous women, and Aida Vainieri is hung by her armpits like a coat over Rainer Behr's dangling feet.
Andrey Berezin, in dark and flashy suits and fedora hat, is a sinister silent presence, the king of the gypsies with his shopping trolley, two-tiered sofa for his sexy women, and chicken coop (yes, with live hens).
Men dress the women, attend to them, lift them in flight, swarm around them, and love them possessively. Two men blow smoke over a woman's hair until it steams, like mist on fields at dawn. Obedient dog women, but this time they can bite. Thieving women too—Damiano Ottavio Bigi upends Vainieri and all sorts of silverware falls out of her fur coat.
The gypsy life in all its unrestrained vitality, its communal meals, its tricks, its kleptomania… And dreamy solos that speak of a private internal life adrift in the world to music that reflects each dancer's personality and strengths, Bigi's solo startling in its gymnastic virtuosity.
Not only Romany gypsy bands and singers—Vera Bila, Taraf de Haidouks, Ghymes, Romano Drom, Fanfare Ciocärlia—but also jazz, ambient electronica, and trip-hop-dub. From Mel Tormé to Rex Stewart and his cornet once put to use in Duke Ellington's band, from Caetano Veloso and Herminia to Elektrotwist and Peace Orchestra.
The meadow comes down to earth for couples to laze on, to hug and smooch dance on, and for Berezin to build the beginnings of an ark on—clutching at straws… Earth dwellings, towers of chairs, empty restaurants, and a cross-legged mystic in turban on a flying carpet cooking goulash on a primus stove.
Individuality amongst communality, but above all there is oodles of love. Budapest has brought out the romantic in Pina. Waltzes, folk-inflected dance, and a knockout swat with a rolled-up newspaper. Funny, sensual, melancholic, laughter through tears, all the elements are here.
Fire, earth, air and water bind Pina's ten cities. Obvious? Of course, Pina is obvious, maybe that's why audiences respond so viscerally to her. Childish delights, urgent needs, her perspective seems both affected and innocent, which is what makes her both exhilarating and exasperating all at the same time.
These ten productions reveal her flaws, her tics, and her self-plagiarism, but also her inquisitive humanity. A portrait of Pina, long in the making (1986 to 2009), emerges. Elemental and untidy like life, but Pina Bausch for her company was, and is, a way of life. From angst she arrived at love and joy, from darkness to light.
It has been a long haul, no doubt about it, the endless repetitions and clichés, the faux improvisations, the trademark tasselling and concealing hair, gowns, heels, cigarettes, tables, chairs, pillows, buckets, masses of water, untidy randomness, parody, dubious humour and stilted dialogue, the enigmatic smiles, the mystique, the power politics, the withheld secrets, the absurdist incoherence, and narrow vocabulary.
Isn't that life? Pina also brings beauty, transcending love, and transporting music—music the universal language, and dance the breath of life, the calligraphy of the soul. "Dance, dance, otherwise we are lost." (Pina Bausch).
In Tom Waits's words: "The face forgives the mirror / The worm forgives the plow / The questions begs the answer / Can you forgive me somehow / Maybe when our story's over / We'll go where it's always spring / The band is playing our song again / And all the world is green / Pretend that you owe me nothing / And all the world is green / We can bring back the old days again / And all the world is green."
Pina casts a nostalgic spell on the susceptible. It would seem that "Age cannot wither her, nor custom stale."
Reviewer: Vera Liber