Days of Wine and Roses
JP Miller, in a new version by Owen McCafferty
Donmar Warehouse
(2005)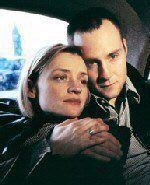 Days of Wine and Roses was a 1958 teleplay written by a Texan that subsequently transferred to the big screen starring Jack Lemmon and Lee Remick and then to the stage.
Northern Irish writer Owen McCafferty has now flown the 100 minute play to London in the Swinging Sixties. Its two protagonists, Donal and Mona, meet for the first time at Belfast Airport in 1962, as they are awaiting a delayed flight that will complete their emigration to London.
Donal is a relaxed bookie's clerk with a hip-flask, whose strange role model is the racehorse Arkle, while Mona is a shy civil servant from a strict family whose first ever drink loosens her to such an extent that she jumps Donal for a snog in the departure lounge.
In no time, a marriage proposal on Westminster Bridge follows - from Mona - and the well-off pair become parents of the unseen Kieran.
So far so good. Their problems initially seem like pleasures, as vast quantities of whisky help them to have a good laugh and oil the wheels of Donal's business dealings.
It doesn't take long before Kieran is farmed out to the neighbours almost permanently and the taboo description "Alcoholics" is spoken in anger. To the couple's credit, they give up drinking overnight and an immediate reward comes in the shape of a partnership for Donal.
The celebration turns sour very theatrically as a couple of small nips of whisky expand into bottles and a fight the following morning.
From there, the couple move poles apart as Donal goes on the wagon and looks after little Kieran while Mona moves into freefall with suggestions of prostitution.
In a final heart-rending scene, Donal, following Arkle's death, realises that London streets are not paved with gold. He chooses a war-torn Belfast as a safer haven for their son than the London, which has ripped the family apart and contains the temptation that neither of these addictive characters can resist for long.
The Sixties ambience is created by music between the short scenes that replicates the sound of a radio of the time, flitting between pop music stations. Alison Chitty's carefully colour co-ordinated set and period costumes have the benefit of simplicity and, from the start, prefigure the degradation to come.
This is a rather slight piece that expertly dissects two lives. Director Peter Gill maintains the tension and is supported by two superb performances from Peter McDonald and Anne-Marie Duff. The way in which they convey the pain of a couple who love each other but for whom living together is too dangerous to endure, is deeply moving.
Reviewer: Philip Fisher