Wise Children
Angela Carter, adapted by Emma Rice
Wise Children
Bristol Old Vic
–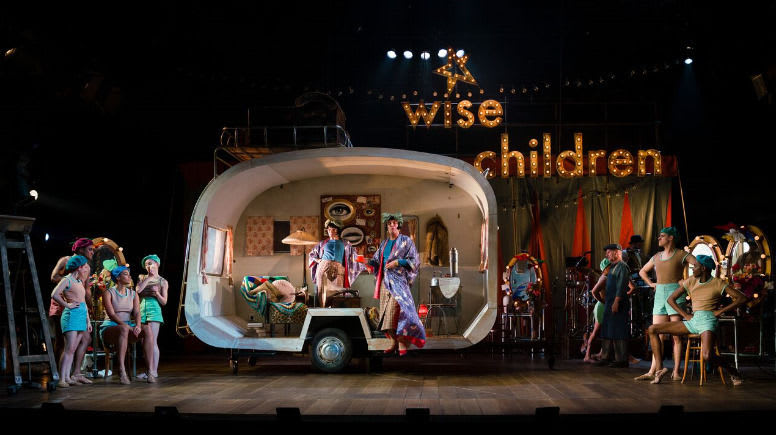 Dora Chance's voice leaps off the page in Angela Carter's 1991 swansong Wise Children, almost as if this most theatrical of novels is demanding to be staged. Yet, translating its bawdily exuberant multi-layered narrative into a play was never going to be straightforward, which is why, perhaps, it has waited in the wings until now.
In her new adaptation, first seen at London's Old Vic last October, Emma Rice has simplified some elements but captured all the celebratory spirit of the original book. With her Kneehigh credentials of imaginative, anarchic storytelling and a new theatre company named after the Carter novel, Rice directs a comic and poignant confection of an acting dynasty beset by twins, adultery and incest.
You can almost smell the greasepaint, daubed on behind the scenes to cover the cracks and fissures of everyday existence. Vicki Mortimer's eclectically detailed set includes a dilapidated caravan that serves as the family home and the play's name emblazoned in lights. Against this board-treading backdrop, the Bard looms large: Dora and her twin sister Nora's natural father Melchior is a notable Shakespearean actor, as were both his parents before him.
The story spans the thespian generations with a sprightly 75-year-old Dora taking on the lead narrator's role. Played with confiding, twinkling warmth and pathos by Gareth Snook, looking back on her life, Dora is far from in her dotage: still able to "lift a leg higher than your average dog". Carter's singular prose stalks in glorious Technicolor through the show, skewering its targets: 1980s gentrification creeping south of the Thames is "a diaspora of the affluent" while "comedy is tragedy that happens to other people."
Rice's collaborative ethos is much in evidence. The ensemble cast embraces the challenge of subverting the obvious; characters fluidly swap gender, colour and age while breaking into seemingly spontaneous song and dance. Ian Ross's score combines elements of original music with era-signalling favourites ranging from familiar show tunes to the 1980s vibrancy of "Electric Avenue".
Puppetry enhances the story of young Dora and Nora, born on the wrong side of the tracks in Brixton as the Zeppelins were falling. Ignored by their father, they are taken under the protection of his twin brother Peregrine, athletically played in the canary yellow tartan trousers and flowing red locks of his prime by Sam Archer. Ankur Bahl as Young Melchior is a theatrical distillation of distain and ego while Paul Hunter switches between the larger-than-life funny man Gorgeous George and the faded glory of the older Melchior. Katy Owen is outrageous as the naturalist, foul-mouthed but good-hearted Grandma Chance while as showgirls Dora and Nora in their heyday, Melissa James and Omari Douglas combine the blinkered effervescence of youth with long-limbed sensuous grace.
In case there weren't quite enough elements, thrown into the final mix is a spellbinding pivotal animation that transports the older Chance twins to respectable north London. The motif of Carter's words "what a joy it is to dance and sing!' rings out its peal repeatedly; Wise Children is vividly messy, rambunctious and melancholic, sometimes a paean to aging but always an affirmation of life.
Reviewer: Claire Hayes