Wise Men Say / Cornered
Paul Dunn / Jeff Brown
Cranked Anvil
Customs House, South Shields
–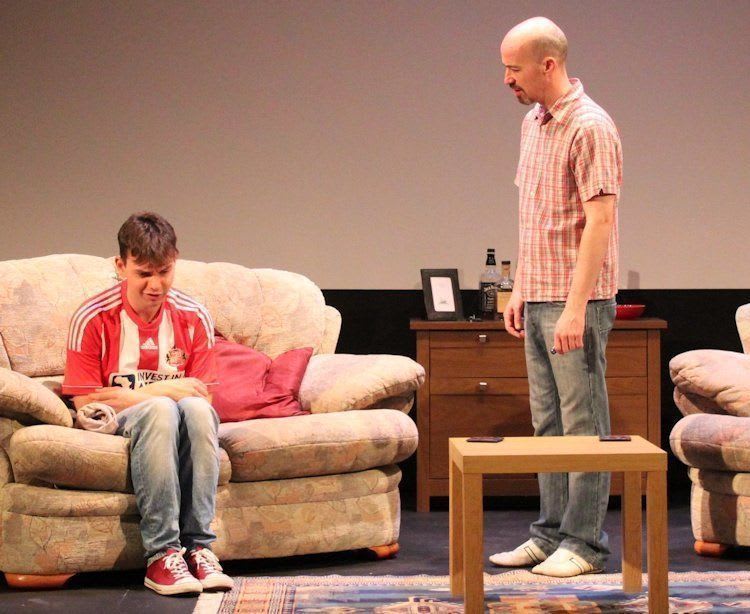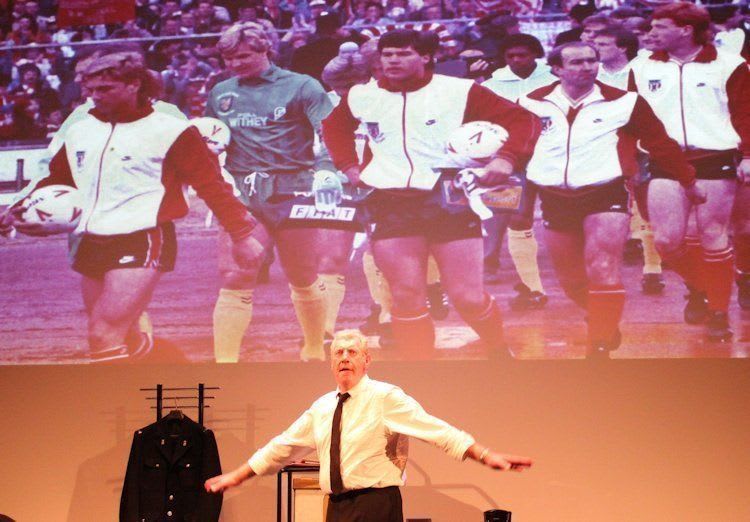 This double bill from Cranked Anvil is all about football, and about Sunderland AFC in particular, one about a fan and the other an ex-player.
First up is Wise Men Say by Paul Dunn, Cranked Anvil's Artistic Director.
Three years ago, all but a couple of weeks, he was in the Customs House performing Tom Kelly's football-related play I Left My Heart in Roker Park, the story of a Sunderland fan's life interwoven with the fortunes of the club in their original home in Roker Park and for the first few years in the Stadium of Light.
In a programme note to this production Dunn says, "It felt like the natural progression was to do something new that looked at the continuing ups and downs of supporting the lads in their 'new' home." He goes on to call the play an "unashamed celebration" of the time in the new stadium and there, I'm afraid, is the rub.
If you are a Sunderland supporter, you may well love this. Indeed there were a lot of - often very vocal - supporters in the audience who did, but if Sunderland AFC is not your thing… Well, let's put it this way: there is one section of the play which is little more than a PowerPoint presentation of the individual season statistics for every one of the twenty years of the Stadium of Light which had the supporters responding with joy or unhappiness - every single one of them, I suspect, was reliving those years – but among non-supporters attention definitely flagged.
At first Wise Men Say looks as though it is not going to follow the pattern of its predecessor, beginning with a scene between the main character (played by Dunn) and his son (Thomas Potts), but then it moves into the same direct addressing of the audience with the son (and a policeman, played by Steve Arnott) only appearing a couple more times. And the focus is definitely on the football rather than on the man and his life.
But that's OK; it just means that it's a play for Sunderland football fans. And it's well performed, with fine cameos from Potts and Arnott and convincing characterisation from Dunn the actor.
Cornered arises from an incident in the 1985 Milk Cup final at Wembley in which 18-year old Sunderland player David Corner made a mistake which led to the move which led to Sunderland losing to Norwich City, a mistake for which, ever since, he has been the target of abuse from Sunderland fans.
Jeff Brown is a sports writer and TV presenter who has written a play based around one momentary mistake in a football match 32 years ago, so we might be forgiven for expecting something aimed purely at football fans. I certainly was, but in fact it's about how a man, almost a boy, in the public eye who made a mistake and who was - and still is by some people - vilified for it, has dealt with the consequences over those decades.
It's a human story and the fact that it arose out of a football match is almost incidental. Inevitably, given Brown's background and the fact that the central – indeed, the only – character is David Corner himself (played by Steve Arnott), there is some (almost technical) consideration of the incident but that integrates well with the main thrust of the piece for, no matter what the mistake had been or in what field of life it had happened, the person involved must necessarily meditate on it and find some way to ease the burden of guilt. And guilt is what he felt - and has been made to feel - for so long.
What comes over strongly is the way in which, in spite of the destruction of his childhood dreams, Corner came to terms with his past and matured. This is helped in no small measure by Arnott's finely nuanced performance.
This is Brown's first play and promises well for his future as a playwright.
The double bill tours to Gala Theatre, Durham (9 September), Arts Centre Washington (14 September) and The Peacock, Sunderland (22 September).
Reviewer: Peter Lathan