Without Stars / There We Have Been
Choreography James Cousins
James Cousins Company
The Place London
–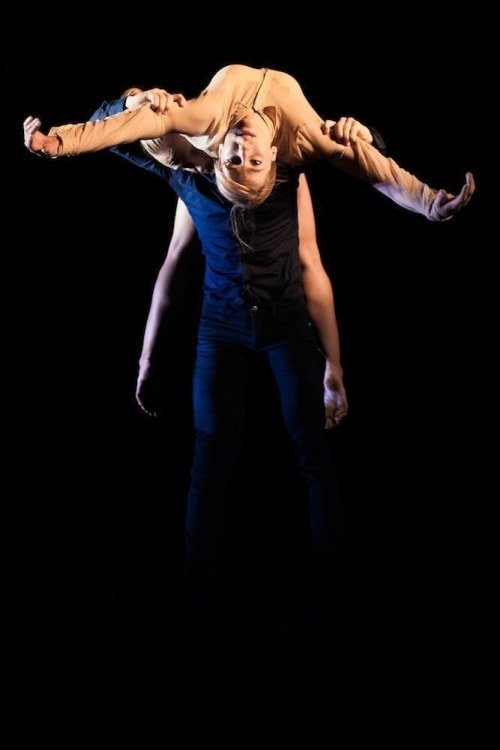 It had to come, but what took it so long, a danced response to the novel that captivated a generation, Haruki Murakami's 1987 novel Norwegian Wood.
And what took me so long to catch up with the creator of this breath-catching double bill, the much-garlanded James Cousins—it's four years since he graduated from the London Contemporary Dance School where he won the Robert Cohan Award for most promising dance artist.
A match made in the heavens: a distillation of such intensity and passion, a young person's intensity which Cousins captures in vivid vocabulary, sensual, fluent, fluid, dramatic, original.
"I was always hungry for love. Just once, I wanted to know what it was like to get my fill of it—to be fed so much love I couldn't take any more. Just once."
And for forty-five minutes, Cousins gives us just that in Without Stars. Coupled with a poignant seventeen-minute coda—There We Have Been—in which the girl's feet never touch the ground in a duet of such concentration and power, such clinging dependency, such Tennessee Williams' eloquent tenderness and pain.
He (Georges Hann) wraps her (Chihiro Kawasaki) round his neck like a shawl, lifts her on to his shoulders, drapes her, holds her like a masthead, cradles her in his arms, they become Rodin's lovers (wasn't The Kiss originally designed for The Gates of Hell?), meld as one in Ovidian metamorphosis.
Lee Curran's sculptural lighting and Seymour Milton's awesome electronica lend There We Have Been dramatic invincible immortal form. To no avail: death brings partings and sweet sorrow.
I remember unrequited love, suicide, the pain of young love, divided loyalties, The Great Gatsby, The Magic Mountain, snippets, but the novel is now dim in my memory.
It is about memory, too, of course, looking back on what was and might have been. In Without Stars Cousins has the narrator figure (Hann) visible in the tumescent darkness (lighting Guy Hoare) watching as a triangular love affair plays out. Occasionally daring to join in. "If you're in pitch blackness, all you can do is sit tight until your eyes get used to the dark."
Two men one woman (Gareth Mole, Albert Garcia, Chihiro Kawasaki) come together and pull away, she delicate, fragile, neurotic, they confused in their own sexuality, their duets, almost savage in homoerotic undertow and explicitness, transcending the closeness of friends. Lifts and parries, feints and martial moves, sweat and tears.
Don't we try for the stars and the moon when we are young, but what if they are out of reach—the despair… ah, but give us music, music that feeds off love and wretchedness.
The Mills Brothers' You Always Hurt The One You Love, crackling with age, opens and closes the Without Stars narrative, wrapping it in heartache and cliché. I remember Ringo Starr did a version of the song—links within links. The Beatles inspired the novel after all.
Music plays such a large part in Murakami's life and creative works—he ran a jazz bar for a while. Music haunts the memory, and tells its own story.
Seymour Milton's sound design and original composition, a musical collage (Busted by The Black Keys, Dear Heart by Henry Mancini…), strings, guitar riffs and a cinematic score, impeccably drives the harrowing emotion on stage.
Trains and thunderstorms rumble, blinding headlights disorientate, the bleakness of railway station cold strips of light, emotions spill and flare (yes, Tolstoy's Anna Karenina does come to mind).
Imagine maintaining this level of energy in that tight taut timescale: dancers Mole, Garcia, Kawasaki and Hann are simply astounding.
The whole production is astounding. On the small stage at The Place a small audience is gifted with choreography so bursting with promise, so attune to the senses one could weep with the bliss of it.
Winner of Matthew Bourne's inaugural New Adventures Choreography Award, 'James' choreography is dynamic, emotional, clever and utterly accessible'—I'll buy that.
Grab any opportunity to see for yourselves. Don't take my word for it. Or rather do.
Reviewer: Vera Liber