The Wizard of Oz, the Pantomime
James Barry with original music by Simon Slater
Theatre Royal, Winchester
(2009)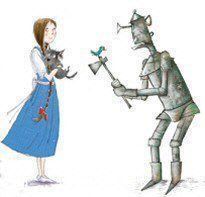 Difficult for anyone of my generation to think of The Wizard of Oz without recalling the remarkable performance of Judy Garland in the film. And was that really as far back as 1939? For my money Garland never matched that with anything else in her entire career.
Theatre Royal Winchester have turned the original children's fantasy into a real Christmas pantomime in a charming new production written and directed by James Barry, already something of a veteran of the Christmas show scene.
Heading the cast as a lively Dorothy is Serena Giacomini and such is her assuredness that it is no surprise to find she has played this role before. Such is her accent that we believe she is from Kansas - an adventurous companion to the sad trio of Scarecrow (Jack Cassidy), Tin Man (Jack Corcoran) and Lion (Julian Eardley).
The result is a splendid foursome making the most of some sparkling original tunes by musical director Simon Slater.
Not the least of these is the jolly number which opens the journey along the Yellow Brick Road. In fact, I am still waiting for the third verse of this which never seemed to materialise.
Felicity McCormack is a nicely reassuring Good Witch of the north, the fairy godmother figure, while there is an excellent performance from the versatile Kali Hughes as the Wicked Witch of the West and truly sinister is she, to the delight of the howling young patrons who soon get the measure of "oh yes she is!"
Colourful design and costumes are by Rachel Fox, helped by illusionist Neil Kelso, and the choreography is by Sally Stanyard.
The title role fully endorses the original film concept of the really ineffectual Wizard of the film (Frank Morton), thanks to a well judged performance by Clive Flint.
Of course the show owes much to the appearance of canine companions, interchanging on successive performances, Captain, Bob and Henry, all taking the key role of Toto. And go to the back of the class if you don't know who that is!
"Wizard of Oz, the pantomime" continues at the Theatre Royal, Winchester, until January 3rd 2010.
Reviewer: Kevin Catchpole