Wolf from the Door
Rory Mullarkey
Royal Court Theatre Upstairs
–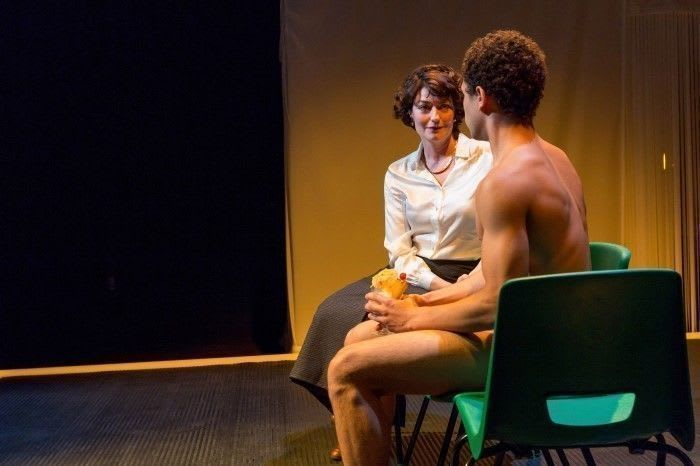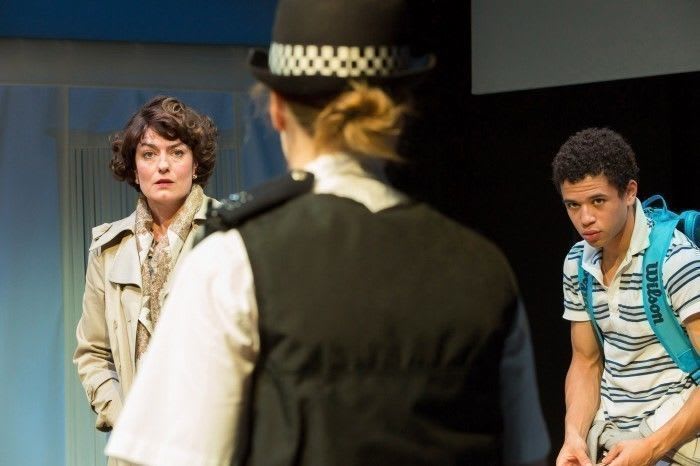 Wolf from the Door is the 2014 Pinter Commission as well as the winner of the George Devine Award. Devotees of the master of menace might well divine some facets of their hero's style in this pitch-black comedy.
The drama, played out in front of a screen depicting changing slides, commences at a deserted railway station as Anna Chancellor's wry Catherine, the aristocratic daughter of a Marquis, seduces homeless Leo, a largely fearful nonentity played by Calvin Demba, or perhaps he seduces her.
In no time, they are at her family pile, though sex is not on the agenda. Instead, we learn of Leo's almost past-less past which contrasts with his hostess's rich family history. From there, the story is complicated by Catherine's revolutionary plans for her protégé.
Swiftly, the pair are transformed into a mismatched British version of Bonnie and her toy boy Clyde, which is bad news for Tesco Assistant Manager Derek, one of multiple roles played by Pearce Quigley, who literally loses his head.
This is the signal for the commencement of the kind of bloody insurrection that Stalin or possibly Pol Pot dreamed of.
In a quirky turn, most of the anarchists are trained under cover of tea mornings and the like, the Bishop of Bath and Wells, no less, a keen supporter of the cause.
"Beautiful" Leo is turned into a lion-hearted golden child, destined to rule in unorthodox fashion as a means of fulfilling someone's odd prophecy. We are never told who is behind this movement and that is one of the play's weaknesses.
Anna Chancellor and Calvin Demba play the leads more than capably under the direction of James MacDonald, getting versatile support from Catherine Russell and Pearce Quigley in ensemble roles.
While the episodic Wolf from the Door is rather fun at times and makes some oblique criticisms of the way we live now, deeper meanings never quite appear.
The only outside possibility is that this is a witty metaphor on what might happen to the United Kingdom should the Scots vote Yes to independence, but that idea was almost certainly not in Rory Mullarkey's mind when he wrote this light 80-minute-long comedy.
Reviewer: Philip Fisher