The Woman in Black
Adapted by Stephen Mallatratt from the novel by Susan Hill
PW Productions
Theatre Royal, Newcastle
(2007)

Listing details and ticket info...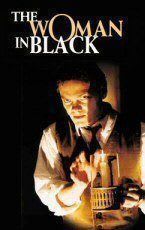 We live in a world which is extremely visually sophisticated. In the cinema CGI and greenscreen techniques can make the wildest imaginings actual. On our humble homes computers, processing power, graphics cards and graphics programs have become so powerful that we can produce still pictures and animations which film-makers of the fifties and sixties would have given their eyeteeth for. We are surrounded by graphic imagery of extraordinary power. In the area of sound, too, we can do amazing things which a decade or so ago would have required rooms full of complex equipment. How then can a play with just two actors possibly scare an audience? The whole notion is absurd.
Oh no it isn't! As The Woman in Black clearly demonstrates, a little darkness, a few pieces of furniture, some gauze, subtle and well designed lighting, sound, and - most of all - the evocative power of acting can combine to, not just send a shiver down the spine, but elicit screams of shock from the audience.
And it's not just youngsters who react this way - and there were a lot of school parties in the Theatre Royal - but adults, many of them seasoned playgoers, nearly jumped out of their skins and reacted loudly at various points. A chair rocking on its own was enough to bring audible shock. Put something like that one moment among many on the small or large screen and the reaction will be almost blasé - what's scary about that? - but put it on the live stage and some of our deepest fears take over.
Our imagination produces far worse things than we can ever actually see.
Who would believe that The Woman in Black, with just two actors and a very pared down and simple set, could make an audience scream aloud? That they do is a tribute to Susan Hill's imagiantion, Stephen Mallatratt's writing and the acting of Robert Demerger (Arthur Kipps) and Mark Healy (The Actor), and the production team of Robin Herford (director), Michael Holt (designer), Kevin Sleep (lighting), Rod Mead (sound) and Jackie Staines (original sound design).
We are invited to use our imagination throughout: a props basket becomes a horse and trap, a railway carriage, a bed. Although not in actuality, we see in our mind's eye the dog Spider running across the stage, lying beside the bed, chasing a stick. And while The Actor changes into the young Arthur Kipps, Kipps himself becomes a whole range of characters.
If this production proves one thing, it is that theatre is a much more powerful medium than film or video for, like a good novel or short story, it can stimulate our imaginations and create a world into which we are drawn inexorably. It's important, of course, to have good actors and Demeger and Healy are certainly that. The excitement and buzz as the audience left the theatre is a testament to the real power of theatre.
Touring to Glasgow, Canterbury, Peterborough, Southend, Chelmsford, Cambridge, Billingham, Cheletenham, High Wycombe, Cardiff, Eastbourne, Bath and Belfast.
Philip Fisher reviewed the West End production at the Fortune Theatre on its 15th anniversary in 2003
Reviewer: Peter Lathan