The Woman Hater
Fanny Burney
Orange Tree, Richmond
(2007)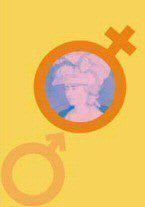 Fanny Burney is known as a novelist who made her name before women were allowed to write. If legend is true, there was only a single performance of her whole output for the theatre during the 87 years that her life lasted from 1752-1840.
Quite what made Sam Walters read her is therefore a mystery but yet again, he has done the Theatre (that capital is deliberate) a service in not reviving but birthing this delightful 1802 post-Restoration Comedy.
The Woman Hater may not always represent the highest art but it amuses for three hours and is packed with memorable characters and funny, if sometimes overly convoluted situations.
The plot involves numerous aunts, uncles, nieces and would-be lovers, with mistaken identity, discovered letters and relationships confused by the passing of time and bad human relations.
At times, despite a family tree in the programme, it can be difficult to work out who is related to which other but that doesn't matter too much and the whole builds to a gloriously funny revelation/reconciliation scene. During this finale, much is explained and most of the fifteen characters played by twelve actors are paired off to live happily ever after.
Sam Dowson's attractive non-naturalistic design is paired with eclectic costuming with clothes from at least three periods starting with that of the playwright and ending today. This means that that one of the young heroines, Amy Noble's feisty Sophia, strips off her becoming period gown and cap to reveal jeans and a pink tee-shirt proclaiming "Girl Raising Hell".
She is the noisy niece to Sir Roderick, the misogynist of the title played with splendid bluster by Clive Francis. He has long since been put off the fair sex by an unfortunate broken encounter with Lady Smatter. She is played by Auriol Smith on top form, somewhere between Dames Maggie Smith and Edith Evans, as her trademark determinedly quoting from the greats then consistently failing in attribution.
The catalysts for reconciliation are the Wilmots. The very funny Michael Elwyn plays a man long since deserted, who is baffled at the return of his noble wife Eleonora (Joan Moon) and perfectly bred daughter, played by Jennifer Higham.
The love story is spiced up by Dudley Hinton's randy Jack Waverley, who falls for every woman in turn and even his elderly dad who thinks that his luck is in due to one of many mistakes over identity.
We must all once again pay homage to Sam Walters for discovering a play that without him would almost certainly have remained lost forever.
The Woman Hater is great fun and if it were a little simpler with a smaller cast, might be ripe for a popular West End transfer. It should certainly please the Richmond devotees of this lovely little theatre.
Reviewer: Philip Fisher