Woman in Mind
Alan Ayckbourn
Salisbury Playhouse
(2005)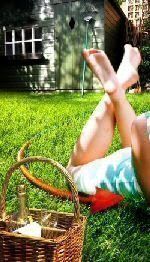 Audiences, I reflected were strange creatures.
Here we all were, or most of us, convulsed with laughter. And here am I so disturbed at what Ayckbourn is setting out in his opening scene that laughter is the last thing on my mind.
But then isn't this one of the most fascinating things about theatre? Sometimes we join in the general reaction; while at others we are almost jealous of the bonhomie around us that we cannot for the moment share. Perhaps in truth it's really the fascinating thing about playwrights and their plays. They impact upon us in different ways.
As Raz Shaw, director of this Salisbury production, says in her conversation with Journalist Elaine Peake: Ayckbourn's plays are often very funny in an uncomfortable way. I will buy that. Even the imaculate grass of Philip Whitcomb's lawn setting, as well as his pure, cyclorama sky, complements the powerful impression of unreality.
Here is the woman in Mind, Susan, splendidly played by Sarah Woodward, flitting uncomfotably in and out of two worlds: her real family from whom her estrangement is virtually complete, and her second, imaginary family fast becoming her sole comfort.
Small wonder my smiles were strained. My sympathy was with poor Susan.
Slowly, inevitably, the perceptiveness of Ayckbourn's dialoge penetrates my sense of the absured and I begin to share the laughter. But it is a far cry from Relatively Speaking, the play through which I first encountered Alan Ayckbourn.
This is an absorbing production with a strong cast embracing a range of cameo performances, from Alex Roberson's detached Rick to Anna Kirk's frightening cook, Muriel. These, and many others, would be enough to separate lots of us from our domestic sanity. Not to forget the self-righteous Gerald, an excellent performance by Jamie Newall.
The secret of this play lies in its clever vision of both heaven and hell on earth through Susan's eyes alone. How everbody else sees her may be, of course,quite another story!
The production continues until 29th October
Reviewer: Kevin Catchpole