The Women of Lockerbie
Deborah Brevoort
Orange Tree, Richmond
(2005)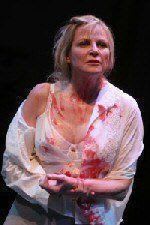 American playwright Deborah Brevoort has chosen to view the Lockerbie disaster in December 1988 as a modern-day Greek Tragedy. This was the Libyan-initiated bombing of a PanAm plane, after which it crashed out of the sky on to a Scottish village leaving hundreds dead from both the plane and Lockerbie.
With the aid of her director Auriol Smith and a simple but effective design from Sam Dowson, Miss Brevoort creates a new Trojan Women with a touch of Hecuba out of the slaughter that destroyed so many family Christmases.
The focal point is Adam Livingston, a New Jersey boy studying in London who was flying home for the holiday. After seven years of weeping, his mother Lisa Eichhorn's sometimes overly-hysterical Madeline is still mad with grief. In desperation, husband Bill (John Hudson) takes her to the Scottish Border town in an effort to find peace once and for all.
The play compares their personal loss and its effect with those of the Scottish women left behind to mourn the dead in their own way. Led by Olive, a strong woman played by the excellent Colette O'Neil, who sounds like the doomy John Laurie in Dad's Army but hides her own loss, they form our chorus. Over ninety minutes they reveal horrors that can almost compare with Euripides and also a depth of humanity.
While the Lockerbie women keen and light candles, their American counterpart dashes around looking for mystical signs of her lost son. These will only be found in the ghoulish shrine that they have nicknamed "the shelves of sorrow".
With the introduction of American diplomat George Jones (Todd Boyce), the conflict between women desperate to honour the dead and a superpower seeking closure ensures that the drama hots up.
Inevitably, the women have their way and the play ends with the pathos of a cathartic bathing that brings peace and, in Madeline's case, sanity.
The Women of Lockerbie is a very powerful play that looks at loss directly and politics obliquely. Deborah Brevoort is so keen to get her message across that, at times, she allows the structure and symbolism as well as her own voice to drown the characters. However, she writes well and her message which was important when she wrote the play has taken on new topicality in London following events in July.
Reviewer: Philip Fisher