Women on the Verge of a Nervous Breakdown
Book by Jeffrey Lane, music and lyrics by David Yazbek, based on the film by Pedro Almodóvar
Belasco Theatre, New York
(2011)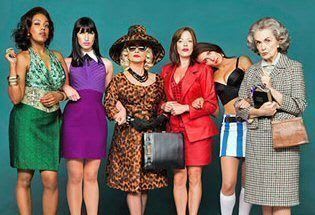 The Lincoln Center has ventured on to Broadway with this new, musical interpretation of Pedro Almodóvar's cult hit from the late 1980s, Women on the Verge of a Nervous Breakdown.
The Spanish director is so well loved that it seems likely that much more of his work could eventually translate to the stage, the Old Vic having already re-worked All About My Mother.
Whether a Broadway musical is the ideal medium for this auteur might remain to be proved, as Bartlett Sher's 2½ hour version of Women on the Verge of a Nervous Breakdown is enjoyable but far from perfect.
At times, one can see that the creative team has felt a need to inject song and dance or excessive zaniness, purely to add some glitz or dumb things down for their perceived target audience, and this is hardly the ethos that made Almodóvar so popular in the first place.
Ignoring the excesses, the show does have the benefit of a whole team of Broadway stars in the leading roles and a suitably quirky book adapted by Jeffrey Lane.
The play opens as Sherie Rene Scott's Pepa, an attractive 42-year-old actor who specialises in voiceovers, is dumped by her long-term lover. Brian Stokes Mitchell plays Ivan, a handsome roué with a rich, deep singing voice.
He has a history, having left his mad wife Lucia, played by Broadway favourite, Patti LuPone, who gets a great revenge song, Invisible. Lucia dresses stylishly but has a screw loose and wants revenge on both the man that she hasn't seen for 19 years and his younger lover.
She takes both legal and more personal steps to remedy the position, causing immense worry to son and would-be daughter-in-law, Carlos and Marissa (Justin Guarini and Nikka Graff Lanzarone).
This would be enough drama for most writers but Almodóvar adds in a superb extra element with Malik, the lover of Pepa's best friend Candela, a dangerously handsome man who spends the time when he isn't in her bed doubling as an international terrorist.
This set-up leads to a surreal farce that might have been penned by Dario Fo. Onto it is overlaid a musical soundtrack, of varying quality and styles, with On the Verge bringing down the interval curtain the catchiest, and some slick but not overly necessary Latin-influenced choreography.
Without wishing to be unkind to the brilliant Laura Benanti playing Candela, in a supporting role it is rather unfair to your colleagues to get all of the best lines and an unforgettable song, "Model Behavior", that Sher milked by allowing the wild applause to go on for an age.
Given an extra six inches, Miss Benanti would look like the model that she portrays, delivers comic lines perfectly and boy, can she sing, shining in this august company. Even the obligation to make every move running using tiny steps with a gormless expression fixed to her face does not faze the actress, who has already received a couple of award nomination for her performance in what should be little more than a bit part.
While Women on the Verge of a Nervous Breakdown may have its flaws, it is an original work that largely overcomes the problems and provides some rich entertainment.
Reviewer: Philip Fisher