wonder.land
Music by Damon Albarn, book and lyrics by Moira Buffini
Manchester International Festival / National Theatre
Palace Theatre, Manchester
–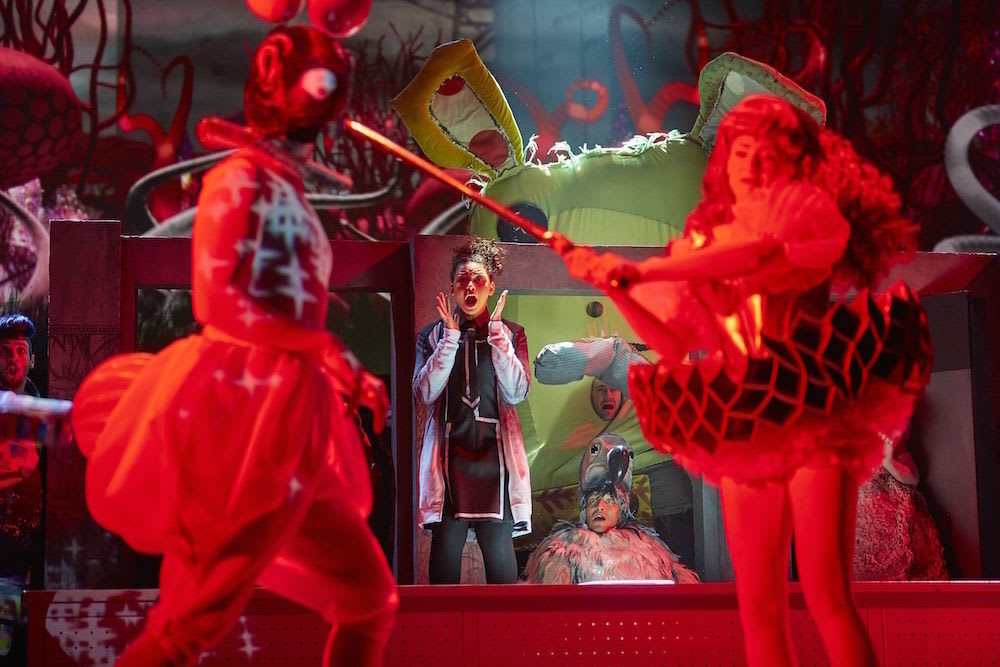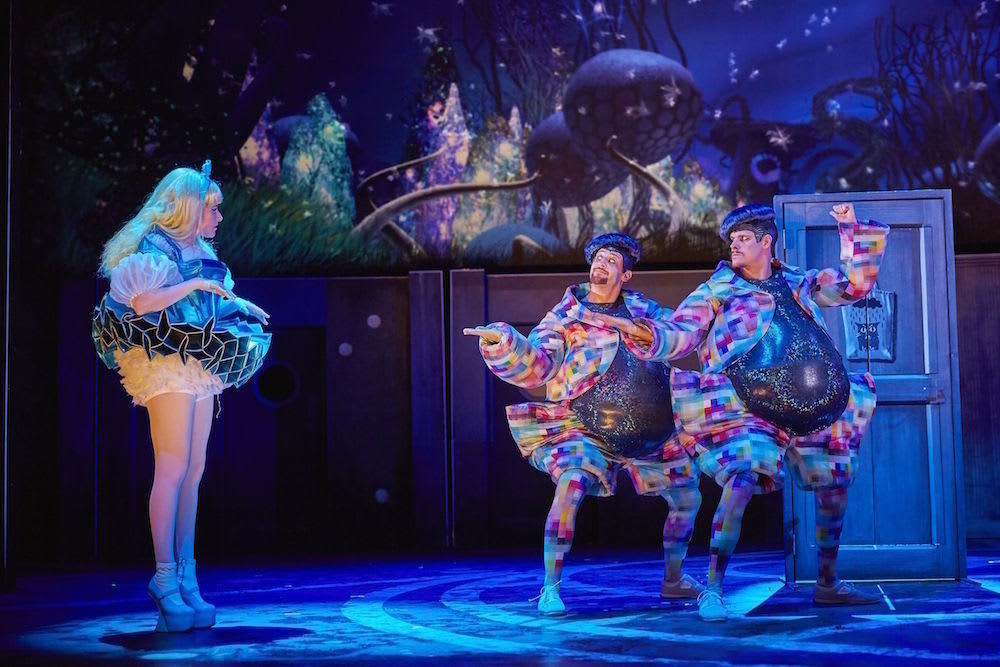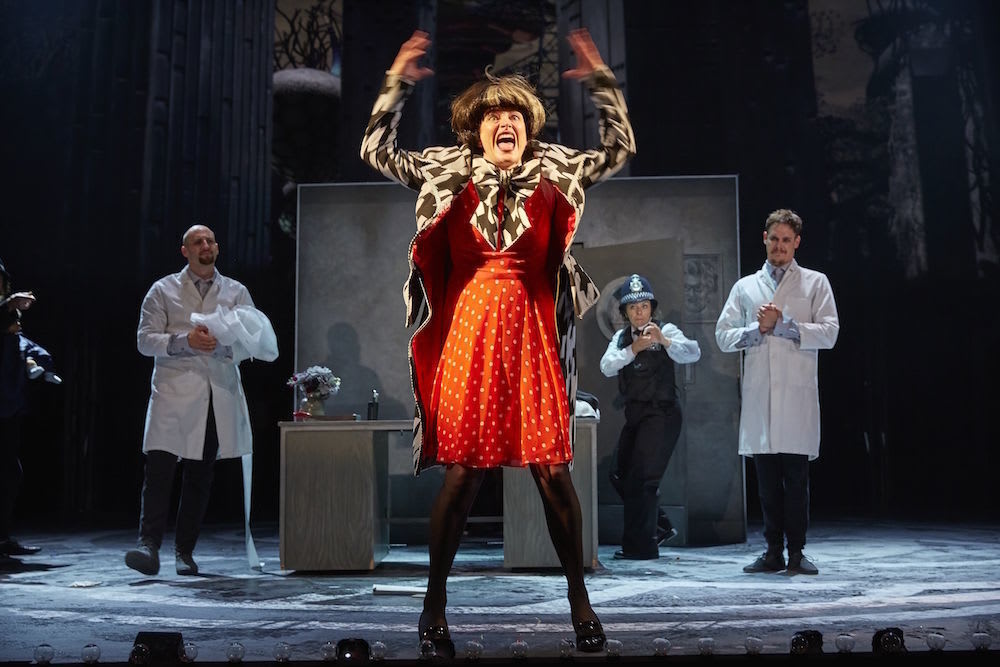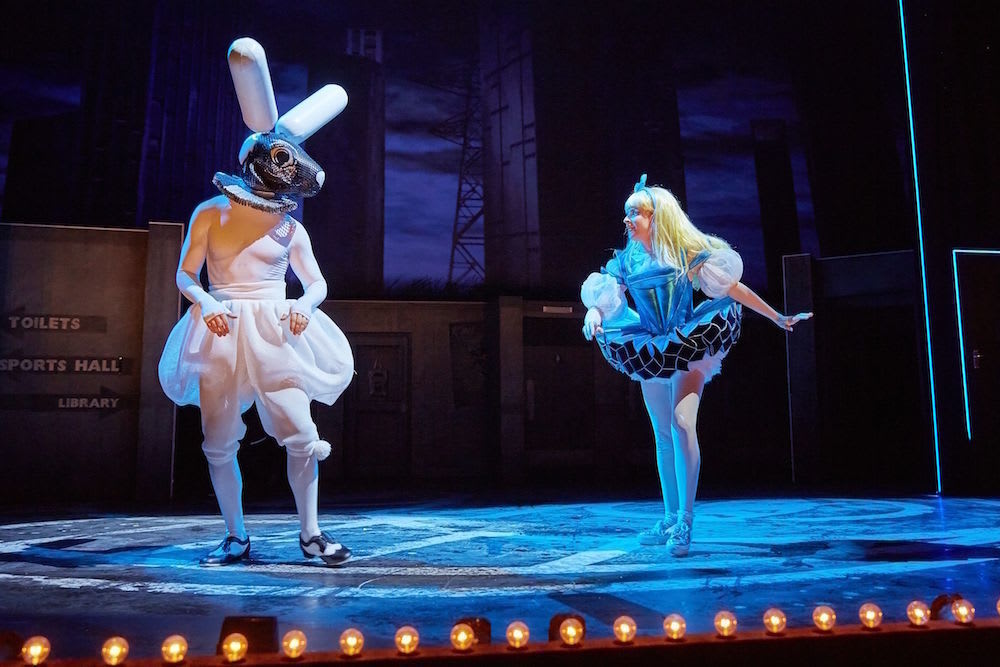 wonder-dot-land—the dot is pronounced as the title refers to a web-based, multi-player game—is the subject of the latest of musician Damon Albarn's quadrennial collaborations with the biennial Manchester International Festival after 2011's Dr Dee and 2007's Monkey: Journey to the West.
Moira Buffini's script brings Lewis Carroll's Alice in Wonderland, which this year celebrates its 150th anniversary, firmly into the twenty-first century and the world of the modern teenager.
Aly (Lois Chimimba) is one of many kids who have created an avatar (their own fictional representation in the world of the game) totally unlike themselves in order to "correct" the things for which others pick on them at school. So mixed-race Aly who gets called "fat" at school becomes the white, slim blonde of Tenniel's original Alice drawings (Rosalie Craig), rendered in a computer game graphical style.
However, as we've often heard in the press, bullying has also entered the cyber-age, and so there is no escape from the insults and the personal attacks without turning off their various devices—which is obviously not an option to a teenager.
Carroll's original characters are woven into this piece in several different ways, all without spelling it out to the audience, which gives us a feeling of satisfaction when we spot it. The obvious ones are the kids' avatars and game characters: Alice herself, the Caterpillar, the Dodo, the White Rabbit, Dee and Dum, and more.
Other references are in the "real" world, and often rather more subtle. Aly's father—a great, sympathetic performance from Paul Hilton with a punk influence—who has had problems with mental health and gambling addiction that tore the family apart, takes Aly and her friend Luke (Enyi Okoronkwo) to a tea shop to celebrate getting his life back together. Aly calls her baby brother Charlie, a brilliant puppet creation by Toby Olié, a pig, although he doesn't actually turn into one.
When head teacher Ms Manxome, a show-stealing performance from Anna Francolini, from the start betraying more than a touch of Cruella de Vil, confiscates Aly's 'phone, she discovers the wonder.land game and steals Aly's identity, turning Alice into a power-hungry red queen who believes at all times, "I'm right".
There are lots of very clever touches to how Buffini has merged the characters and ideas of the original story with her modern urban tale, and as a concept it just about works. Her lyrics don't always come up to the standard of her dialogue—in fact some of the songs don't really justify being there at all.
Damon Albarn's music isn't particularly memorable but it fits in with everything else in the show and has some variety, from the electronic sounds reminiscent of Gorillaz and some Blur tracks that fit with the video game concept to broader orchestrations with lots of brass and woodwind.
Rufus Norris's production layers live actors with scenery (set designer Rae Smith) and impressive animated video (59 Productions) on multiple screens and gauzes to create a stunning multi-sensory experience on stage, but perhaps it is a little too much at times. There are parts when we are watching someone play a fictional video game, which is never as much fun as playing it yourself, or when the impressive video sequences go on a bit too long without contributing much to the story.
You'd expect a co-production between MIF and the National to be something spectacular, and this certainly is that. While it needs tightening up in places, there's something impressive still about the overall concept and the production, plus some very good performances, that really makes this worth seeing.
Reviewer: David Chadderton