Working—A Musical
Book by Studs Terkel, adapted by Stephen Schwartz and Nina Faso with additional contributions by Gordon Greenberg
HI IMPACT
Upstairs at the Gatehouse
–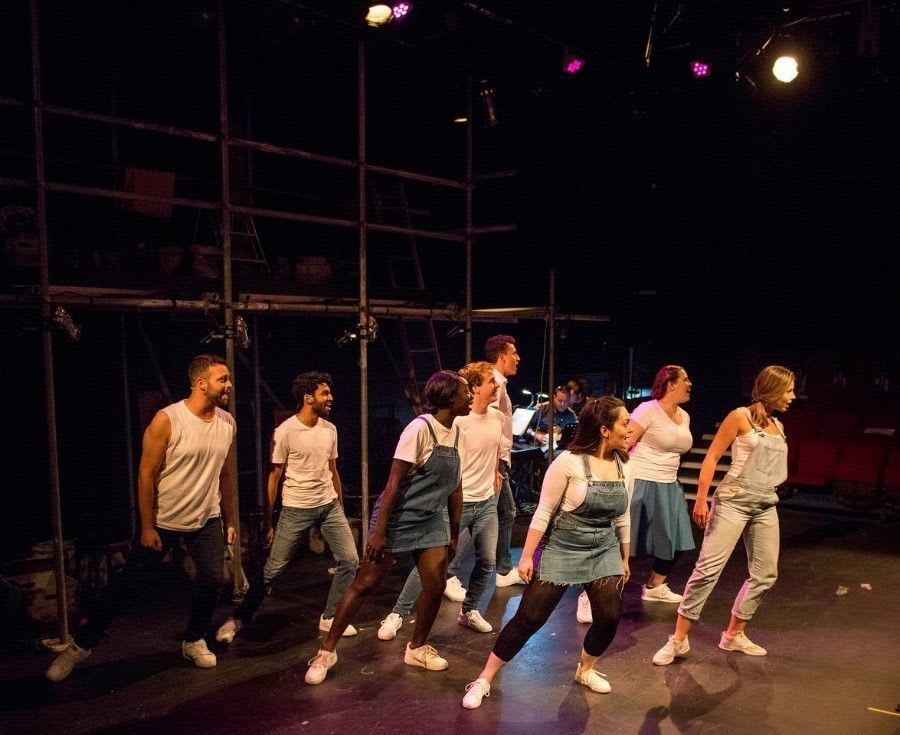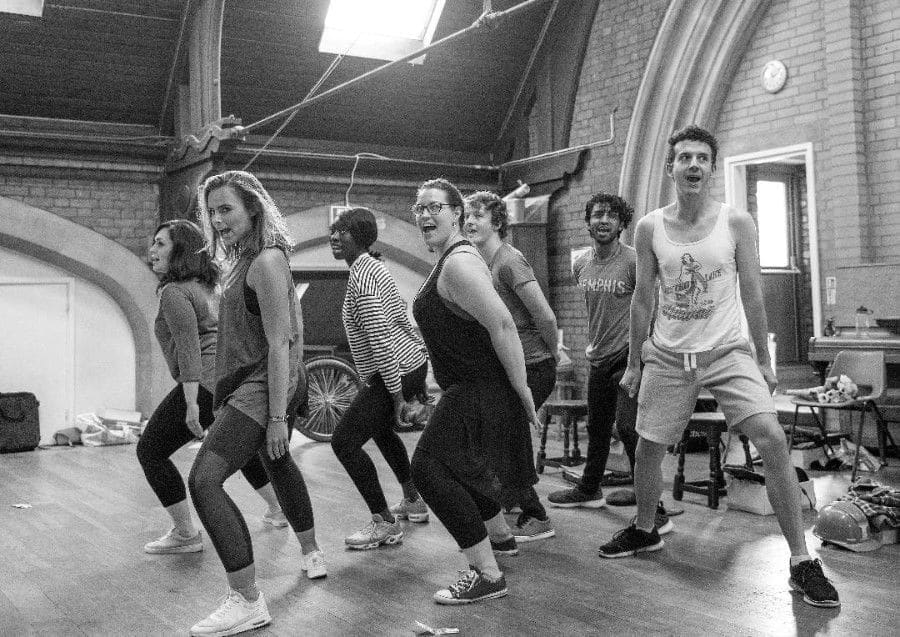 Studs Terkel's remarkable 1974 book Working, with its many extraordinary stories from interviews with over a hundred people, inspired the 1977 musical adaptation by Stephen Schwartz and Nina Faso.
The HI IMPACT production explores, through the songs and short monologues of twenty-five characters working in different jobs, what it feels like to work and how that work is often invisible to others.
The structural steelworker (Kris Marc-Joseph), high up on the set's back scaffolding, points to the skyline of buildings that no one will know he helped to create. A woman (Laura Allen) says people walk away from her when she tells them she works as a receptionist, so she has decided to give her role fancy names.
The housewife (Lara Beth-Sas) says she feels socially just two feet tall, her thoughts underscored poignantly in the song "Just a Housewife".
A worker looking across at the Empire State Building says he would like to see a huge strip by every building that lists "the names of everyone who worked on or in that building."
If what the characters say often strikes a note of discontent or sadness, the music is generally upbeat and lively. There is also humour, for instance with the fast food worker played by Ryan Owen who sings the light and funny "Delivery", a song that was added in 2009 by Lin-Manuel Miranda who later wrote the music and lyrics for Hamilton: An American Musical.
Most of the characters have spent their entire working lives in the same job. Among those who decided to change jobs is a firefighter (Ryan Owen) who gave up being a police officer because "I like people."
Some of them speak of the way work has changed. Rose (Hannah Cheetham), employed as a teacher for forty years, contrasts a time when she taught classes of twenty English language speakers with her more difficult existing classes of thirty-seven that include many children for whom English is a second language.
A community organiser (Ryan Owen) describes helping people resist Bethlehem Steel wrecking their community with its plans to introduce strip mining.
The stories are always interesting, the songs and choreography exciting. The musical is a fine testimony to an America mostly hidden from view.
Reviewer: Keith Mckenna