Hamilton
Book, music and lyrics by Lin-Manuel Miranda, inspired on Alexander Hamilton by Ron Chernow
The Public Theater
Victoria Palace Theatre
From

Listing details and ticket info...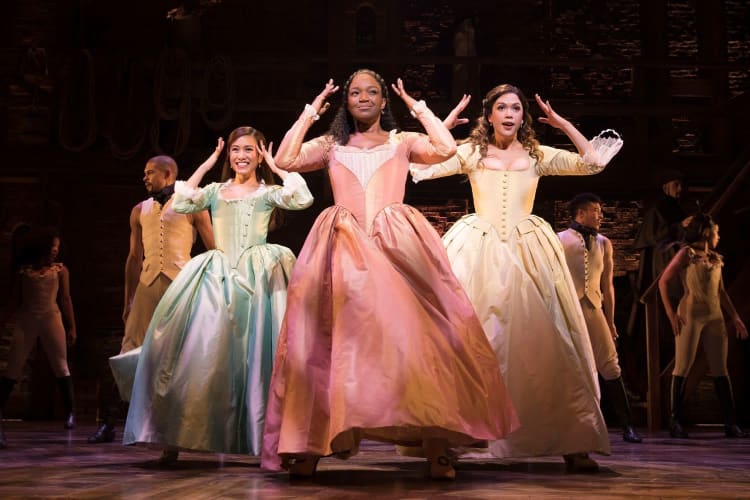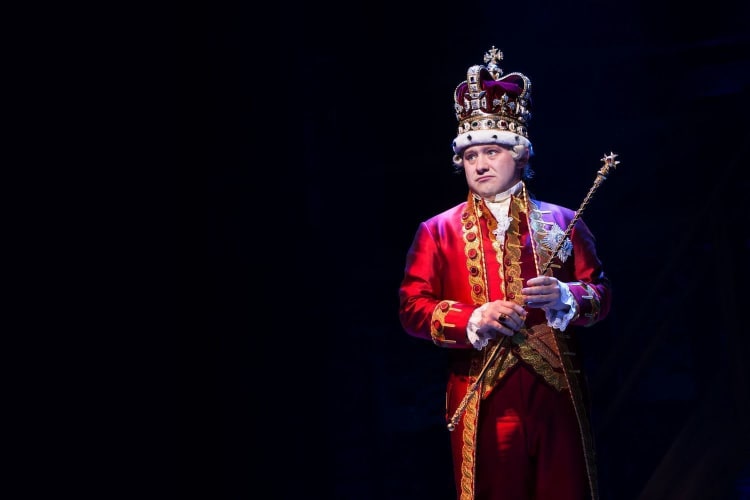 There is no doubt that Hamilton is the most enthusiastically awaited London opening of the last twelve months. The frenzy around the show has not been matched since Harry Potter and the Cursed Child wowed audiences so that anyone who has not yet booked tickets is probably going to be looking at a date in 2019, especially if all of the reviews are as enthusiastic as this one.
The word-of-mouth from New York has suggested that this is several cuts above the competition. The only question was whether a story about one of the Founding Fathers of the United States, a man almost completely unknown to British audiences, would hold their attention. Realistically, one imagines that many Americans may be little better versed in their own history than Londoners and they too would need to be won over by a strong story, some superb rap tunes and sharp choreography.
With such a build-up, it would have been very easy for Hamilton to disappoint, even in the lavishly refurbished Victoria Palace. Anything less than the best theatrical experience of the year (or even decade) was going to be regarded as something of a failure. In fact, this is the one.
Lin-Manuel Miranda is an astonishing talent. It is rather like witnessing Rice and Lloyd Webber rolled into one or Stephen Sondheim writing his own book—and what a book.
Alexander Hamilton, played by the impressively tall and highly assured theatre tyro Jamael Westman, was the kind of flawed tragic hero who appealed to Shakespeare and his story has that kind of sweep and timeless impact. The ultimate spin doctor and wheeler dealer was an immigrant orphan of uncertain parentage who aimed for the heights in every aspect of life.
We first meet the Scot as a brash 19-year-old in 1776, falling in with an influential crowd including Giles Terera as Aaron Burr. Their careers then stuttered along in parallel for the next three decades, during which as Burr bitterly sings, Hamilton was always in "The Room Where It Happened" and he was not.
Hamilton's political conquests had already begun when the young man had the good fortune to meet the Schuyler sisters, a trio of beauties from the cream of society. While Rachel John as Angelica loved him, she selflessly sacrificed her own happiness to allow Rachelle Ann Go as younger sister Eliza to take his hand in marriage, as well as singing together perhaps the best song of the evening, "Helpless".
Love is all fine and dandy but an ambitious man like Alexander Hamilton needs more. Very quickly, he became the right-hand man to the wise George Washington, portrayed with appropriate gravity by Obioma Ugoala.
Together, they fight a war for independence against King George who, in the witty person of Michael Jipson, repeatedly reminds us that "You'll Be Back". The pair then help the young country to find its feet before Jason Pennycooke playing Thomas Jefferson offers the electorate an opportunity to move in a different political direction.
There are a number of reasons why Hamilton will undoubtedly be a long-running super-hit in the UK as it has been on Broadway. First, the creative genius behind the project has turned what should be an extended history lesson into a thrilling drama of love, war, politicking and dual duels. Secondly, the songs which feature a mixture of rap, hip-hop and tunes that pay homage to soul and rock are catchy but also move the story along in a satisfying fashion. Next, an energetic cast is well marshalled by director Thomas Kail and choreographer Andy Blankehbuehler. Finally, for those that like that kind of thing, many of the lessons that were learned by Washington, Hamilton, Jefferson, Burr and co. still seem relevant in today's political climate over two centuries later.
You may have to be patient but when the opportunity arises to spend almost three hours wallowing in this glorious experience, do not miss a show that is in the same league as Les Misèrables, West Side Story and even Carmen.
Reviewer: Philip Fisher