World at One
Three short plays themed "Guns and Noses"
Zeitgeist Theatre in association with Kingshead Theatre
King's Head
(2008)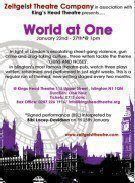 Our intrepid critic Zia Trench is also both a producer and a playwright. She has instituted a series of hour-long lunchtime collections of plays at the King's Head in Islington, with a trio of new plays presented every two months. In addition, Zia has given British Theatre Guide her thoughts on the effectiveness of bringing drama to people in their lunch breaks.
Despite the finest efforts of those who control our transport systems and practically ban weekend travelling, the Sunday lunchtime performance of "Guns and Noses" was absolutely full. This is even more impressive following the theatre's recent refurbishment, now that there is an expanded capacity of around 100.
The Mythical Melting Pot by Zia Trench
The best of the three plays, because it fits so well into the time slot, looks at the difficulties faced by youthful immigrants as they try to make their way in society in the face of opposition not only from Little Englanders but also fellow outsiders only too happy to form themselves into gangs.
The central figure is Brazilian teenager, Joseph, a Grade A student played by Alvaro Fioras, who has left his family far behind to live with an aunt in South London.
The handsome boy gets on well with Emily Randall as his teacher unti,l as a joke, he brings some 'weed' into class causing all kinds of trouble. It leaves her with a dilemma, whether to shop her best pupil or risk her own career.
At the same time, the spunky Honour, played by the excellent Yvonne Dodoo, falls for Joseph and a romance starts up. This would have been fine, had she not already got an Eastern European boyfriend with lots of money and a mean streak.
The play develops nicely under Ariella Ashed's direction, showing how difficult life is for those trying to grow up in a foreign country and dealing with issues of different cultural norms and personalities.
It capably and wittily addresses a number of interesting moral problems, before rather too swiftly and without any great motivation moving into a world of gangsters and knifings in Feltham Young Offenders Institution.
Felix by Tena Štivicic
Felix might make a nice two-handed audition piece, with roles for a heavily accented young woman and an Englishman old enough to be her father.
Psyche Stott directs Rayisa Kondracki as a 24-year-old Ukrainian, Lara, who lives in London on no money but relishing the prospect of the occasional night out clubbing.
On one of these occasions, she meets an older English man, Felix played by Simon De Deney. He takes her home for a drunken one night stand although for whatever reason, never quite takes it to fruition.
Somewhere along the way, another immigrant friend of Lara's is stabbed on the street but Felix does not come forward even though he is the sole witness. The drama plays out in his London flat, where it becomes apparent that the shy but lecherous middle-aged man's reticence was connected to his marital status.
The comedy develops well as uncomfortable revelations embarrass Felix, while showing lonely Lara in a very good light. The moral dilemmas facing a man who finds himself exposed in his own home are well expounded and challenge the audience to consider how they might react in similar circumstances.
Once again, the playwright seems to have felt the need to achieve a satisfactory conclusion and suddenly, we enter the world of the lightest of sitcoms as first, Felix goes against (nervous) character and then an unbelievable and quite unnecessary coincidence is injected just for laughs.
Dinner by Zoë Lewis
The final play has a cast of six in a small space, even though the running time is no more than 20 minutes. Worse, Zoë Lewis tries comedy through multiple repetitions of pretty much the same lines, relying on the kind of humour that would be best appreciated by the protagonists.
Two trendy couples begin an evening over a few bottles of red (vintage Chateauneuf no less) and talk about inconsequential matters such as Tom (Scott Christie)'s desire to become a parking martyr and end up in prison, his partner Anna (Felicity Wren)'s devotion to recycling and global issues; and writer Nick (Mario Christofides)'s block.
We revisit the party every two hours between midnight and 6 a.m., as the foursome, plus their drug pusher Ruben (Andy McQuade) and his sidekick Dru (Matthew Ashcroft), gets sillier and sillier.
There is a fact of life that any person who does the driving and stays sober at a party realises very quickly. Drunk and stoned people are exceedingly funny but only to those who have ingested as much as they have. While the portrayals of a sextet becoming increasingly incoherent might be relatively realistic and Anna is a good creation, the same lines do get trotted out remarkably often in such a short space of time.
At the end, as if noticing the need to achieve coherence with the afternoon's theme, a gratuitous shooting takes place, although the victim is an undeveloped character about whom we are likely to know and care very little.
Reviewer: Philip Fisher