Worst Wedding Ever
Chris Chibnall
Salisbury Playhouse and New Wolsey Theatre, Ipswich
Salisbury Playhouse
–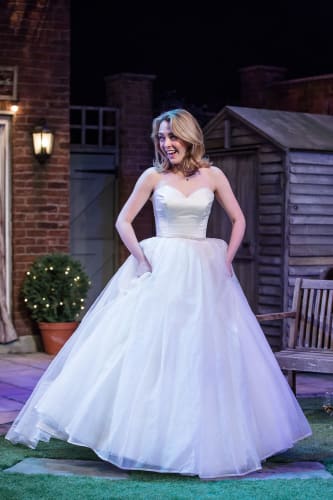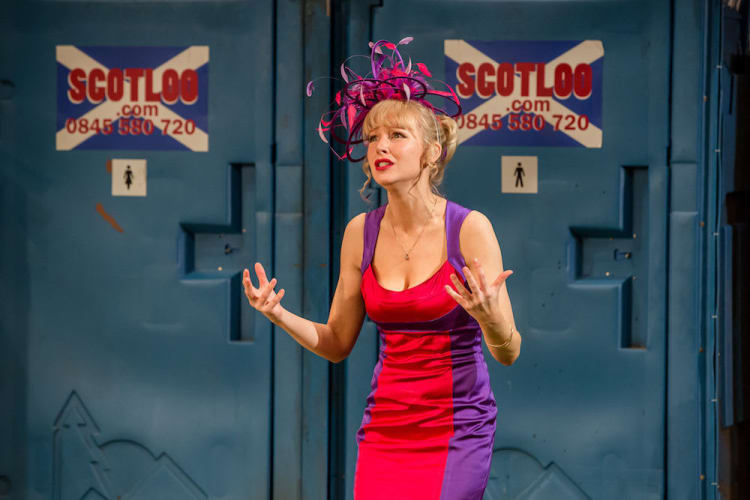 Worst Wedding Ever first appeared at Salisbury three years ago (coincidentally occurring on the same day that same sex marriages became legal in the UK). With script by Chris Chibnall of Broadchurch fame and directed by Salisbury's own Gareth Machin, it was very much enjoyed.
We always hoped it would return. But will it be as funny and thought-provoking as before? Will we become as emotionally stirred and involved s we were in 2014? Will we be laughing as much as we did then? We hope so. The festoons of ribbons and draperies in the foyer are encouraging.
Now everyone has his or her own view of weddings, coloured by experience, but there can't be too many where the potential for total disaster reaches the kind of level achieved in Worst Wedding.
We're made aware of one of the main problems from the start. Rachel (Elizabeth Hopper) and her mother, Liz (Julia Hills), are standing outside John Lewis, arguing over the wedding list. And we're not talking essentials here. Liz's list would strain anyone's budget, but Rachel and her fiancé Scott (Nav Sidhu) are not affluent.
Rachel, as a professional events planner, is realistic. Scott is about to embark on a teacher-training course and won't be earning for a while. Their eventual financial future may look reasonably bright but it's just a glow on the distant horizon at the moment, especially as Rachel's work-shy and, consequently, indigent brother Andy (Ben Callon) has failed to repay the money he 'borrowed' from her some time ago.
Then there's Rachel's borderline alcoholic sister Alison (Elizabeth Cadwallader), her failed marriage and, even more important, her desperate longing for a baby, made even more bitter by the revelation that her ex-fiancé Mike's new girlfriend is now pregnant. And when Mike (Lloyd Gorman, who also played Mike in 2014, the only one from the original cast) turns up at the wedding as emergency substitute band leader and Mel, the bride's father (Derek Frood), is driven to demented fury by his neighbours' inconsiderate parking, things can only get worse.
Then there are the two characters who make their presence felt at intervals throughout the play with noisy, dramatic and often terrifying effect although they never actually appear on stage except as sleeping bundles. These are the two Rhodesian Ridgebacks, Frodo and Bilbo, thought to be too loud and boisterous to take part in the proceedings. The sleeping pills they've been given should really have been stronger, shouldn't they?
And then, finally, there's Graeme (Kieran Hill). A perfect vicar, gentle and patient even while having his trousers ripped away by the dogs.
As we head to the foyer we're accompanied by the gentle sounds of the 1985 Katrina and the Waves hit song "Walking on Sunshine".
There's a hint of promise there, isn't there? So are things going to be sorted out in the second half?
Will Rachel be forced to wear her sister's discarded wedding dress, after all? Will Rachel and Scott emerge, through all the difficulties created by family circumstances, into the sunshine?
It may be significant that we are all making our way back to the auditorium before we actually need to. We're not waiting for the bell because we care about these people and we need to know what's going to happen to them.
Now it used to be the case some years ago that, if we wanted to see something locally approaching West End standard, we needed to go to Bath. Not any longer, it seems. According to the group of lovely, enthusiastic ladies from Bath that we spoke to at the interval, they and their friends' first preference is, nowadays, nearly always for Salisbury.
After watching this wonderfully evocative, funny and inspiring production, I don't think they'll be changing their minds.
Reviewer: Anne Hill