Wot? No Fish!!
Danny Braverman
bread&circuses / Theatr Iolo
Sherman Cymru
–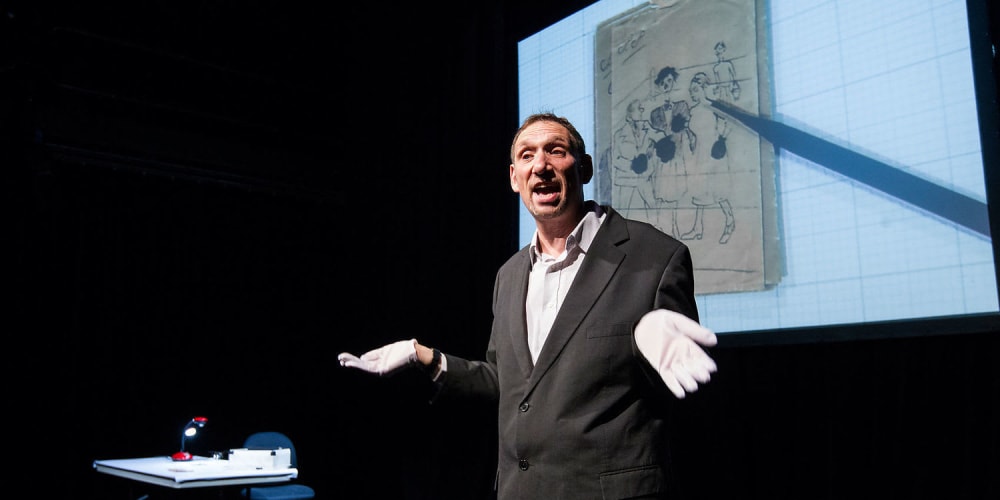 Since premièring at the Edinburgh Festival in 2013, Wot? No Fish!! has toured extensively (including a previous visit to the Sherman), picking up universally appreciative reviews along the way. One comes expecting a glorified slide-show, but leaves having experienced something rather more profound.
This collaboration between performer Danny Braverman and director Nick Philippou begins as an informal conversation between Braverman and the audience. He greets his fellow Jews in the house, and remarks that Cardiffians should have no difficulty in pronouncing the "ch" sound which is prevalent in both Welsh and Yiddish.
Our gregarious host then (with the help of younger attendees) passes round servings of gefilte fish (delicious), along with a bitter-sweet dip; this gives an indication of the tone of the story he is about to tell; family-oriented, both light and dark. He tells us of coming to in hospital after a life-saving operation, dreaming of and then assailed by assembled relatives and the smell of fishballs.
The body of the narrative commences when he sits at a carefully lit desk. Behind him, a large screen displays the artefacts he has assembled which tell the story of his great-uncle, Ab Solomons, his wife Celie and their two sons. The older of their offspring, Jeff, an art-dealer, has kept a treasure-trove in shoeboxes under his bed; this passes to Danny.
It emerges that virtually every week of their married lives, from 1926 onwards, Ab presented his wife with a drawing on a wage-packet (a concept which Braverman has fun explaining to the children present), reflecting events of the week. Starting with a simple metaphorical representation of him handing her some house-keeping money, the pictures grow more ambitious, both comic and poignant as life deals its blessings and blows.
Dressed in a slightly-too-big suit, Braverman describes himself as a "schlump", someone who looks scruffy even when expensively attired, likening himself to unpretentious East End shoemaker Ab. Celie, on the other hand, was the local princess, house-proud and elegant.
The unbearably sad story of their younger son, Larry, is a significant element of the narrative. Suffering from a condition which might now be diagnosed as a serious form of autism, he is heart-breakingly exiled from the family home, a situation which Ab's cartoons depict mercilessly but not without humour. World War 2 vaguely impinges, anti-Semitic comments are alluded to, but Braverman's focus is family.
As he handles the aged, fragile scraps of paper, in protective white gloves, highlighting crucial areas with a pointer, one inevitably wonders whether they might have been better computer-scanned and presented via Powerpoint. The emotional immediacy would have been lost however; much of the drama comes from observing Braverman's close connection to the drawings. When he finally turns up in them, as a baby, some of those watching seem to get specks of dust in their eyes.
There is a good deal of audience interaction built into the piece. The genial Braverman, however, manages to control it without allowing the flow of the narrative to be impeded—a notable achievement.
Wot? No Fish!! ends with a quietly spectacular visual flourish which sets the seal on what is a beautifully wrought and deeply moving eighty minutes or so of story-telling.
Reviewer: Othniel Smith