Woyzeck on the Highveld
Handspring Puppet Company
Barbican Bite 11
Silk Street Theatre and touring
(2011)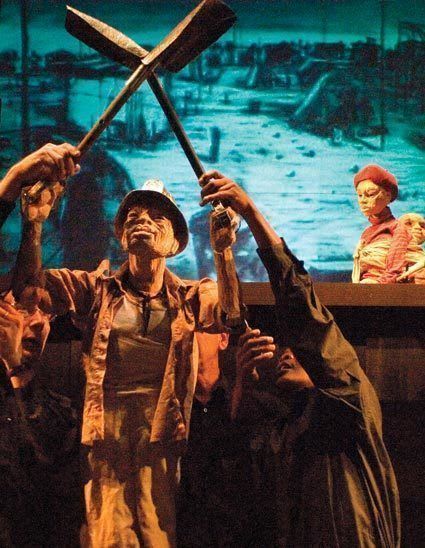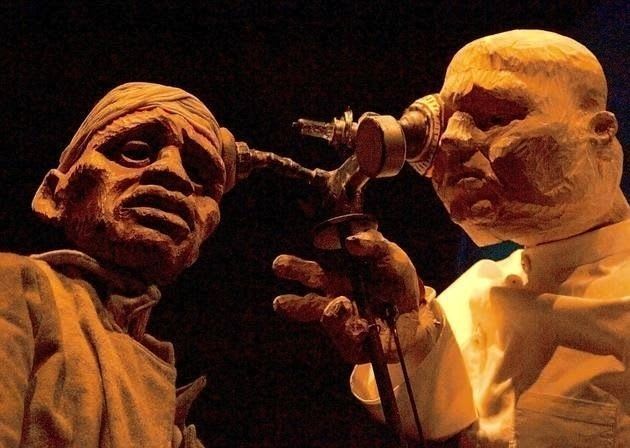 Award-laden for War Horse, which put them decisively on the map, Handspring Puppet Company makes its Barbican debut with a reworking of its 1992 production of Woyzeck on the Highveld. With new puppets, the originals having been left behind in Munich's puppet museum after the initial successful four years of travelling with the show.
Set in 1950s South Africa, as the title indicates, Woyzeck is now a migrant worker struggling to survive in the harsh Johannesburg industrial mining landscape. Living in a shantytown with his 'wife' Maria and baby, he is broken in body and spirit.
But Maria, whose 'eyes can see through seven pairs of leather trousers', is drawn to the virile Stakhanovite Miner (the Drum Major in the original), which tips an already mentally unstable Woyzeck over.
There's a lovely scene where the Miner is digging with a spade in each hand - almost a dance. And the dance hall scenes give a great excuse for wonderful music from Steve Cooks and Edward Jordan. The music throughout is haunting, especially the repeated refrain that Woyzeck's friend Andries sings accompanied by his squeezebox outside the men's dormitory shack.
With two separate worlds, the exploited workers living on a pittance and the white colonial exploiters, Woyzeck translates well into this shameful milieu. Indeed, Büchner's mid-nineteenth century radical, tragic, pessimistic, social critique has translated well into many media and many versions, its fragmented nature lending itself easily to interpretations.
The effete etiolated Captain musing on life and the fat bullet-headed Erich von Stroheim look-a-like Doctor - their inner thoughts and disturbing eugenic views wittily realised by William Kentridge's backcloth black and white animations - see Woyzeck as a lesser beast, an expendable lower species to be exploited and studied. 'If we go to heaven we will have to help with the thunder.' They are too poor to be as virtuous as the 'superior' class
Hamilton Dhlamini gives Woyzeck Nelson Mandela's voice, which unnerves on first hearing, a subtle underlining of South Africa's apartheid crimes. Woyzeck on the Highveld came two years after his release from prison, whereas Woyzeck's release is inevitable death.
Büchner, influenced by Shakespeare, Goethe, and the Sturm und Drang movement, based his drama on a true murder, a crime of passion, but it is his deep-felt revulsion for social conditions that has kept this young man's precocious work alive, and contemporary. A powerful expressionistic drama, one can see why and how it influenced Brecht.
A Biblical parable that draws on the Faustian legend is underlined by the Barker, a storyteller and manipulator who opens the proceedings, in a wonderful larger than life performance (playing against puppets) from the jovial Mncedisi Shabangu. "A beautiful murder", he announces through his foghorn, though at the end his eyes chide those that say the same. But he sells Woyzeck the knife
A veritable Mephistopheles, who delights in, and encourages, man's folly. A naughty showman, who makes the priapic pissing rhinoceros (not a horse here - shades of Ionesco absurdity perhaps?) draw lewd pictures and shoot himself. A questionable shot of vulgar humour to leaven a sad tale? What are you looking at, you're looking at yourselves, is the Gogolian message. The sun is full of junk, and the stars are flies pinned in the sky.
Ninety minutes with no interval is a long time for a puppet show, and there are longueurs, but the performances, the puppets, Kentridge's fluid sketches of bleak scenery and bleaker souls going mad under oppression, surreal images and amusing asides, draw the viewer into an inner world, made expressive by a multi-media production, that rises above what mere mortal actors can do.
Till 10th September 2011, then touring to:
11th - 15th October Warwick Arts Centre; 18th - 22nd October Lyric Theatre, Belfast Festival; 25th - 26th October Wales Millennium Centre; 28th - 29th October Aberwystwyth Arts Centre; 1st- 2nd November Hall for Cornwall; 4th - 5th November Exeter Northcott; 8th - 12th November Oxford Playhouse
Reviewer: Vera Liber