Wozzeck
Alban Berg
Welsh National Opera
Mayflower, Southampton
(2005)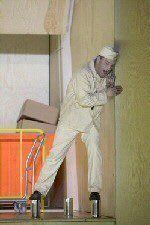 Welsh National Opera opened their spring visit to Southampton's Mayflower in spectacular style on Tuesday with a lively performance, in Richard Jones's new production of Alban Berg's seldom seen setting of the theatrical adventure, Wozzeck.
The original play, written in by a young medical student Georg Büchner, has fascinated theatre scholars since first discovered uncompleted on the 24 year-old's death in 1837. Little more than a collection of individual short scenes inspired by the real-life story of an ordinary soldier, it was thirty years before Woyzeck, as the play is generally known, was produced.
Berg, inspired when he saw the play in Vienna in 1914, worked on an operatic version after World War 1. The result is a fascinating, if characteristically brittle score which WNO's augmented orchestra here bring excitingly to life under Anthony Negus.
Christopher Purves's remarkably lyrical baritone draws the maximum pathos from the title role - the ordinary man driven into the depths of madness and despair by torments, real and imaginary, from the world around him.
Jones's clever production is characteristically eccentric, changing the background from the relative 'normalcy' of garrison town to the symbolism of a baked beans factory. Whether this helps in our study of the mysteries of Wozzeck's plight is another matter. Wozzeck, the real object of our scrutiny, is inclined to get lost amid the idiosyncratics all around him. While one assumes this is precisely the director's intention, it nevertheless complicates an already stern task for the onlooker.
However, the quality of WNOs performance cannot be denied. Paul Steinberg's assembly line design is brilliantly fast changed behind the bland computerised white house tab, and the singing of the principals is never less than accomplished.
WNO's tour, which ends with a concert in St David's Hall, Cardiff on April 23rd, also includes a new production of Verdi's La Traviata and the popular double bill Cavalleria Rusticana and Pagliacci. Venues are Birmingham Hippodrome (March 29th), Liverpool Empire (April 9th) and Bristol Hippodrome (April 12th).
Reviewer: Kevin Catchpole