Written on the Heart
David Edgar
Royal Shakespeare Company
Duchess Theatre
–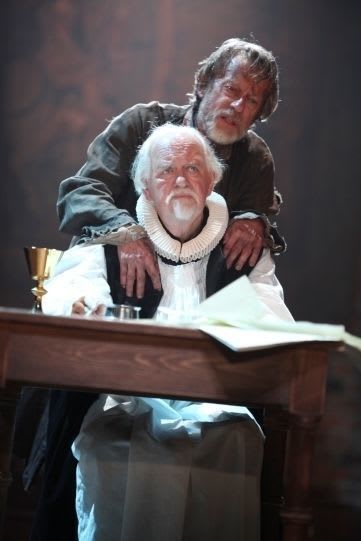 Written on the Heart is a Royal Shakespeare Company commission that looks at the history and creation of the one book that can compete with their standard fare, the King James Bible. The play was first seen in Stratford last year as part of the celebrations marking the 400th anniversary of that book's first publication.
The evening opens and closes in 1610 as a group of the great and the good heatedly debate the final seemingly inconsequential adjustments that will perfect the text.
Having set the scene, David Edgar takes the story back first to 1536 and then 1583 (or 1586 per the programme).
In the earlier era, we join Stephen Boxer as William Tyndale on the eve of his martyrdom. This is the man who first translated the bible from Hebrew into vernacular English and he lost his life as a result.
Sadly, he was one of many killed for their firmly-held and frequently petty adherence to single words or phrases in the bible.
The point, as they would have been desperate to prove, was that the words reflected underlying faith whether Protestant or "Separatist", which was a modish word for Catholic. To modern eyes, religion was like politics today with factional infighting the norm though, come to think about it, even in our own enlightened times sectarianism causes as much warfare around the globe as nationalism.
The longer first half of the play can get lost in semantics and subtle religious distinctions. After the interval, the play becomes considerably more interesting as the attention focuses on Lancelot Andrewes, the Bishop of Ely, played by Oliver Ford Davies, always a good bet for a cleric. This distinguished figure was the person regarded as not only the supreme arbiter on biblical language but also a possible successor to the ailing Archbishop of Canterbury.
Already, we have observed his rash youthfulness which even then was tempered with a degree of wisdom. Now, as final decisions must be made, he receives a visitation that gives the realism an unexpected dash of magic.
The ghost of Tyndale joins his successor and advises Andrewes on the most appropriate language to use if he really wishes to appeal to the common man. The two are swiftly seen to be kindred spirits, while the authorship of earlier versions of the Bible is also clarified.
Gregory Doran's production is aided by a graceful design from Francis O'Connor and Paul Englshby's sacred music, both of which set the tone well for a thoughtful, if slow-paced, 2¾ hours.
Reviewer: Philip Fisher