Wuthering Heights
Emily Brontë, adapted and directed by Emma Rice
Wise Children, York Theatre Royal, Bristol Old Vic and National Theatre
York Theatre Royal
–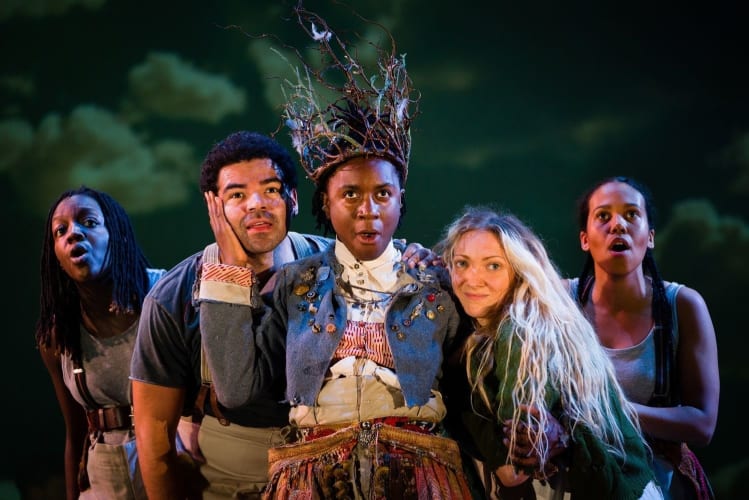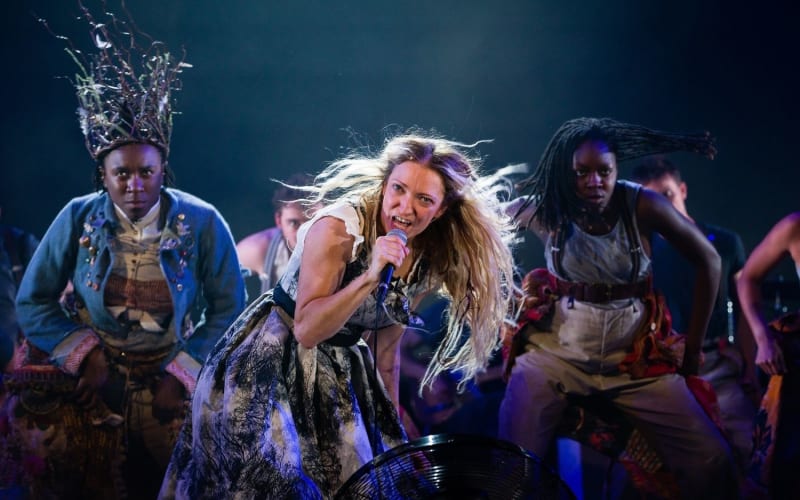 Emma Rice's productions begin from a determinedly personal response to their source material. Her take on Wuthering Heights combines a youthful spirit of helpless, hopeless Romantic passion with a more adult questioning of the source material, to point up the tragic throughline of violence and fear of 'the other' that has a cycle of resentment at and retribution as its only possible outcome.
These twin perspectives—carefree and reflective—might seem irreconcilable, but the assuredness of her storytelling, and of her company's performances, is such that they instead enhance and make sense of each other. This is a modern approach to the original novel but one which honours its essence by devotedly focusing on telling its story.
I am not as familiar with Brontë's work as many of those attending these performances surely will be, but I can affirm that this one indeed tells a great deal more of the story than is often deemed necessary or comprehensible, including the framing narrative of Mr Lockwood visiting the Heights in the thick of a storm, and hunkering down to hear the story of Heathcliff and Catherine's pseudo-incestuous relationship and the decades that have passed since the pair of children ran wild on the Yorkshire Moors.
Rice's adaptation and direction captures pulsing energies—both the gleeful abandon of youthful exploration and the throb of deep-seated wrongs. These are unified in the spirit of the Moors, here personified in the form of Nandi Bhebhe, Kandaka Moore, and several other members of the ensemble. Together, they incant rhythmic narration, issuing warnings and exhortations to action penned by Rice as a form of poetic, choral commentary. This, like much of the action, is underpinned by propulsive and catchy live music full of folky tones.
And what an ensemble this is. Mostly made up of collaborators with Rice from past Wise Children productions, it's a multi-talented and captivating cast through and through. There are also a couple of significant newcomers to the company, including Lucy McCormick as Catherine Earnshaw. McCormick is well-known for a number of award-winning shows blending confrontational, confessional monologues with pop culture tropes and live music. She draws on some aspects of this persona here as a compellingly wild force of nature, banging on the windows of Wuthering Heights and bellowing powerfully into a mic while backed by the banshees of the Moors.
After Catherine's death (surely this cannot be a spoiler), she is a tamed but still unearthly presence, trailing Heathcliff throughout the second half of the show. In that other pivotal role of Heathcliff, Ash Hunter offers a sturdy, inscrutable but no less magnetic presence. Ranging from the excitable young boy who meets Catherine when he's brought into his new adoptive home, to the taciturn and violent man he becomes, scarred by the cruelties meted out in his youth, Hunter is the perfect counterbalance to McCormick's Cathy.
While these are the roles most people will know from even a passing acquaintance with the novel, it is unfair to single out these performers among a cast so strong. Indeed, on the night I saw the show, with two ensemble members unavailable due to illness, another, Mirabelle Gremaud, simply stepped into all of their parts with such ease and conviction that it seemed impossible this wasn't the long-rehearsed plan. Throughout the cast, there is this same sense of ownership and confidence with the story, despite its complexities—which are themselves made overt in a framing narrative which points out how many interlinking family members they are, and how they all have such similar-sounding names: all these Cathys and Lintons.
Despite this dense web, relative newcomers to the story should find each moment clearly and powerfully mapped out, and the three-hour running time absolutely races by. The staging does occasionally make use of some now overly familiar devising / physical theatre tropes (it's hard to see upturned books being used to stand in for birds in flight without thinking back to Complicite and beyond).
But there are also some stunning, and often simple, visual metaphors which all contribute to the rich storytelling of the piece. Rice's trademarks—atmospheric musicality, often acrobatic dance, comedic but completely convincing characterisation, and rich visual imagery—are all present here as in her earlier Wise Children. And all bear witness to her respect for and love of the source material, and her company's joy in sharing this with an audience. A dark, thrilling, and yet hopeful night out.
Reviewer: Mark Love-Smith