Yellow is the Colour of Sunshine
Brendan Murray
Tutti Frutti
York Theatre Royal
–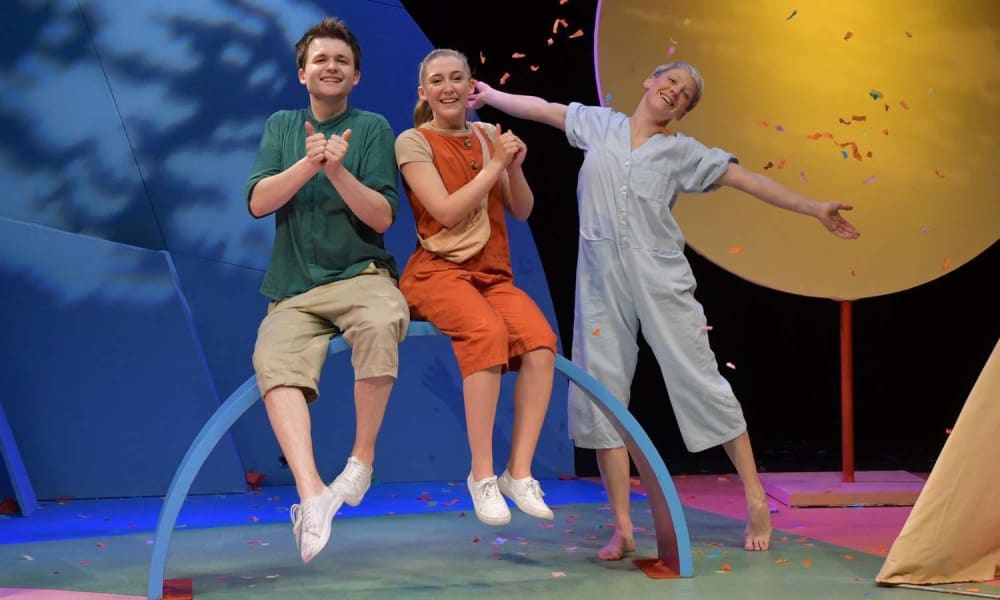 Leading children's theatre company tutti frutti is not afraid of exploring big issues in their shows. In their poignant production of Snow Queen last year, they explored bereavement and grief through the eyes of a young boy. In their latest show, Yellow is the Colour of Sunshine, they explore the idea of emotional literacy—how we recognise and understand our feelings.
This might sound rather heavy for a 45-minute play aimed at children aged 3–11, but Brendan Murray's script manages to handle the material in a delicate and thoughtful way.
Yellow is the Colour of Sunshine tells a story of young friendship. At the beginning of the play, Hani (Phoebe Stapleton) feels lonely and blue because she doesn't have a friend to play with. When Yoshi (Connor Bryson) suddenly appears, the two youngsters become instant friends, but they eventually fall out over a kite (Holly Irving, who also plays the sky and a passing magpie). Fortunately, they are reconciled when they learn to appreciate each other's emotional boundaries.
Overall, the show does a good job of making emotional literacy—a tricky and nuanced subject—palatable to a young audience. The show is capably performed by its three leads, who dance energetically across Kate Bunce's multi-coloured set (a tactile playground of geometric shapes).
There is very little narrative incident in the show, and I could sense the young audience's attention wandering at times. However, tutti frutti are known for the visual imagination of their shows, and there are several moments (scraps of paper turning into butterflies, for example) that are genuinely enchanting.
I was particularly impressed by the way Yellow is the Colour of Sunshine integrates sign language with speech and dance to create a piece that works for both deaf and hearing audiences.
Reviewer: James Ballands