Yerma
Federico Garcia Lorca
Arcola Theatre
(2006)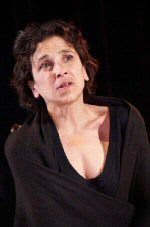 Director Helena Kaut-Howson has created an intimate and steamy evening by restricting the Arcola's large main playing space and setting up the theatre in traverse.
This latest play in the Lorca season once again demonstrates that countryside Spain in the 1930s hid an almost timeless and primitive society that had hardly developed in any way over the centuries. Life is hard and the traditions and rituals pursued by the people seem to owe less to the Catholic Church than its pagan predecessors.
Kathryn Hunter is Yerma, a good woman who is blighted by barrenness, it is ultimately implied as a result of her husband's infertility rather than any fault of her own.
Her only ambition in life is to become the mother of a healthy son and over the two-and-a-quarter hours playing time, she becomes increasingly desperate as she realises that after ten years of marriage her goal has all but disappeared.
Her husband Juan, played by Antonio Gil Martinez, is a handsome, hard-working farmer who becomes increasingly concerned at his wife's obsession. He is also worried because he realises that deep down, Yerma has always loved rugged fellow farmer Victor (Vincenzo Nicoli) and still holds a place for him in her heart. Juan's solution is to enlist his black-clad harridan sisters to keep an eye on his wife.
Helena Kaut-Howson makes the most of Kathryn Hunter's talents, particularly in the reflective, poetic interludes when Yerma bemoans her fate with desperate conviction.
In addition to the traumatic view of a typical woman's life at the time, the play also contains two excellently realised fantasy scenes that end each half.
Before the interval, with accompaniment of Tayo Akinbode's atmospheric, Arabic-influenced music, there is a gorgeous scene featuring half-a-dozen gossiping washerwomen who not only challenge the sisters-in-law in a symbolic, ritual duel by laundry but also manage to dampen most of the audience and soak the front rows - very welcome on a hot night.
The finale is presaged by a spooky, barely-lit night during which the forces of darkness are called upon to try and help Yerma become a mother. They also prepare us for a spectacular and finally tragic ending. This scene is distinguished by the pair of Gary Carr and Yvonne Wandera, one still at drama school and the other just graduated, who dance both beautifully and manically.
Yet again, the Arcola has managed to produce a big cast production on a tiny budget that on this occasion halfway through the run not only played to a full house but had a returns queue numbering around 40. The moral is to book early for this enjoyable trip back into the past.
Reviewer: Philip Fisher