Yerma
Federico García Lorca, in a version by Anthony Weigh
Gate, Notting Hill
(2011)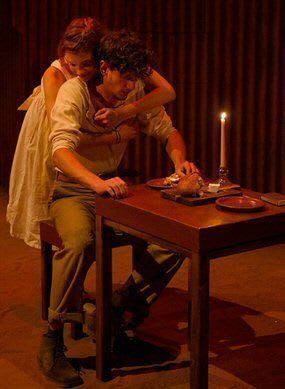 With its strong mythic qualities, Yerma is a play that harks back rather than forwards. Therefore, it is a brave decision by Anthony Weigh and director Natalie Abrahami to produce a modernised version using contemporary language.
The setting itself remains timeless with the auditorium covered by a layer of red sand and bounded by dulled walls of translucent corrugated material.
In this space, the opening scene is filled with hope as the red-headed Yerma, played by Ty Glaser, enjoys her wedding night under the stars with Hasan Dixon's Juan.
Quickly any passion is spent and while the couple become materially rich, in spiritual terms their marriage is disastrous, at least judged by traditional standards.
Juan cares far more for his sheep than his wife, leaving her alone for long stretches that are soothed by visits from Ross Anderson as the muscular butcher Victor and her only girlfriend, Maria. In this latter role, the broadly Scots-accented Alison O'Donnell is breezy and often hilarious, popping out babies annually and knowing no shame.
This contrasts with Yerma's barrenness that the irredeemably boring Juan brutally attributes to his wife. Her blithe acceptance and general behaviour suggest a mental development that might have been attenuated in the early teen years. The presence of a wandering, mischievous child that is probably only seen by Yerma adds to the mystery.
As the 100 minutes advance, Yerma becomes increasingly desperate to have her own child, even visiting Sharon Duncan-Brewster as the witch-like Dolores who, it is hinted, might well supplement her pregnancy-inducing mantras and herbs with more traditional aids to pregnancy such as lustful men.
Only in the final minutes does the doggedly dull Juan show any feeling for his wife and this is soon snuffed out in an ironic dénouement.
While this play works perfectly using the language and values of any society where marriage and motherhood are paramount, updated to the present day, when sexual liberation and childless relationships are de rigueur, takes away much of the impact.
This is not to diminish a moving performance from Ty Glaser who gives her all to portray the pain that her character suffers as a result of her failure to conform with the standards of an era that we may all be thankful has been consigned to history.
"Yerma" runs until 17th December
Reviewer: Philip Fisher