Yes, Prime Minister
Antony Jay and Jonathan Lynn
Chichester Festival production
Gielgud Theatre
(2010)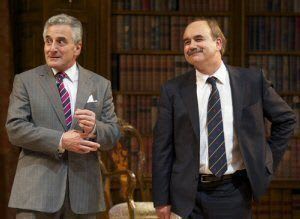 Let's do the Timewarp again, as they say in The Rocky Horror Show.
At times, while watching this new generation of Yes, Prime Minister, it would be easy to believe that one had fallen through a black hole and emerged in the early 1980s.
Not only are the writers the same and the trio of leading characters old friends but the situations and even some of the lines lead to a sense of déjà vu.
The problems faced by poor put-upon Jim Hacker may also seem familiar. Sir Humphrey is trying to get one over on him, Johnny Foreigner is causing problems by requesting an underage prostitute in return for oil money and the BBC seem to want the PM's head on a plate. Nothing new there.
That is both the strength and the weakness of this stage homage to a fondly-remembered TV classic that still seems as fresh on DVD today as it did on the much smaller screen all those years ago.
Strangely, there are few contemporary political references, despite a plethora of obvious targets in the days of coalition Government and those that did appear seemed largely to pass the final preview audience by.
The new Yes, Prime Minister is upmarket populist entertainment that has a good laugh quota but rarely surprises. Indeed, at times you could almost be watching the original performers rather than their successors, so hard has co-writer/director Jonathan Lynn worked to replicate the appeal of the series, aided by a team of top character actors giving their all.
In particular, Henry Goodman's silver fox Sir Humphrey is a dead ringer for Nigel Hawthorne. He begins to drift out of the play after the interval as David Haig takes centre stage playing a PM who becomes an unholy (even when praying for divine intervention) mixture of Paul Eddington and John Cleese.
The self-effacing Bernard is now in the capable hands of former RSC Richard III, Jonathan Slinger. He lacks the suaveness of the Derek Fowlds' version but has a malleable face that always seems on the verge of mirroring his boss's urge to panic.
This triumvirate is supplemented by a fourth musketeer, Emily Joyce as Hacker's PA, Claire. She is the fixer who is hired to protect him from his civil servants but also counsel on a more personal and frequently less ethical level.
Anyone buying tickets to see the show will probably be looking for the equivalent to comfort food or the jukebox musical. That is an overdose of well-packaged nostalgia embellished with lots of not especially cutting edge (which the original was in its time) comedy and that is precisely what Yes, Prime Minister provides.
As a final observation, the producers clearly believe that this show has some special ingredient, since 40 tickets each night are selling at a premium price of £85 apiece.
Sheila Connor reviewed this production at Chichester.
Visit our sponsor 1st 4 London Theatre to book tickets for Yes Prime Minister
Reviewer: Philip Fisher