You Can't Take it with You
Moss Hart and George S. Kaufman
Longacre Theatre, New York
–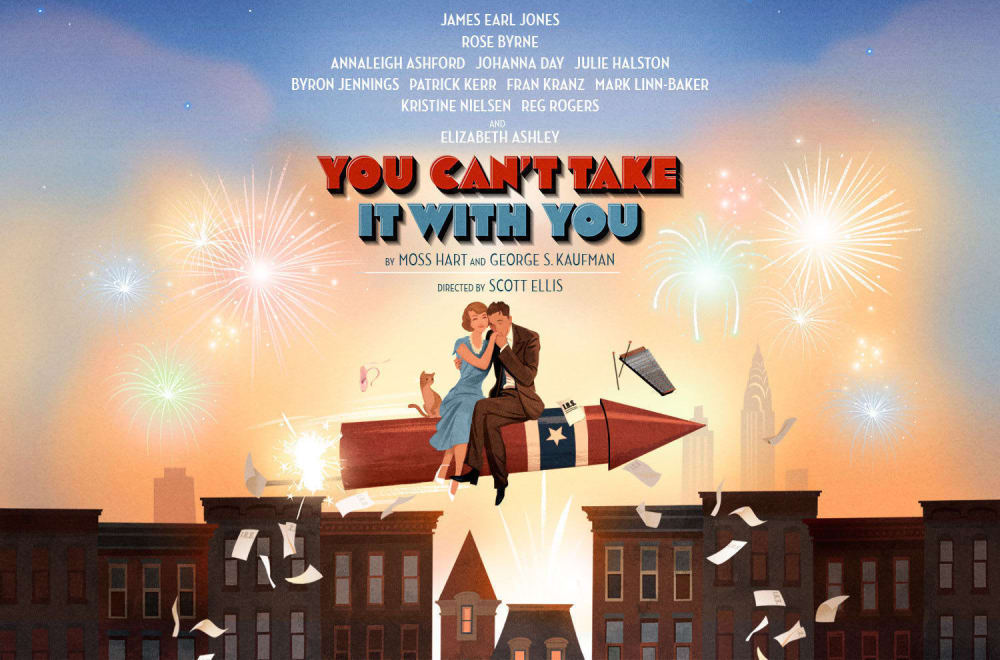 Kaufman and Hart are a legendary pair of witty writers who specialised in "screwball" comedies such as Merrily We Roll Along and The Man Who Came to Dinner on stage and screen and periodically provided source material for movies.
Set in 1938, You Can't Take it with You features a family who could easily compete with The Addams Family for oddness that goes far beyond usual eccentricity.
This causes problems when romance is in the air for daughter Alice, played by Australian star of TV's Damages, Rose Byrne. The path of true love runs really smoothly with Fran Kranz's handsome Tony, the boss's son, until one fateful night when he and the folks come to meet the future in-laws.
They are headed by a genuine patriarch in James Earl Jones as Martin Vanderhof or Grandpa. If one ignores the tax evasion and views that are labelled Communist, with some justification, he is a kindly elder statesman.
His daughter Penny (Kristine Mielsen) is a case, having caught a bad dose of artiness and affected acting. This aspiring playwright is married to Paul Sycamore (Mark Linn-Baker), a hobby fireworks maker.
A generation down, Annaleigh Ashford (having dispensed with her Kinky Boots) dances her heart out as Essie, though quite why isn't always clear. Her husband's (Will Brill) general blandness might be part of the problem, though he does play a mean xylophone.
There are more supernumeraries than even Chekhov would risk putting on to a single stage. These include a sassy maid (Crystal Dickinson) and her lover; an explosive incendiarist; a Russian dance teacher cousin of the Czar; a drunken actress; and two of the sweetest black kittens.
This group pits itself against a tax inspector, three policemen and, most amusingly, Tony's boringly straight-laced parents. Indeed, his businessman father played with suitable dignity by Byron Jennings, learns a thing or two about life and spends a night in gaol before an improbably happy ending.
Director Scott Ellis chooses to ask his actors to play it like a bad TV sitcom, shouting and gesticulating to a distracting degree throughout the 2¼ hours with two very short intervals.
The consequence is that some of the original jokes can get buried under flapping or odd delivery.
Even so, You Can't Take it with You is a charming romcom that has its fair share of amusing moments and situations.
Reviewer: Philip Fisher