You Stupid Darkness!
Sam Steiner
Paines Plough
Southwark Playhouse
–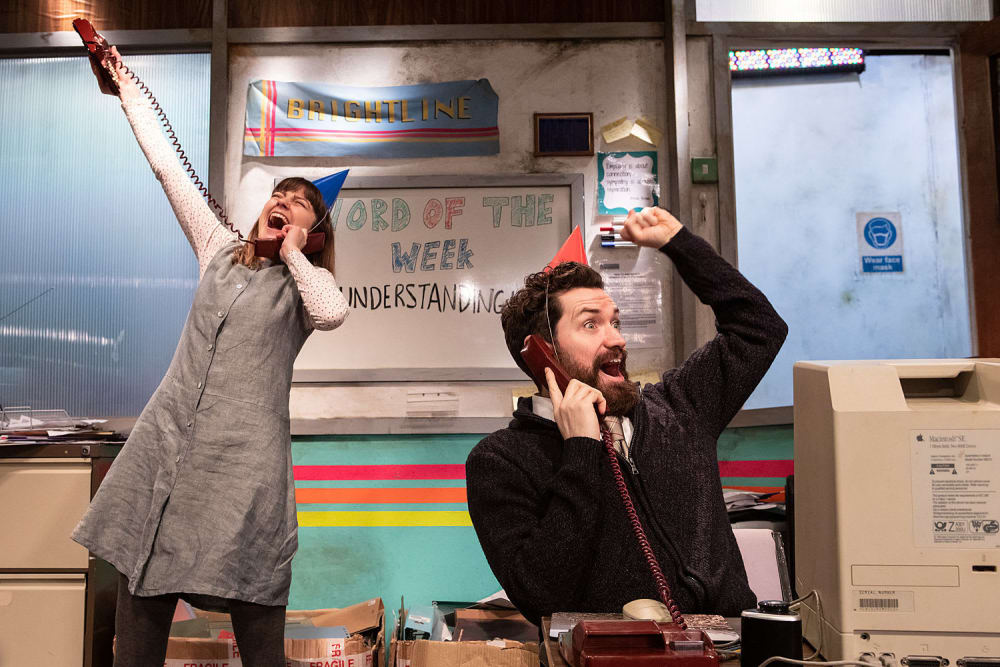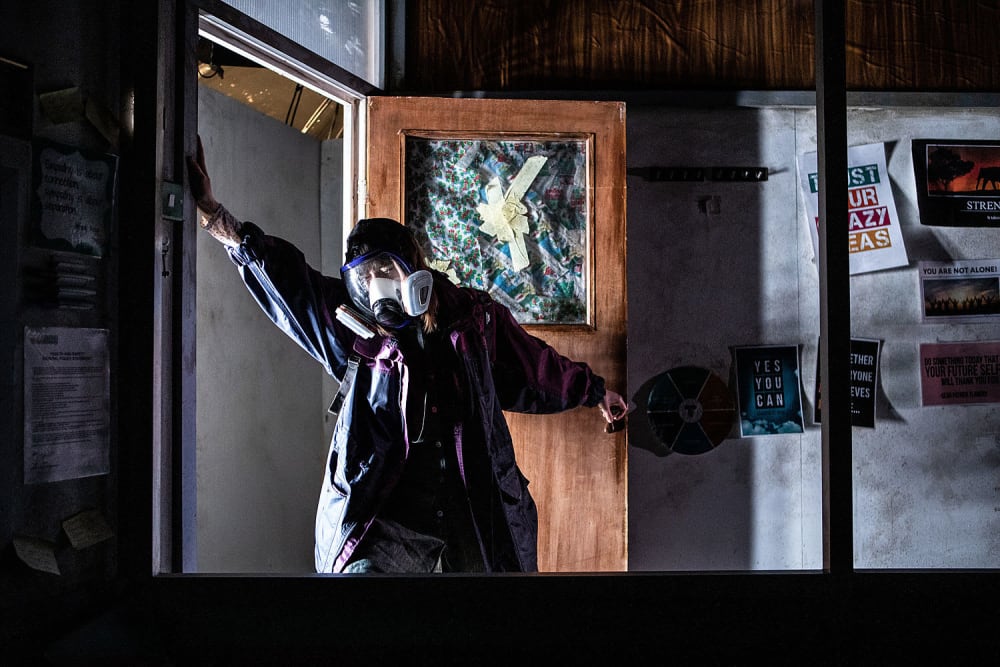 On the surface, Sam Steiner has written a rather uncomfortable comedy from Paines Plough that might well have its grounding in personal experience.
Its main focus is on the activities of four eccentrics who work voluntarily at a call centre set up to support those with serious personal problems.
However, around the edges, there is something strange going on since surreal, apocalyptic climactic events accompany scene changes, while for reasons that are never explained, the staff are obliged to wear gas masks outside the workplace.
The office itself, designed by Amy Jane Cook, is crumbling as symbolically as its clientele and staff, fighting a losing battle against the elements.
Brightline is part of a larger Samaritans-like organisation, which is also struggling to survive, although this barely dims the unavailing optimism of Jenni Maitland's heavily pregnant Frances, a jolly hockey sticks-type manager who constantly attempts to paper over ever-expanding cracks.
Her team, which meets on a weekly basis, is hardly ideal. Intense Angie played by Lydia Larson is brittle, while Andy Rush portrays Jon, a depressive who, despite a dark sense of humour, might well be better placed on the other end of the phone.
This is a far from ideal atmosphere into which to introduce a 17-year-old schoolboy on work experience. However, Andrew Finnigan's Joey is calm and mature, especially when compared with every one of his colleagues.
Much of the first half of a 2½-hour evening gives the impression of a mildly amusing sitcom, developing the characters and poking gentle fun at them.
It doesn't take long to discover that their personal lives are far from straightforward to the point where you wonder whether one or more of them might suffer a breakdown before the final curtain.
This means that their counselling efforts are doing those on the other end of the telephone little if any good, while increasing stress levels for those who are supposed to be experts in taking them in the opposite direction.
The evening only moves into top gear after we move past a series of trivial phone calls from perverts and the lonely into what might be regarded as the premier league of the depressed.
From this point onwards, director James Grieve and his fine cast are able to grab the attention of audience members through a series of conflicts and confrontations. These, together with themes of climate change and societal collapse, address challenging subject matter, albeit sometimes obliquely.
You Stupid Darkness! takes a long time to get going and therefore could benefit from some judicious pruning. However, it looks at the world from an unusual angle and features some sympathetic characters, giving viewers a good opportunity to consider a number of the issues that we face as a society today.
Reviewer: Philip Fisher