Platonov - Young Chekhov Season
Anton Chekhov, in a new version by David Hare
National Theatre
Olivier Theatre
–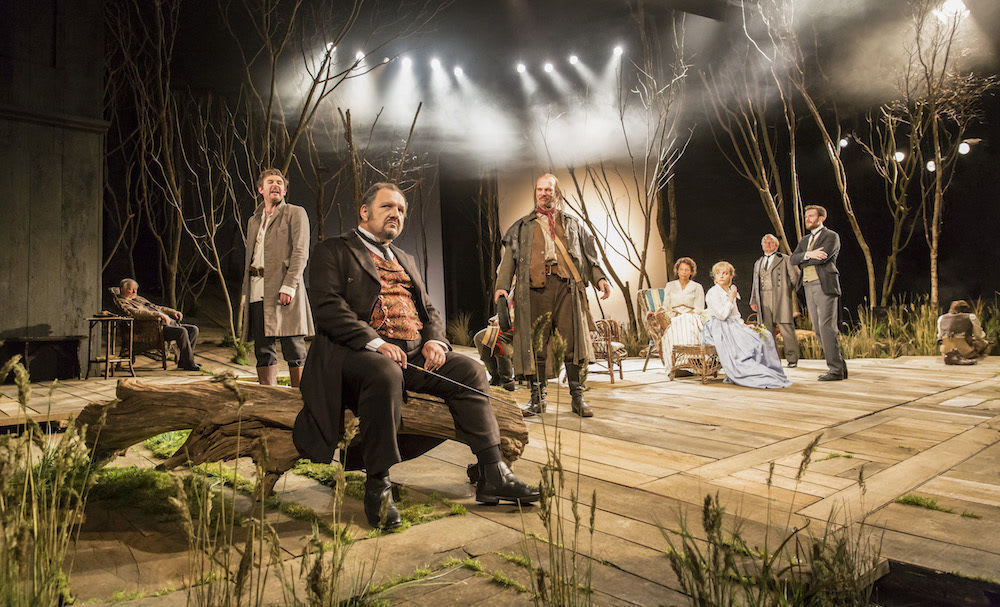 Platonov was a storming start to what promised to be a long but very enjoyable day.
Designer Tom Pye sets the mood perfectly, placing the production in original period and location, trees and a stream attractively surrounding a planked playing area.
In Sir David Hare's racy version of a play that was translated by Michael Frayn into Wild Honey, which is to be revived at Hampstead later in the year, the succulent language is to be savoured. So is the broad comedy, which often threatens to boil over into something considerably darker.
The originally untitled play revolves around two figures, dissolute schoolmaster Mikhail Platonov and down-at-heel estate owner Anna Petrovna.
Using his natural Scottish accent, James McCardle plays Platonov as a kind of unholy cross between Don Juan and Tony Hancock, at times talking through the fourth wall to seek support for behaviour that is almost always deliciously and cruelly immoral. He is, in equal measures, hapless, feckless and tactless.
Platonov is God's gift to women and knows it, much to the distress of his wife Sasha, the piece's only wholly good figure, played by Jade Williams.
Nina Sosanya is Anna Petrovna, a familiar Chekhov character who is also universally loved but owes money to her whole circle. As such, she needs help from the resident unscrupulous capitalists to try and save home (and face). The only thing missing from her woes is a Cherry Orchard.
Everyone on show is in love with one or other of them, while the couple inevitably fall for each other but, for these two, passions only run skin deep even if they are the cause of behaviour from others that veers between hysterical and near suicidal.
Jonathan Kent marshals his very strong forces superbly in a delightful performance that richly deserves its London transfer and viewers will believe heralds a great day ahead.
Reviewer: Philip Fisher