Yous Two
Georgia Christou
Hampstead Theatre Downstairs
–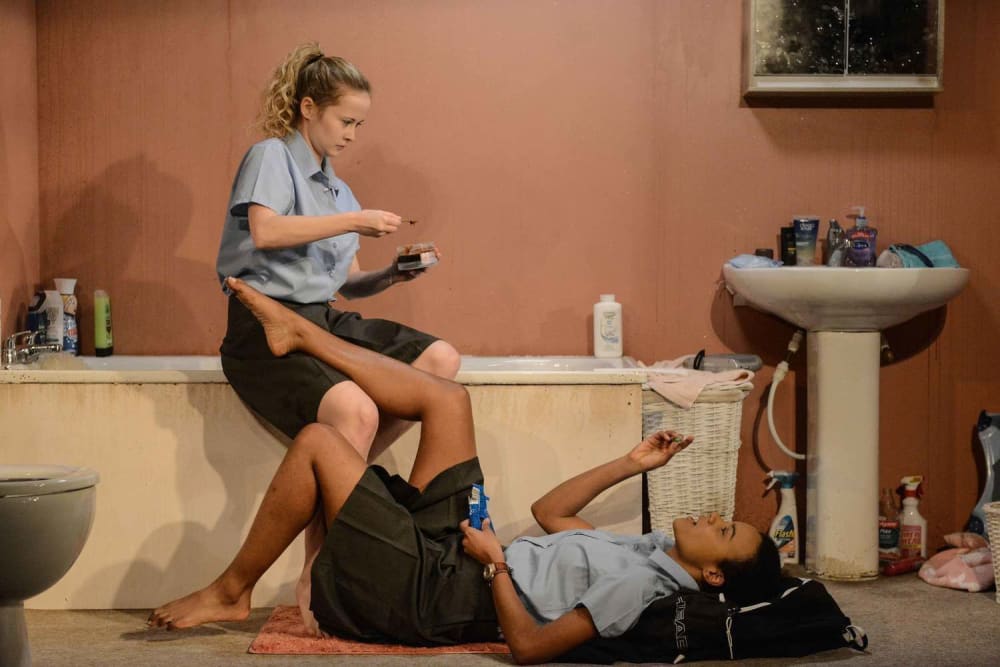 2018 is less than a month old and already London has welcomed two plays that could easily win their writers Best Newcomer awards in a year's time.
Hot on the heels of My Mum's a Twat by Anoushka Warden at the Royal Court comes a piece with some similarities, in that it depicts a very mature, highly intelligent teenage girl from a non-nuclear family trying to overcome life's little encumbrances.
Yous Two might be the start of a new genre. In the last 60 years, we have all become familiar with kitchen sink plays. This one could be the start of the bath and WC school, since its 70 minutes never leave the smallest (and one hopes shabbiest) room in the flat rented by Billie's father Joseph.
In this case, Shannon Tarbet gives an outstanding performance as Billie, on the verge of her GCSEs with every chance of a university place followed by a glittering career.
The main thing holding her back is Joseph Thompson's unemployed Jonny, the kind of chancer who sells black-market football tickets and believes that everything will be all right by Saturday night when he wins the Euro Millions. Even given the slim possibility that that might not happen for another week or two, the family coffers are bound to be replenished as soon as he receives an injury compensation award that seems destined to evade the single father forever.
In this household, the teenager is significantly more mature than her dad, although Jonny makes up for his laziness with quick-fire wit and genuine love for the bright teenager. Underlying the relationship is a sad history, which deeply affects them both but in different ways. Soon after Billie's birth, her mother, who suffered from depression and schizophrenia, passed on, presumably by her own hand.
Many of the most telling scenes in the play take place between father and daughter, mixing laugh out loud comedy with rich pathos, especially in the scenes after Billie announces that she is to become a gymslip mum. Not only are they funny but these interactions are frequently psychologically deep, plumbing the depths of not one but two damaged souls.
A different outlook is introduced by two of Billie's school friends, neither character as fully rounded as Billie or Jonny. Leah Harvey plays Rachel, the intellectually challenged daughter of genuine intellectuals, while Ali Barouti is Fudge, a good-natured young lad who is responsible for the pregnancy but then disappears at speed, although of the two outsiders, he might well be the more likely to have hidden depths.
Yous Two is impeccably directed by Chelsea Walker, really getting to the heart of the relationship between father and daughter. She and the writer are blessed by the presence of a young actress like Shannon Tarbet to play what might well be the playwright's stage alter ego.
While the piece may show one or two rough edges, it marks Georgia Christou as a real talent in the making, who has a great sense of humour but also the ability to convey humanity with feeling.
Reviewer: Philip Fisher