Yuri
Fabrice Melquiot / Dafydd James
August 012
Chapter, Cardiff
–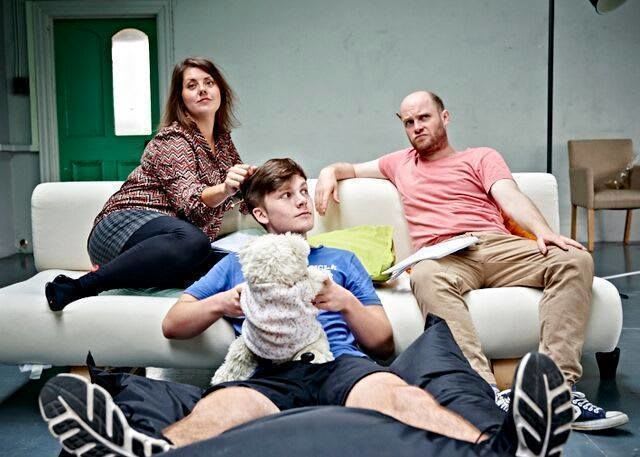 Tragically, it is not an unfamiliar tale—a childless woman finds an unattended child in a supermarket and, while the balance of her mind is disturbed, kidnaps it, sparking an extensive police search and attendant media frenzy. Fabrice Melquiot's play, first staged in France in 2011, starts from this premise, but takes it in a surreally farcial direction.
For one thing, the "baby" is a boy in his mid teens who seems to accept his abduction with blank equanimity. And he is a Russian named "Yuri". He is also mute.
As the piece begins, the audience is welcomed into a lavish apartment—beautifully designed by Camilla Clarke. Adele is greeting us, whilst bickering with the on-stage tech crew; she is about to tell us the story of how Yuri came into the lives of her and her husband Patrick.
The couple, who seem tolerably happy and fairly affluent, have thus far failed to conceive naturally. Thus, when Patrick comes in from work, he is intrigued when Adele tells him that she has a surprise in store, and horrified when Yuri is introduced to him. He is forced to accept the situation, however, through the force of his hysterical wife's will, and the fact that no-one appears to have reported Yuri missing.
As a director, Mathide Lopez's hallmark is cleverly organised chaos; here she gleefully embraces the artificiality of the situation. Thus Adele and Patrick interact in a chummy manner with the audience (as well as with stage manager Siwan); showers and rainfall are rendered via torn-up silver paper and acts of sex and violence are presented symbolically.
Both Carys Eleri as the melodramatic Adele and Ceri Murphy as the ostensibly more stoical Patrick are very funny as the couple whose life together grows steady more absurd, and who have no choice other than to rationalise this. Newcomer Guto Wynne Davies also scores very highly as the gormless, innocent (or is he?) adolescent baby.
Lopez has said that it was while she was struggling with fertility issues (a situation now happily resolved) that she first read and was struck by Yuri. It is a play about the desire to have a baby—although Adele's need seems more rooted in consumerist than maternal instincts; it is also about the havoc which parenthood wreaks, even under normal circumstances—beware of getting what you want.
Intentionally dubious jokes about Yuri's provenance highlight the extent to which every new child is an alien creature and potentially a hostile one. However much of a tabula rasa he appears to be, Yuri seems to have an agenda, even if he is unable to articulate it.
Microphones are used to highlight the extent to which the characters are presenting a show, but they seem superfluous. The plot meanders at times as we drift into philosophical contemplation of the nature of nationhood (the piece is being presented, alternately, in both English and Welsh, with playful surtitles), but the sure hand of adapter Dafydd James ensures that the laughs keep coming.
The technical presentation is exemplary, Branwen Munn's sound design and Katy Morrison's lighting effects heightening the febrile mood.
A rare instance of a French play premièring in both English and Welsh in Cardiff, Yuri is equally unusual in being a meditation on the metaphysics of identity which also contains jokes about willies. This is comedy at its most entertainingly confusing.
Reviewer: Othniel Smith