Zerbombt (Blasted)
Sarah Kane, translated by Nils Tabert
BITE06
Barbican
(2006)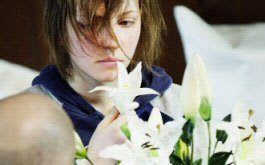 Blasted is a play that possibly more than any other, created a genre, In Yer Face Theatre. For some reason, this type of work has always been more popular on the continent than in the playwright's home country.
When one sees Thomas Ostermeier's stunning expressionist production for the Schaubühne in Berlin, one reason for the continental success becomes clear. European directors obviously feel a great empathy with work of this type.
The director was last at the Barbican with his unforgettable version of The Doll's House and now demonstrates his versatility with this stark, modern exploration of what love and death mean. There is also a chilling prediction of the way that the current War on Terror might come to affect our own country.
Like a confident conductor, Ostermeier works coolly and calmly, using a notably slow tempo that brings out both the comedy and the horror of the play, without dwelling pruriently on the notorious scenes that outdo even Shakespeare at his goriest.
Jan Pappelbaum's set reduces the massive Barbican stage to manageable proportions by building a bright, modern hotel bedroom on to two separate revolves.
Initially, we see a middle-aged journalist, Ulrich Mühe playing Ian Jones, trying to persuade his young and very immature girlfriend to satisfy his lusts.
Gradually the naturalistic dialogue shows us the bigoted local journalist bullying Cate (Katharina Schüttler) but failing to get his way. Even allowing for her stammer and fainting fits, the young woman maintains her knack of holding off this overtly aggressive man. She continues to do so even when she might be expected to offer solace having discovered that he has cancer and is terminally ill.
Despite wielding a pistol and a good line in bluster, Ian is as weak as Cate. The turning point in their evening is symbolised by a slow much-repeated revolve that eventually reveals the pair in bed following Cate's rape.
Happiness for either is predictably elusive and their less than blissful night ends in bickering and recrimination. Thus far, we have witnessed an existential Black Comedy of manners. No wonder the Germans lap it up.
The arrival of a burly soldier (Thomas Thieme) after a gentle tapping game, changes the atmosphere of this two-hour play, spoken in German with surtitles, irrevocably. Though the play is set in Leeds, the soldier in camouflage fatigues brings with him the burden of a Balkan-style war in which atrocity is the norm.
The poor man has lost his girlfriend to unspeakable barbarities perpetrated by enemy soldiers and begins very literally to seek an eye (or two) for an eye, after raping Ian.
This is not pretty stuff but Ostermeier is sensibly sparing with the stage blood, both in this scene and later on when Cate finds a baby and the play reaches its horrific zenith, in a scene that even horror writers and film makers would fight shy of attempting.
There is one more thrillingly stylised coup de théâtre that might be better left unrevealed before a surprisingly hopeful and redemptive ending.
While Blasted is undoubtedly a deeply shocking play, with this production, Ostermeier reveals new humanity, as well as a really clear view of a death fixation that figured so significantly in the playwright's work and culminated in her suicide. It also speaks volumes about the world today, especially sexual politics and the brutality that is an inevitable consequence of the many wars that are waged around the world at any given moment.
We must be grateful that Sarah Kane has left behind a body of work that may well be reinterpreted for generations, if this absolutely gripping evening is anything to go by.
Reviewer: Philip Fisher