Zorro
Story by Stephen Clarke (also Book and Lyrics) and Helen Edmundson, Music by The Gypsy Kings
Garrick Theatre
(2008)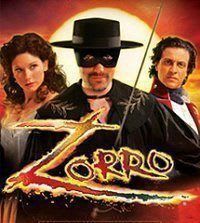 Long before superheroes were superheroes there was Zorro. A weedy and, on this occasion, rather camp nobleman played by the daring Matt Rawle, who magically transforms himself into a sexy, masked man with a magician's power to disappear and materialise on the far side of the stage.
Even better, this loveable avenger is able to fly Tarzan-like above the stage, even, before his final encounter, right across the theatre for a splendid swordfight that is pretty special even for the master of the art, action director Terry King.
The Latino lord is influenced by Robin Hood but prefigures Batman, Superman and every other -man who has made a career out of fighting evil (and entrancing rich beauties).
His nemesis was a man brought up as his brother, Adam Levy's Ramon, the embodiment of evil in an evening where every character is drawn in black or white.
The action takes place two centuries ago in Los Angeles, California. This is a Spanish-speaking pueblo presided over by a good alcalde, Jonathan Newth's Don Alejandro. The generous benefactor of his people opens the play by dividing three teenagers, his son Diego to army training in the Mother Country; the pretty, demure, English-accented Luisa to a cousin-chaperone, while Ramon stays at home.
Inevitably in a tale of this type, Ramon does away with the old man and rules the poor with a rod of iron, making life hell for his abject subjects. When the position seems irredeemable, along comes Zorro swashing his buckle, fighting like a demon and for some unknown reason using knee and foot in attempts to emasculate every poor soldier whom he cannot stave off with dual swords.
Except for the sad loss of Diego's feisty, flirtatious gypsy love Inez, played by the multi-talented Lesli Margherita, everyone lives happily ever after and there might even be hope of redemption for the bad guy. All pretty routine superhero stuff really.
This evening, directed by Christopher Renshaw, the man who brought We Will Rock You and Taboo to the West End, was always going to live or die on the added extras. The humour may be pretty limp despite the efforts of Miss Margherita and her tubby admirer, Nick Cavaliere as Sergeant Garcia, but the song and dance can be electrifying.
A team of flamenco dancers has been shipped in to strut their stuff and they are absolutely marvellous in the cramped stage space. With Inez often boisterously in the lead, they demonstrate an art that mixes generous doses of tap, fiesta and the corrida with noisy aggression that can be terrifying.
The music, with guitar solos a speciality, comes from Romany legends The Gypsy Kings, who supplement three old favourites with new tunes designed to carry along the evening and the story. Perhaps predictably, the most exciting music is the best known, Bamboleo (so popular that it features in Marks and Spencer ads on TV) and Djobi Djoba, although Matt Rawle ensures that Zorro's edgy paean to vengeance, Hope, is really rousing too.
Emma Williams, who has a habit of mugging at comic moments, gets some bland numbers early on but also a chance to show off the power of her voice in Falling and Man Behind the Mask.
Once the parts are added together, they make for a light but enjoyable 2¾ hours with enough appeal to fill this relatively small theatre for some time to come.
Andrew Edwards reviewed this production on tour in Manchester
Visit our sponsor 1st 4 London Theatre to book tickets for Zorro
Reviewer: Philip Fisher