Antony Sher wins Theatre Book Prize
Published: 13 June 2019
Reporter: Tom Howard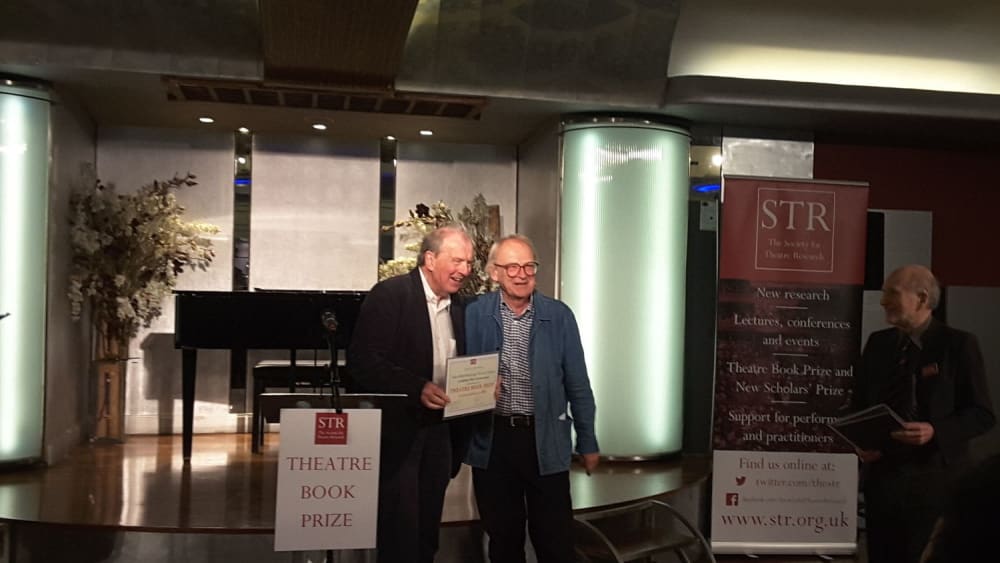 At a reception at the Prince of Wales Theatre on June 11, the winner of The Society for Theatre Research annual Theatre Book Prize was announced as Antony Sher for Year of the Mad King, his book about playing King Lear.
In a presentation preceding the announcement of the winner by actor, dramatist (and magician) David Wood, this year's judges told the audience about the books they had put on their shortlist and some of their other favourites. Compère Andrew Killian spoke briefly of the work of the Society before introducing BTG reviewer Howard Loxton (who chairs the judges on behalf of the Society and spoke in general about the prize) and then the judges, who, this year were David Byrne, Daisy Bowie-Sell and Jim Davis.
Jim Davis, Professor of Theatre Studies at the University of Warwick, declared Alistair Fair's Modern Playhouses, an architectural history of Britain's new theatres from 1945-1985, as destined to become the standard work on the subject. He described Jerri Daboo's Staging British South Asian Culture as "deftly chronicling ways in which the British South Asian community represents itself (and is represented) through performance.
In addition to those shortlisted titles he drew attention to performer and activist Naomi Paxton's Stage Rights! the story of the Actress's Franchise League, Staging the Spanish Golden Age, translator Katherine Jeff's insightful study of the role of translation in the rehearsal process for the RSC 2004-5 season in which she participated, and reminded us of the importance of amateur theatre, subject of The Ecologies of Amateur Theatre, a major new study by Helen Nicholson, Nadine Holdsworth and Jane Milling.
Daisy Bowie-Sell, Editor of WhatsOnStage, drew attention to Graeae's celebratory Reasons to be Graeae, "a lovely documentation of the remarkable disability-led company that has changed the nature of our industry, to Kirsty Sedgeman's The Reasonable Audience, an academic exploration of the audience's place in the theatre, to John McCormick's The Holdens whom she called: "vital figures in the lost art of marionette theatre" (lost? Really!) and to Chris Head's A Director's Guide to the Art of Stand-Up.
She was enthusiastic about Amber Massie Blomfield's Twenty Theatres to See Before You Die, a choice for the shortlist, "which highlights not just the grand, gilded, spotlit theatres of old, but also the ramshackle and the penniless, the dog-eared and the much-loved." She thought Antony Sher's shortlisted Year of the Mad King, about playing Lear, demonstrates beautifully the fickle, changing nature of the job of the actor.
"What I love most about this book," she said, "is its humanity. Its sense of a human, not a towering, theatrical figure, but a person finding their way through a remarkable role written by another remarkable human being."
David Byrne, prize-winning playwright and Artistic Director of London's New Diorama Theatre, was enthusiastic about Susan Bennett and Sonia Massai's Ivo Van Hove, which "charts one artist's process across multiple productions." He declared Peter Whitebrook's editing of the letters of John Osborne and Pamela Lane Dearest Squirrel a favourite and highlighted Jonathan Croall's insightful Performing Hamlet, which tracks 70 years of a range of actors tackling the role.
He quoted Maxine Peake on the challenge: "It felt like I was running a marathon every night. I went to physio twice a week, trying to get my knees back to life, my back had gone and I lost a lot of weight. I had to have a vitamin B shot in my backside. I discovered I was severely anaemic, my iron level was very low and I had to have a transfusion. On the third preview night, I sat on the steps at the stage door and had a bit of a cry."
"That," he said, "is what I go to theatre books for. It's a look often not just behind the scenes, but deeper than that. A reflection of the cost and the catalytic energy making theatre and performances takes on those who have dedicated their lives to it."
He declared Peter Whitebrook's editing of the letters of John Osborne and Pamela Lane Dearest Squirrel a favourite before going on to shortlisted selection Daniel Rosenthal's Dramatic Exchanges, "a truly terrific book," not as intimate but "a lively and gossipy read, giving us the feeling of having been locked overnight unsupervised in the archives of the National Theatre, able to look at all the juicy bits that never normally would see the light of day."
His favourite, however, was Colin Chambers's Peggy to Her Playwrights. "We hear her voice undiluted. It's as if she is firmly bellowing down the ages to us and, thanks to this entertaining, colourful and brilliant collection of letters, we hear her loud and clear." And he gave as example a letter to a young Stephen Poliakoff: "I've read your play, and found the first twenty-four pages fresh and interesting, and then I got the oppressive Poliakoff blues, which came down on me like a blanket of boredom." She goes on to say, "I think it's basic ignorance of people and life, except the very young, which is the fault. This will be remedied with each year you live, dear Stephen, so don't worry about it."
"In their own way," Byrne declared, "each of the these books give an excellent look into the making of art. The challenges, the battles, the love and the cost. It's been almost impossible to judge one better than another. And it's made me question to very notion of judging at all."
David Wood was then called upon and, after some brief reference to is own involvement with Peggy Ramsay, made presentations to the six shortlisted authors and editors (though Antony Sher, who has only just returned from performing in South Africa, was suffering from a back problem and under doctor's orders not to attend, was represented by his publisher Nick Hern).
After congratulating the shortlisted authors and editors, Howard Loxton then declared that the Theatre Book Prize wasn't just about winners but about all the books. Few booksellers now stock a range of theatre books. You are lucky if you find a few titles on Shakespeare and one or two modern plays (usually Pinter). He asked who had been aware that 2018's books included one about an18th century manager of Covent Garden, a new biography of Farquhar, the autobiography of a soap star who had been well grounded in rep, a study of theatre's role in World War One or (one of my favourites) a personal account of life as an aerialist—let alone more academic titles, pointing out that they were not only all on display at the venue but also all appear on the STR web site where a click on a jacket picture will take you to the publisher's catalogue or its equivalent to find out about them or even buy a copy.
With that range of books, the judges did not have an easy task. Some years there is a title that seems to choose itself. That wasn't the case this year. It has taken quite a lot of deliberation to reach a consensus—and that was the cue for the compère to call David Wood back and open the ritual envelope to declare Year of the Mad King as the winning book. Publisher Nick Hern came forward again to accept the award on behalf of Sir Antony.