The World's Greatest Show: Arthur Pita's study of 1930s American dance marathons
Published: 3 June 2014
Reporter: Vera Liber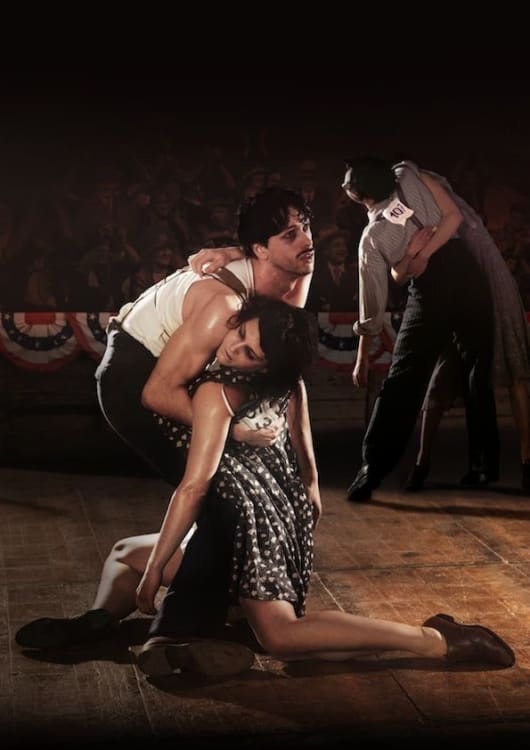 Exploring the phenomenon of dance marathons in 1930s America, Arthur Pita's The World's Greatest Show opens at Greenwich Dance on Friday 27 and Saturday 28 June, then travels to Ipswich Corn Exchange as part of the Ip-Art Festival on Friday 11 and Saturday 12 July, and culminates with a performance at the Paul Hamlyn Hall, Royal Opera House on Sunday 27 July.
In 1923, 32-year-old Alma Cummings danced for 27 hours straight, setting a new dance endurance record. The craze for dance marathons soon developed and became extremely popular during the American depression of the 1930s.
This brutal fascination attracted desperate couples to dance until they dropped in a bid to win a life-transforming cash prize. Participants remained on the dance floor almost non-stop for hundreds of hours, in fact most dance marathons lasted for 6 to 12 weeks.
The longest recorded marathon clocked up 3780 hours, which stretched to almost 5 months. Contestants had to be in continual motion for 45 minutes out of every hour, day and night, and were disqualified if both knees touched the floor. This cruel and exploitative form of 'entertainment', that drove some to their deaths, was eventually outlawed in 1937.
Arthur Pita said: "After watching the film based on Horace McCoy's novel They Shoot Horses Don't They? a decade ago, I was inspired to create a show about the American dance marathon craze of the 1930s.
"Through years of research, I have become completely fascinated by this segment of dance history that remains largely under-explored. During the Depression, people entered the dance marathons to get food, lodgings and the prospect of winning prize money.
"Most of the marathons were rigged and corrupt. Couples were dancing for hundreds, even thousands of hours; it seems inconceivable, but they did it! Last spring, eight brave dancers and I undertook a 100-hour workshop at Greenwich Dance to discover more about this phenomenon.
"When I look at archive photographs and footage, I am so moved by the expression on the contestants faces, they seem so desperate yet there is still a glint of hope in their eyes.
"This is what I hope to capture with this wonderful cast of committed dance theatre performers, channeling those beautiful spirits of the past and giving a modern audience a poetic glimpse into what happened historically. Ultimately it's the fight in the human spirit to survive that I find so inspiring."
Set in a 1930s dance hall, The World's Greatest Show paints a picture of the many different characters involved in these disturbing yet enormously popular human endurance contests. Designed for non-conventional venues, the production will feature a professional cast of 11 performers, who will be joined on stage by up to 30 local participants for each performance.
Pita reunites with The Metamorphosis composer Frank Moon, whose score, comprised of original music and period songs, will be performed live by a jazz quartet.
NB The World's Greatest Show is the official title for the production, replacing the working title Nobody's Baby, but the Royal Opera House is on sale with the title, Nobody's Baby.