Tackling Shakespeare's language: RSC artists give tips
Published: 27 April 2020
Reporter: Steve Orme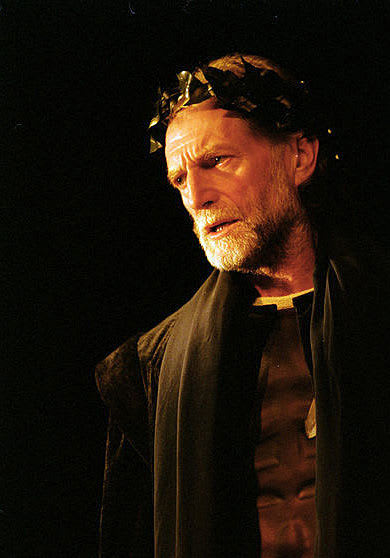 Artists from the Royal Shakespeare Company who are unable to rehearse or perform will help to unlock Shakespeare for thousands of children and young people studying at home.
The RSC's Homework Help initiative gives young people the opportunity to pose questions about Shakespeare and drama studies to working actors and alumni from the Royal Shakespeare Company.
Those responding to questions and offering tips on how to tackle the language include David Bradley, David Tennant, Paapa Essiedu who played the title role of Hamlet in Simon Godwin's 2016 production and RSC associate artists Niamh Cusack and Charlotte Arrowsmith.
Those wishing to pose questions should e-mail them to [email protected] or share their questions using the hashtag #RSCHomeworkHelp on Twitter or Instagram by Sunday 10 May.
A selection of video or written answers from RSC actors will be shared via the RSC web site from 11 May to coincide with the first BBC Bitesize Teaching Shakespeare week which will focus on Macbeth and Romeo and Juliet.
RSC director of education Jacqui O'Hanlon said, "as a result of the COVID-19 outbreak and the closure of UK schools, many young people will be working from home. We know this can feel isolating and demotivating, and we want to ensure we do everything we can to support and inspire them.
"As children and parents across the UK adjust to their 'virtual classrooms', this gives us the opportunity to extend our support and to work with artists from the RSC's performance history. They'll answer any questions young people want answered about Shakespeare and theatre generally."
The RSC will play host to a live lesson of Macbeth on YouTube between 11AM and 12PM on Tuesday 28 April. Students, teachers and parents across the UK will get the opportunity to go behind the scenes of the 2018 production directed by Polly Findlay and featuring Chris Eccleston and Niamh Cusack as Macbeth and Lady Macbeth. People will see how the acting company and creative team approached key sections of the play and why certain decisions were made.
The RSC is also working with the BBC to deliver two focused weeks of GCSE lesson plans themed around Shakespeare's Macbeth, Romeo and Juliet and The Merchant of Venice. The Shakespeare weeks take place from Monday 11 until Friday 15 May and from Monday 15 until Friday 19 June.
The weeks will involve daily Shakespeare lessons developed by the RSC for year 10 students to help unlock Shakespeare's work and language. Focussing on Romeo and Juliet and Macbeth, the lessons will offer insights from RSC actors and directors into how to decode Shakespeare's language and bring 400-year-old plays to life for today's audiences.