National Dance Company Wales to perform Ekman
Published: 1 September 2014
Reporter: Vera Liber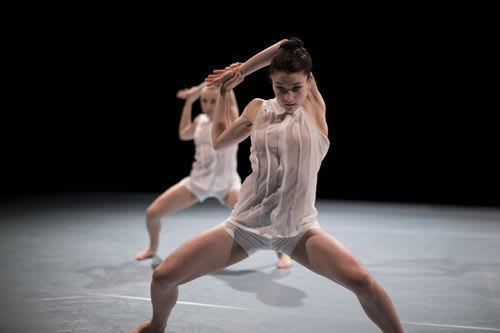 Rehearsals are underway for the forthcoming autumn tour from National Dance Company Wales (27 September to 17 November) featuring a new addition to its repertoire: Tuplet by the Swedish choreographer Alexander Ekman.
Tuplet, originally created on Cedar Lake Contemporary Ballet, is an eighteen-minute piece for six dancers using a score created in collaboration with their own rhythmic impulses and employing their bodies as percussion instruments. This soundscape is integrated with original electronic music composed by Mikael Karlsson.
Alexander Ekman was an associate choreographer at NDT from 2011 to 2012. Following a dance career with Royal Swedish Ballet, Cullberg Ballet and NDT 2, Ekman decided to focus solely on choreography.
Ekman created four works for NDT2: Flockwork (2006), Cacti (2010), Left Right Left Right (2012) and Maybe Two (2013). In 2010 he created La La Land with NDT 1 dancer Medhi Walerski for Göteborg Ballet.
Ekman, who often composes music and develops decor for his own pieces, has also worked with Compañia Nacional de Danza Goteborg Ballet, Iceland Dance Company, Bern Ballet, Cedar Lake Contemporary Dance, Ballet de l'Opéra du Rhin, Royal Swedish Ballet and the Norwegian National Ballet and at such festivals as the French Europa Danse and the Athens International Dance Festival.
The first UK company to perform the work of this prolific choreographer, NDC Wales will be touring to three UK venues and festivals in Milan and Normandy, featuring work by Ekman, Stephen Shropshire, Stephen Petronio, Christopher Bruce and Lee Johnston.
Works in the UK programme include Stephen Shropshire's Mythology, set to an avant-garde composition for piano, jazz ensemble and spoken word; and two works by the Company's house choreographer Lee Johnston: Purlieus, an immersive melding of movement and lighting design, and They Seek to Find the Happiness they Seem, an exploration of the separation and disconnection occurring within a relationship, playing with the use of reconfigured snippets of imagery from popular culture.
The international dates will include Stephen Petronio's Water Stories, created for the company in 2013, and Christopher Bruce's Dream, created for the company as part of the Cultural Olympiad celebrations in 2012.