Rita is a big hit in Cornwall
Published: 21 August 2020
Reporter: Peter Lathan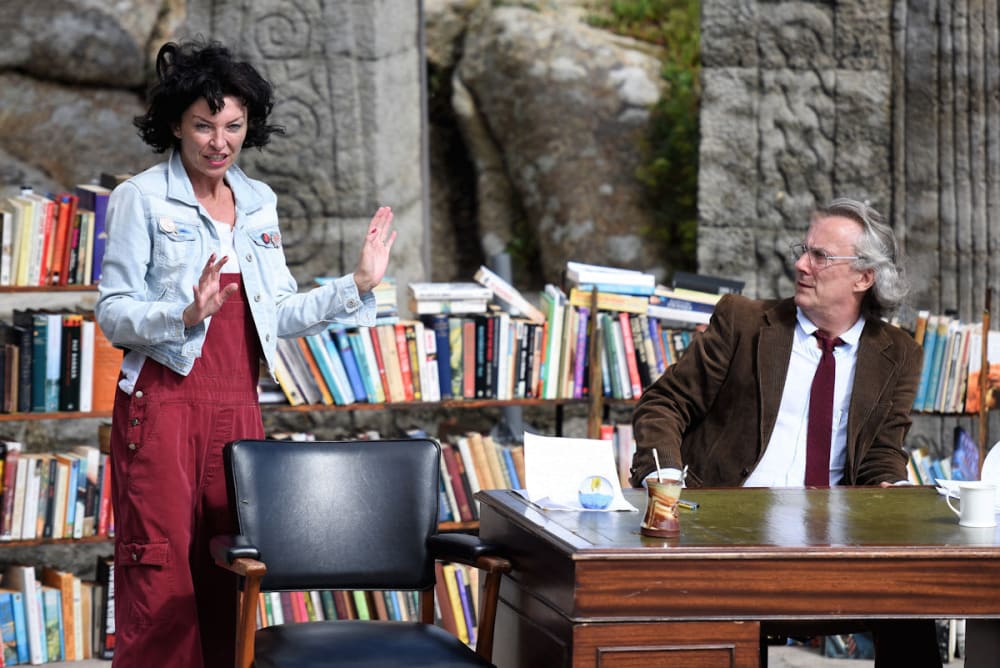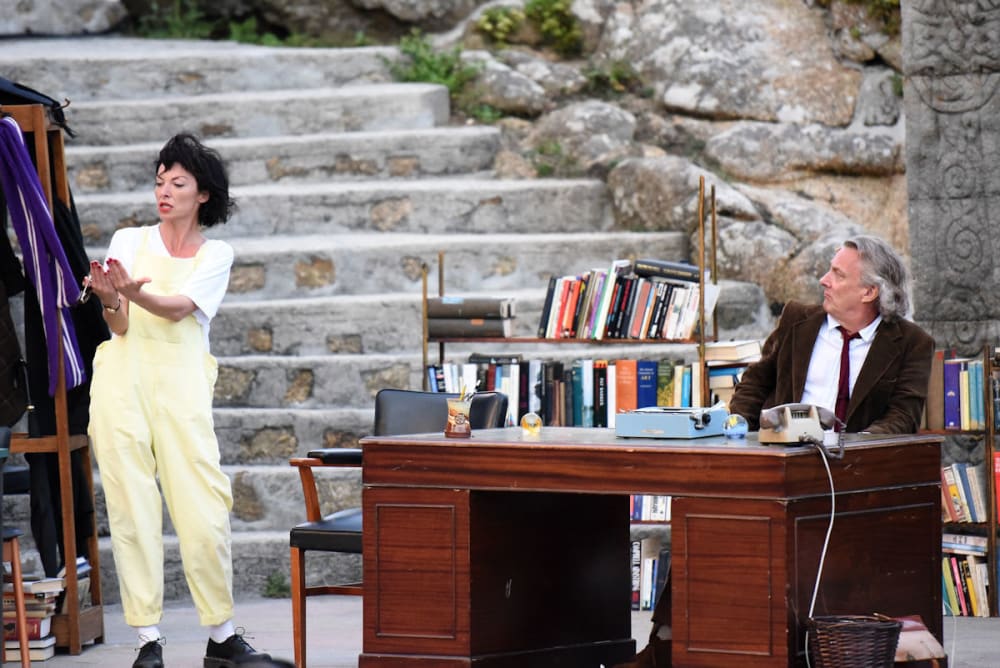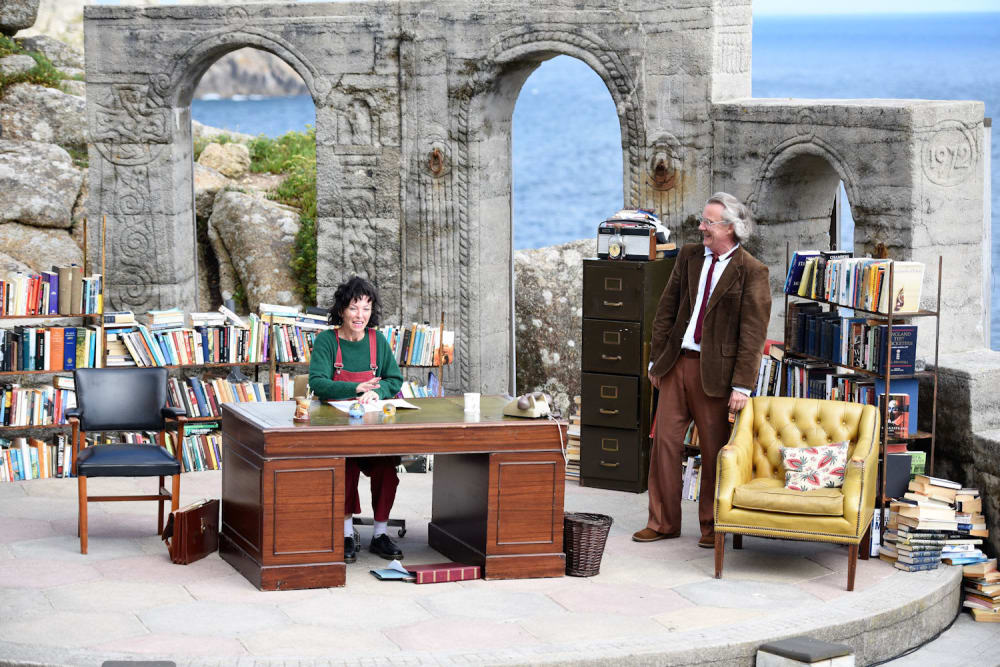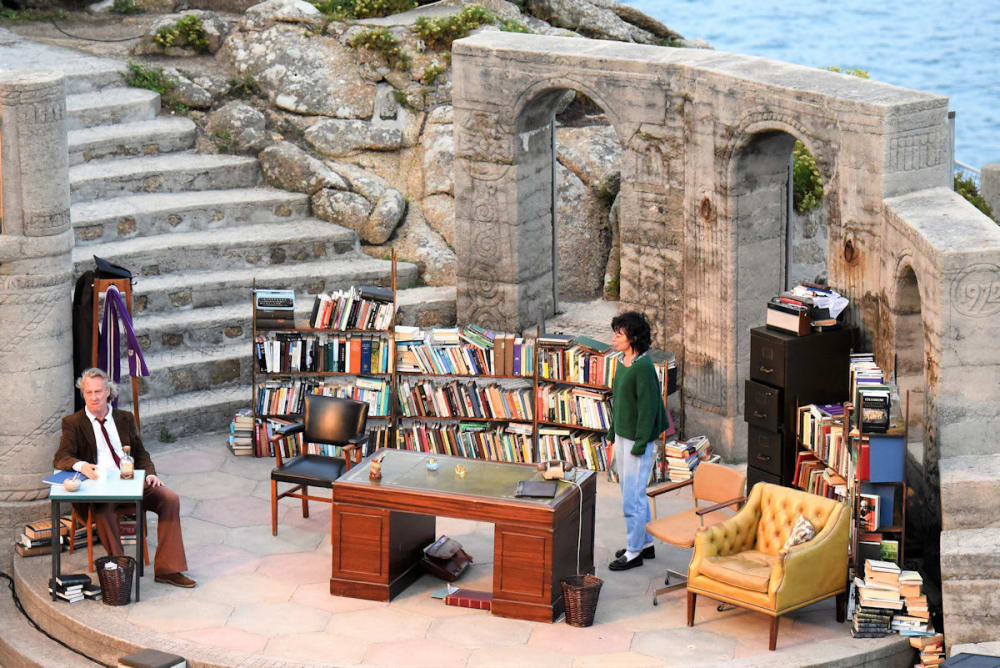 The fortieth anniversary tour of Willie Russell's Educating Rita is currently playing to sell-out socially distanced audiences in Cornwall's cliff-top Minack Theatre. Tickets sold so quickly for the two-week run that an extra performance was added and the production will now end on 30 August.
"Live theatre is back and audiences have proved they want it back," said producer David Pugh. "There has been a wholeheartedly enthusiastic response from everyone and this has proved that, with Churchillian spirit, as a producer, it's my job to entertain audiences wherever and whenever and I can't think of a better way than with a great British comedy by Willy Russell."
Originally a Theatre By The Lake (Keswick) production, produced on tour by David Pugh and Dafydd Rogers, the show is very much a North East showcase: Jessica Johnson (Rita) is a Wearsider, Stephen Tompkinson (Frank) comes from Teesside and director Max Roberts, lighting designer Drummond Orr and sound designer David Flynn are all Tyneside-based.
All have a strong connection to Newcastle's Live Theatre where Roberts is Emeritus Artistic Director having been part of the company almost since it beginning, becoming Artistic Director in 1986, Orr is Production Manager and Flynn Technical and Digital Manager. Both Johnson and Tompkinson have appeared at the theatre, most recently in Goth Weekend (Johnson) and The Red Lion (Tompkinson).
The play was originally commissioned by the Royal Shakespeare Company and played at the Warehouse Theatre, London in 1980, starring Julie Walters and Mark Kingston. Julie Walters reprised her role in the BAFTA, Golden Globe and Academy Award-winning film opposite Michael Caine.
Even bad weather does not deter performers or audience. As Johnson tweeted on 21 August: "last night was a proper adventure—Epic! And whilst of course you want to take credit, in that the show is great, which it is, but the audience stayed. 262 people sat in a storm and watched a play. A testament to the want & need for theatre, for culture. Thank You for staying!"
But they were well prepared. The day before the opening, David Pugh tweeted: "Producers are often asked what they actually do, so let me give you an example, today I bought every role of cling film within 30 miles of the @minacktheatre to wrap 9000 books that make up the glorious set of @EducatingRitaUK to waterproof it."